Keeping Your Home – When You'd Rather Have a Different One
I've always dreamed of living in the country. Always. I loved visiting my grandpa's big farm every summer and building make-believe homes out of old wheels and pots and other rubbish lying around in his barn. I loved visiting my great-grandma's farm and smelling the slightly-sour scent of warm milk and dung all mixed up in her barn after the cows had been milked.
I loved going to camp and hiking through the woods, reading my Bible on an old log, hearing the birds and squirrels, feeling the breeze on my face and smelling the mosquito repellent on my arm. I loved rounding up the horses early in the morning while everyone else slept and the dew sparkled on the tall grasses when the sun grew brighter and warmer.
We've looked at homes out in the country for almost five years now. I have to catch my breath when I go up into a bedroom and look out the window where all I can see for miles are rolling hills, trees, farm fields, and ponds.  My heart literally aches with longing.
Reality
But we always come home to our house in a typical American suburb.  A plain, brown two-story, situated on the corner of a street and a culdesac. I can see 11 homes from all sides of my house. Our nine kids share one sink, one toilet, and one shower. Because we don't all fit in our eat-in kitchen, we split up to eat. We have no entry way, so we crowd into our eat-in kitchen when coming home and pile 22 shoes in a corner.
Instead of chickens and eggs we have two obnoxious cockatiels who provide us with nothing but noise. Instead of cows, we have hamsters. (Their poop IS a lot smaller, which is a real plus in my book.)  Instead of the peaceful sounds of crickets and tree frogs at night, we hear the buzz of traffic from the nearby freeway.
I don't know if we will ever get to move. As time goes by, it appears more and more that we will stay put.  I'm pondering my attitude as I contemplate this reality.
"I have learned in whatever situation I am to be content. I know how to be brought low, and I know how to abound. In any and every circumstance, I have learned the secret of facing plenty and hunger, abundance and need. I can do all things through him who strengthens me." (Philippians 4:11-13)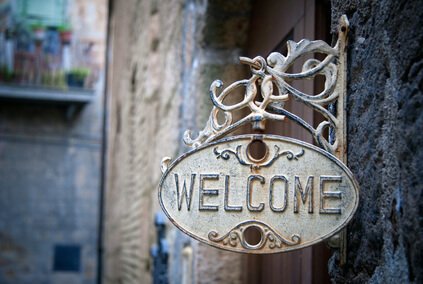 Discontentment is a SIN?
Discontentment is basically saying, "I don't like what You've provided, God. I deserve better."  Discontentment is rooted in ungratefulness. Think of how you feel when you provide good things for your children, and all they do is complain. It's ugly, right?
It's a victim mentality. I believe God wants us to come at this from a position of power and self-control.
"I am still determined to be cheerful and happy in whatever situation I may be; for I have also learned from experience that the greater part of our happiness or misery depends on our dispositions and not our circumstances. We carry the seeds of one or the other about with us in our minds, wherever we go."  (Martha Washington in a letter to her friend, Mercy Warren)
The loveliness of our home is not dependent on how big it is, what kind of furniture it holds, or the art on the walls.  We have a beautiful, meaningful home – or not –  based on our disposition. We either foster a sweet, grateful, pleasant atmosphere, or we contribute to a petulant, whiny, self-centered atmosphere.
"Christian contentment is that sweet, inward, quiet, gracious frame of spirit, which freely submits to and delights in God's wise and fatherly disposal at every condition."  Jeremiah Burroughs, The Rare Jewel of Christian Contentment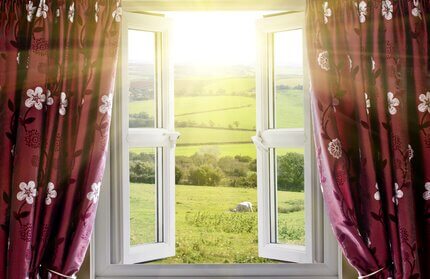 Practical Ways to Practice Contentment in the Home God Gave You
Think from an eternal perspective.  Life is short. Eternity is long. God is writing an epic story, and you get to play a small role. Play it well, remembering that when your part is over, there will be a party in the Green Room.
Keep a running list of God's gifts and graces in your life.  I can either dwell on how irritating it is to trip over each other at mealtime, or I can look at my sun room and revel in its…sunniness. There are a million wonderful things about the home we live in. And I'm going to lose sleep over the things that are a pain in the butt? The fact that I have a home is an undeserved grace of God. 
Remember that your living space is just empty space without love.  With love, any little corner of the world becomes a place pregnant with miracle and wonder.
Pray and look for little ways to bring beauty to your domain.  Even an arrangement of leaves and rocks in the center of a table can bring life and sweetness. God's gifts are all around you for the taking. Open your spiritual eyes and receive them with humble gratitude.
What do you love about keeping the home God gave you?