Healthy Snacks to Go Ebook: Review and a Giveaway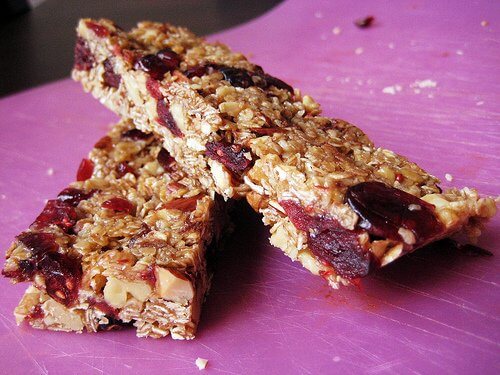 This giveaway has now ended.
One area that is really tough for a lot of mamas is figuring out what kind of simple, fast and nourishing snacks they can feed their kids.
Committed to whole foods myself, there are the odd days when I long to be able to just grab a few packaged fruit roll ups or plastic containers of apple sauce or crackers as we fly out the door. We all crave convenience sometimes. One of the fastest ways to start making unhealthy eating choices is to get hungry when you're away from home. Temptation is bound to get you.
Fortunately, it doesn't have to be that way. Katie has crafted a stellar handbook for moms wanting to keep everyone happy, healthy and NOT hungry. Her snack recipes and ideas are sure to please.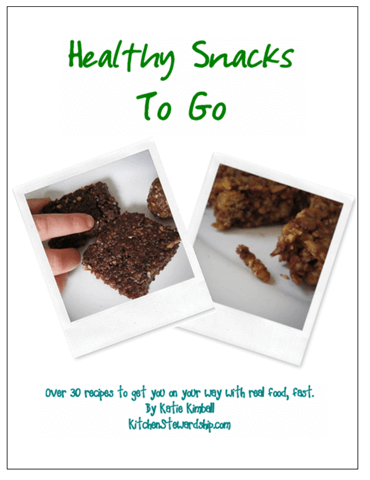 Healthy Snacks to Go is the first ebook from Katie Kimball of Kitchen Stewardship. I think that she has really outdone herself and created a useful resource for busy moms, who want something healthier to give their families (and themselves).
A few reasons I loved this ebook:
:: For anyone still learning and transitioning to more real and traditional foods, Katie makes it all so simple and basic. She offers lots of explanations and info, in a completely down-to-earth way.
:: The recipes are very kid friendly. I don't think there is anything in the book that my kids would take issue with, and plenty of yummy things that would thrill them (an in fact, already have!).
:: Beyond some different takes on things that I already make (power bars, granola, baked goods, etc.) I found a few completely new ideas, like Tater Skin Crispies, made out of potato peels (that's right- the part you usually throw away or compost). Brilliant! Just another way to make food out of something we might otherwise waste. Love that!
:: I had been wanting to figure out how to make Larabars recently, and this ebook had impeccable timing. It saved me from having to experiment and figure it out myself, and not only that, gave me 14 scrumptious variations to choose from based on what's available in my pantry! We've tried 3 versions so far, with definite plans to try more. They've all been winners, for sure.
:: Plenty of options for those with allergies and food restrictions (including dairy, gluten and grain free). There are easy-to-spot icons that will tell you at a glance whether a recipe is easy to make, low cost, needs cold storage (or is backpack friendly), includes soaking, or is free of common allergens.
:: There are fantastic bonus tips, like the fact that I could toss potatoes into the oven to bake for dinner while my granola baked (which I thought was s super idea and helped me to make granola AND potato salad with little fuss or wasted energy). Katie has a wonderful focus on stewarding our time and energy well, and she's always looking for ways to make things more efficient and streamlined in the kitchen.
Would you like to win yourself a copy of Healthy Snacks to Go? I have 5 copies to give away!
Leave a comment telling me what your biggest struggle is with serving healthy snacks and to-go foods (or why you want to win Healthy Snacks to Go).
Subscribe to Keeper of the Home.
Follow me on Facebook
Follow me Twitter (@keeperhome)
Subscribe to Kitchen Stewardship
Follow Kitchen Stewardship on facebook
Follow Katie on Twitter (@kitchenstew)
Giveaway will end Friday, May 14th at 4pm (PST). Good luck! Giveaway has now ended- winners to be announced shortly!

Image by anne.oldeorfhirsch
Disclosure: I have received a copy of this book for review, but have not been paid or compensated to write this review. These are my honest opinions about the book. I do receive a small affiliate commission on each sale from my site, but I only recommend products I truly think are worth buying.