Celebrate Fall with 35 Favorite GF Pumpkin Recipes
;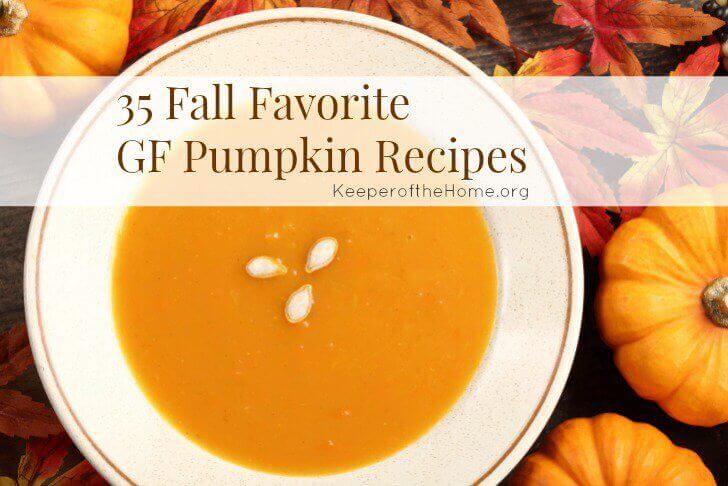 By Kelly Smith, Contributing Writer
Pumpkin and I have had a great relationship ever since I first met this handsome "gourd." I remember picking out my first plump round pumpkin as a preschooler and watching my mom turn that hard, rough sphere of orange into a squishy-squashy puree of pure delight!
[Tweet "Seriously, who doesn't love pumpkin? It's truly the quintessential fall favorite!"]
Unfortunately, here in sunny Southern California, the only way we know it's fall is when the local markets haul in big loads of pumpkins in all shapes and sizes – and of course – start stockpiling cans of pumpkin puree
on practically every aisle. That's when I get down to business filling my pantry with enough pumpkin puree to last the entire year!
If you have a crush on pumpkin like I do, there's no shame in it. In fact, celebrate! Pumpkin is one of the healthiest squash varieties you can enjoy – it's chock-full of beta-carotene, vitamins A and C, and other important antioxidants.
So, grab your family and head out to your local pumpkin patch (you can find one here) and do some fun pumpkin picking together. Of course, keep in mind, if you're making your own pumpkin puree, the best tasting ones are those sweet little cooking pumpkins (not the big boys used for carving).
To help you get the most of your pumpkin obsession (and put to use those stockpiles of pumpkin puree), I thought it would be fun to share some of the best gluten-free, grain-free pumpkin recipes from around the blogosphere.
35 Favorite Gluten-Free, Grain-Free Pumpkin Recipes

Beverages
;

Breakfast

Soups & Stews

Sides

Snacks

Desserts

Give the Gift of Pumpkin!
Did you know pumpkin makes great holiday gifts too? With the holidays fast approaching, here are just a few recipes you may want to pin for the upcoming holiday season.
Looking for even more ideas for using pumpkin this fall? Be sure to check out "Jump into Fall with 30+ Pumpkin Ideas." May your fall be filled with many a pumpkin delight!
Are you a pumpkin lover too? What are your favorite pumpkin treats to make each fall?
Disclosure: This post contains affiliate links. When you buy through our links, we earn a small commission, which helps to keep this site going so that we can continue to offer free and useful content, so thanks!