Cook More Real Food: Freezer Cooking Day 1 Results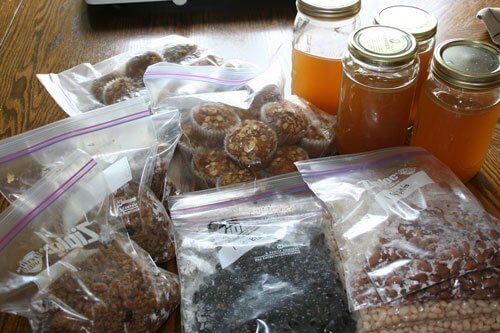 Today was Day 1 of the Freezer Cooking portion of the Cook More Real Food event. It's been a long day of cooking, but it's exciting to see the results of all that hard work! Phew!
In the first picture, you can see:
Jars of chicken broth
2 dozen pumpkin gluten-free muffins (hmmm, now where did that other dozen muffins disappear to? If you bake it, they will eat it…)
3 meals worth of seasoned/cooked taco meat mixed with beans
A whole bunch of bags of cooked beans (navy, pinto, black) in 1 or 2 cup amounts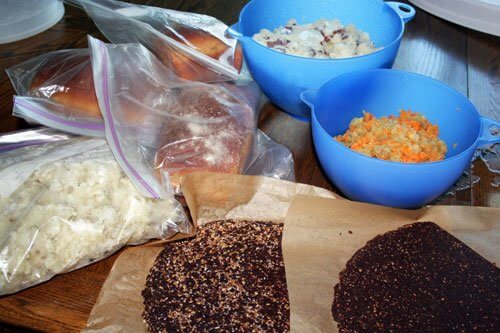 In this picture, you can see:
A bag of freezer hashbrowns (these worked pretty well, except I think they would be easier to grate if there were slightly on the undercooked side. Mine were a bit too soft to grate easily, but I'm sure they'll still taste great)
3 loaves of soaked, yeasted bread made with Kamut flour
One bowl of regular mashed potatoes (for making Shepherd's Pie tomorrow) and another bowl of mashed yams/sweet potatoes (for making Addictive Sweet Potato Burritos, which I didn't have time for today).
Two quadruple batches of Power Bars (similar to Larabars) from the Healthy Snacks to Go ebook (yes, they're also been dug into a little bit!)
Not shown but also made today:
A huge pot of rice, to use in Chicken Divan tomorrow, as well as extra to freeze for making fried rice.
A double batch of soaked granola, just finishing up dehydrating as I type this.
A large pot of beef broth is currently simmering and will be ready tomorrow morning.
I didn't get quite everything done from my list today and I had to switch a few things around, but overall I felt like it was a really productive day!
Tomorrow, I have less time than today but I still hope to make:
Addictive Sweet Potato Burritos
A crockpot full of chili (beans are soaking in there already)
Pizza dough
Pizza sauce
Hummus
Shepherd's Pie
Still pretty ambitious, but since many of the components are already made (mashed potatoes, beans, rice, etc.) I'm hoping that I should be able to get most of it done at least!
If you're looking for some of these recipes, you can find several of the links in this post outlining my freezer cooking plan.
How did your freezer cooking go today? Did you feel like you accomplished a lot?