A Day in the Life: Jessica, Mom of Two (4 and 2)

Written by Jessica Smarrt, Contributing Writer
Hi! I'm Jessica! I'm a stay-at-home mommy to two boys, four and two. I'm a little nervous about this post. I wish I were homeschooling ten kids and fermenting kombucha in my free time, but I'm not there (yet). Yet life is still busy and full. Hope you enjoy a glimpse into our day!
6:45: The boys awake. I say my prayers in bed and try to stay alert. I know, I know…I should get up and have coffee first, and that would help. 🙂
7:03 I take a shower and smile at little voices over the monitor.
7:23 The boys play while I make my husband's lunch.
7:37 Ty (the two-year-old) throws a stack of cups on the floor for fun. I tell him to pick them up.
He refuses. I give a warning. More crying, more refusing. I take him to my bedroom for a stern lecture. I ask again to put the cups away.
More crying. (Louder this time? It feels louder.)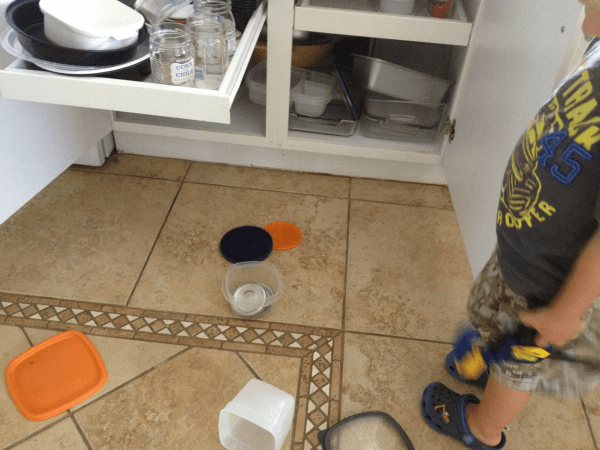 I look at my husband. "Just ignore him," he offers.
"Doesn't that let him win?" I ask.
It's 7:40. My husband is gone, and my normally pleasant two year old is in a full-blown tantrum, with no end in sight. I bribe him with breakfast, warn him of punishment. Nothing's working. Eventually I place him on a chair and tell him he can't get up until he's happy.
I feel like I'm handling this wrong. I try unsuccessfully to scrounge up a sliver of wisdom from The Strong-Willed Child, which I read ages ago.
8:09 The tantrum's going on thirty minutes. I swallow my pride and call my mom. We briefly discuss the importance of not entering battles you can't win.
8:12 At Mom's suggestion, I reward Sam (the other child) for putting away the cups, play some music and set out breakfast. In a few minutes, the boys are eating oatmeal. I exhale.
8:17 I scoop peanut butter and eat it while checking email. My son has severe food allergies, so I cower in the corner while eating and scrub myself down after. It's usually not worth it, but eggs felt like a lot of work today.
8:25  I've gotta get something right this morning, so I start cleaning my sink. I'm really good at cleaning at my sink.
8:37 Sam is feeding the fish its breakfast, and I hear, "Oops…" in the background.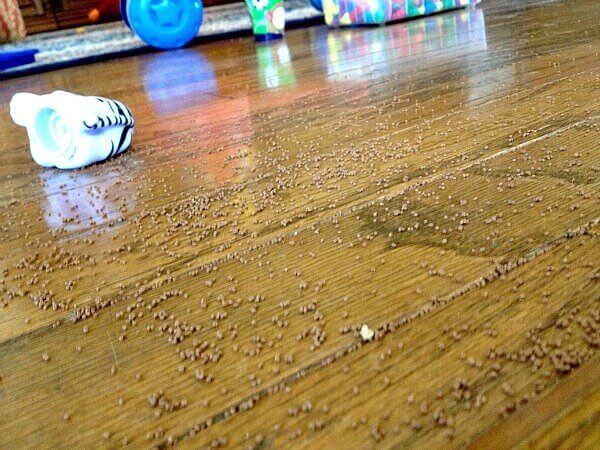 ;
;
;
;
;
;
;
I look over to see 250 fish food pellets sprinkling the floor. Hmm. I weigh my options, and settle on the broom.
8:42 The floor looks clean, but… is it my imagination? My toes are crunching fish pellets. I lug out the vacuum.
 8:48 Glancing at the counter, I see ripe tomatoes that need to be frozen today. We round up a few more from the garden. One of us has a hard time telling his green from his red.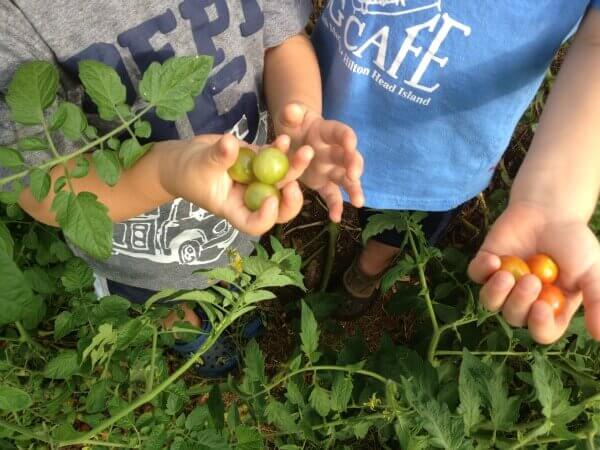 9:07 Inside again, the boys are hungry again. I start making dairy-free smoothies until Sam informs me there's a traffic jam of plastic bears inside the vacuum cleaner. I take a brief break to shake miniature bears out of a vacuum hose.
9:21 The boys drink smoothies while I blanch tomatoes. I set out some sensory bins for backup.
9:50 The kitchen is a mess of tomato carcasses and blender parts, but I've got to start packing to-go lunches for a doctor's appointment. My oldest has had what looks like toe fungus for over a year, and I'd like her opinion.
10:30 The youngest is crying because he doesn't want to go to the doctor. I wrangle him in the car.
10:50 Walking into the hospital complex, I get an awful déjà vu. I was here just a month ago, for a surgery on a rare, abdominal ectopic pregnancy. The memories of that awful time hit me like a wave.
I'm snapped out of my daze by Sam loudly highlighting "that lady's cool car" (wheelchair). Mental note to discuss appropriate discourse in public.
11:00 We're in the waiting room. The boys watch Curious George on my phone. Hey, it's better than the inappropriate grown-up movie playing on the TV.
11:30 We see the doctor, who, surprisingly, agrees tea tree oil might help Sam's toe fungus. We'll also continue a topical varnish, which I'm only moderately okay with.
12:30 We're back home. I put the youngest down for a nap.
It's 12:35 when I remember tonight was a crock pot night. Oops. And I only have dried beans, and needed cooked ones. I start cooking beans and sauteing onions while sampling strawberries from Sam's playdough restaurant.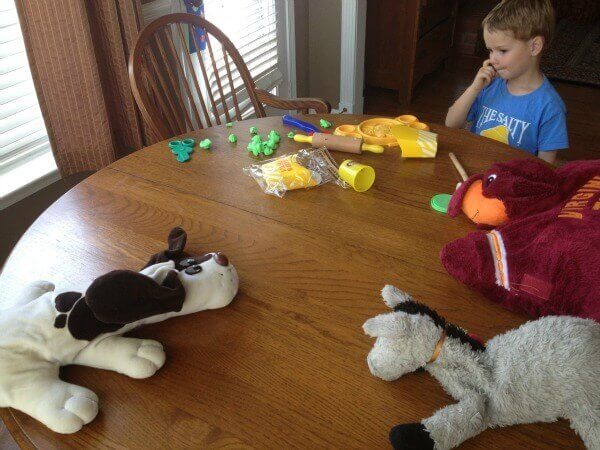 1:16 Both boys are resting. I check my email, order tea tree oil, and eat my lunch. Leftover chicken pot pie is oddly delicious. Maybe it's the peace and quiet.
1:46 I take a nap. Yup. I waffle back and forth with on whether moms should nap, but today, I'm taking a nap.
2:07 My nap is interrupted by Sam calling my attention to a tower of pillows he's constructed.
2:10 Despite the brief rest, I feel stressed and not very relaxed. I decide to read my Bible for a few minutes.
2:20 Sam and I read Winnie the Pooh and work on some homeschool preschool activities. Also, randomly, I remember none of us have brushed our teeth today, so we do that.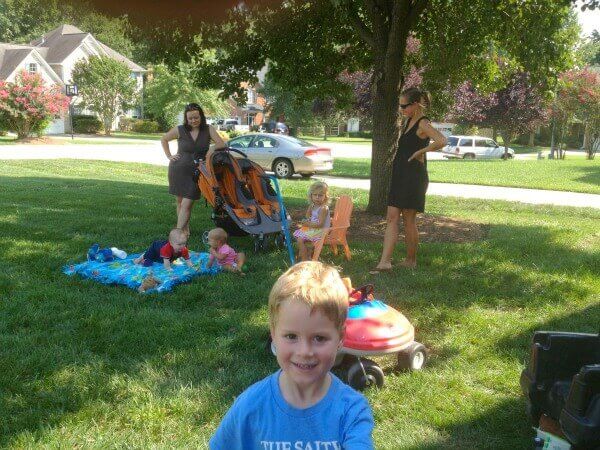 3:45 My sister drops by for some garden tomatoes. Another neighbor stops by with her kids. Our yard is often overflowing in afternoon with giggling kids and moms thirsty for grown-up conversation.
4:45 Company gone, the boys play in our playroom while I prep for tomorrow's Backyard Bible Club. The boys "help" me cut scraps of paper and do cannonballs off the couch.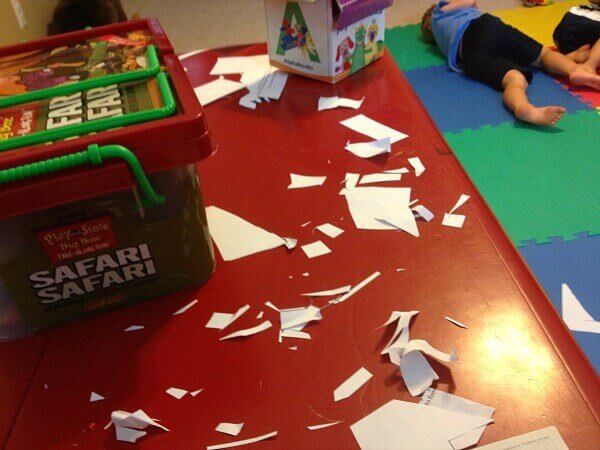 5:25 Dinnertime. It's delicious: Enchilada Lasagna from Stacy's Crock-On Cookbook. I even tweaked it to be dairy-free…still yummy. We eat without my husband, which, sadly, is the norm this season.
5:45 I'm about to serve fruit salad dessert when my youngest needs to go to bathroom. Both boys huddle around the toilet watching YouTube videos of garbage trucks and hooting owls, while I check my email. It is what it is.
6:15 I remember that our yard is littered with toys, so we head outside.
6:35 Bathtime. While the boys bathe, I freshen up for a get-together at a friend's house tonight. I try hard to make myself look less like a tired mom who picks up play dough and fish pellets all day. I'm not sure it works.
6:40 I realize my room desperately needs to be vacuumed. The youngest is wearing my glasses, and he wants a turn. Why not.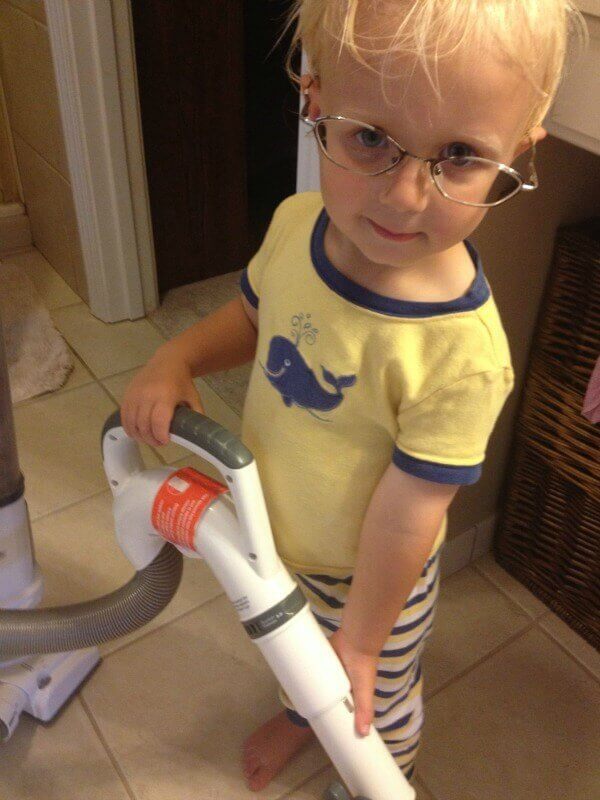 6:45 I breath a sigh of relief at my husband's car outside. He plays with the boys and puts them to bed while I make his lunch for tomorrow.
7:00 I head to my friend's house. I'm live in my hometown, so I'll see two cousins, a sister, and my mom. I'll be tired after a night "out," but it's worth it for time with women I love.
10:00 I'm back home. My husband and I chat and bond over Netflix re-runs before heading to bed. It's a glamorous life we live!
Even though this was somewhat a normal, nothing-special day, and even though I'm not doing anything as remarkable as homeschooling twelve children (like some of you supermoms I so admire) – I'm so grateful for the life I have.
I'm grateful for the ability to work.
In the past few years, I've had periods where doing even simple things was hard – due to  anxiety, miscarriages, or just overwhelming mommy fatigue.
What a gift the simple, normal days are!

Have you ever had periods where you struggled to do everyday life? Does it make you appreciate the "normal" days?
Disclosure: This post contains affiliate links.