Living Simply Saturday: Too busy for God?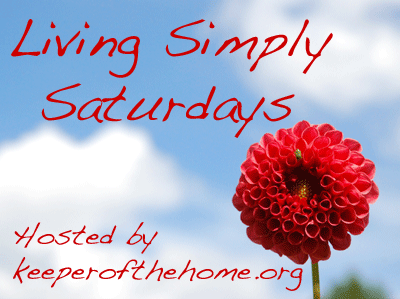 "Is it possible to be too busy for God? Our adversary loves to make us think so. Keeping us too occupied to connect with God is one of his favorite tricks…
Failing to make time for God complicates life  by keeping us focused on our own abilities- what we can accomplish within any given day. We're afraid that if we slow down, we'll lose ground, but actually the opposite is true: by taking time to fuel up, we plug in to God. He has infinite ability to work wonders with our time, and when we give him the first portion of it, we put ourselves in a position to gain ground."
Not only does becoming "too busy for God" complicate life and cause us to depend too much on our own abilities, as the author of From Clutter to Clarity
suggests, but ultimately we lose out on so much more:
gaining victory over sin
growing in grace
being sanctified and transformed more into the image of Christ
experiencing beautiful intimacy with Him
receiving peace and comfort for our anxieties and troubles
becoming more aware of the work that God is doing around us and how we can join in that work
seeing the fruits of the Spirit become more evident in our lives- love, joy, gentleness, kindness
simply enjoying Him and having the opportunity to praise and glorify Him
Rather than talk about and around the issue, I want to get really practical with this one. This second half of From Clutter to Clarity
identifies very practical issues in our journey towards simplicity and clarity, but it will be valuable to us (myself included!) only if we take the opportunity to address these areas in our lives.
Personally, my own quiet time has gone in ebbs and flows since getting married and having children. My first year of marriage was tough, as I adapted from always having done my devotions before bed, to spending my evenings and bedtime with my husband instead (I slowly learned to use my mornings instead).
Changing seasons of motherhood have also impacted the way I spend my time with God: from during my baby daughter's morning naps, then switching to before she woke up, then later while she played and the new baby nursed, then back to early mornings again, and now to my current struggle to snag little bits and pieces of time through my day (though I hope to return to mornings when my energy returns). Sometimes it's with my children, or while they're awake, sometimes it's while I wash the dishes or go to the bathroom, or while I wait 5 or 10 minutes for my husband to join me in bed.
I found encouragement during this season of mothering little ones in the book Passionate Housewives Desperate for God
. Here is a great quote on this topic:
"When your children are small, it can be nearly impossible to even go to the bathroom alone, much less enjoy a half hour of prayer and contemplation in heavenly, uninterrupted bliss; so get creative! Copy chapters of Scripture or buy small pocket Bibles and place them around your house- in the bathroom, in the laundry room, next to the chair where you nurse the baby- wherever you might have a moment when you're standing (or sitting) still. You'll find yourself rising above your trials by God's sustaining hand when you make His Word a continuous presence in your day.
If you have little ones, accept that this is your "noisy season" of life. You'll have moments for "quiet" time later. Pray in droplets during the day as well as when you're awakened at night:
Yet the LORD will command his lovingkindness in the daytime, and in the night his song shall be with me, and my prayer unto the God of my life. (Ps 42:8)
Pray with your children, pray when you're bathing the baby, and pray in the shower- but pray!"
So here is the practical application: What are some of the different ways that you have been able to make time to spend in God's Word and in prayer, during the changing seasons of your life? What techniques worked for you? Where did you schedule it in?
Please share with us, either in a blog post that you add to the Mr. Linky or in the comments section, as I think that simply hearing what has worked for others can help to spark fresh ideas for our own lives. Not every suggestion or method will work for all of us. We are all unique people with unique circumstances, and must find what works best for us (and I have found that it constantly changes as my season of life changes). I can't wait to hear your ideas! 🙂