8 Weeks to a Less Cluttered Home
Do you own your stuff or does your stuff own you?
Several years ago, my husband and I discovered that the clutter in our homes was eating away at our peace and enjoyment. It distracted us, made us grumpy, created extra work and messes, and just generally detracted from our lives.
During that season, we began to really tackle all the stuff in our home and view it with new eyes.
We asked questions like:
Do I truly find this beautiful or useful?
How long has it been since I actually wore this shirt, used this pan, cared about this book? Will I even miss these things if they're gone?
What is this clutter costing me in terms of stress, cleaning, storage, maintenance, mental sanity? Is it adding to my life or taking something away?
At the time, we went through our things using this "8 Weeks to a Less Cluttered Home" plan that I created, mostly for myself. But I also shared it with my readers and in the years since, it's become one of the most popular things on the blog!
We feel that, in our home at least, it's a never-ending thing. You don't declutter once and then poof! Magic! You'll never need to do it again! (Don't I wish?)
Instead, we need to keep up with it as time goes on. We slowly acquire new things, our children get bigger and enter different seasons of life, and our priorities change as a family. For us personally, we're also getting ready to welcome baby #5 in just 6-7 weeks and it seems like the right and necessary thing for us to do, to regain more peace, space, and clarity now, so we can enter both the summer and this family transition
And so, we're back in "less" mode, ready to declutter again.
With that, I thought it was high time I shared this post again, along with the FREE printable file that goes with it, so that you can also work through your home systematically and get rid of what you don't really need. Keep reading to learn more about how the plan works, and then to download the file for yourself!
Happy decluttering! ~ Stephanie
This fall, my husband and I began to go through our possessions, attempting to really clear out the unnecessary items as much as possible. We got rid of almost 2 van loads of stuff, which is hard to believe.
Even harder to believe is the fact that we don't miss any of it. At all. Instead, we found that we enjoy being in our home more, and we spend less time cleaning and maintaining things. Having less proved to be a very, very good thing.
So good, in fact, that we're not finished yet. This summer we'll be going through our home in a detailed, step-by-step decluttering process.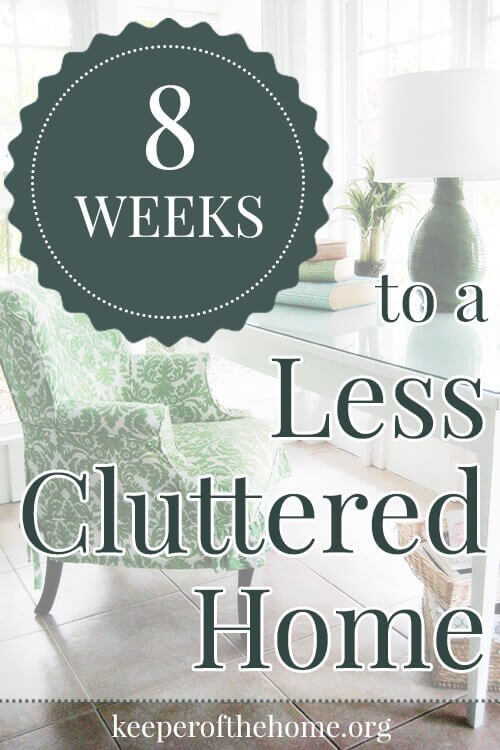 Over the course of 8 weeks, or 40 days (not including weekends), we want to purposefully assess each area of our house and our possessions, and pare down to what we truly need, use and love. Everything else? It will be sold at a garage sale, donated to others, or taken to the dump as a last resort.
Are you eager to free yourself from the demands of your material possessions, so that you can fully enjoy and engage in the parts of your life that are most important? Relationships with family and friends, time spent with the Lord, serving and giving to others, opening your home for hospitality, having time for creativity, for rest, and for purposefully pursuing the things you are most passionate about.
When we free ourselves from "stuff", we have so much more to give to the things that really matter.
Will you join me in 40 days of decluttering our homes?
The goal:
To spend 30 minutes or less each day working on a specific area of the home

and

To find 10 items to get rid of each day
At the end of 40 days, we can expect to be released from 400 things that we don't need… can you imagine the effect that this will have on your home and life?!
I do realize, though, that it's summer. We want to be outdoors, enjoying time spent with loved ones, soaking up some sun, and having a whole lot of fun making memories. I don't want to spend days or weeks cooped up in my house as I sort through what we own.
That's why I created a plan to work through your house very systematically, but in 30 minutes or less per day. There might be the odd task that is a more daunting one for you and it will require more time. On the other hand, some of these tasks will be a piece of cake for you, and could be finished in 10 minutes flat. On average, most tasks shouldn't take more than 30 minutes, and the areas that I think will require extra time have been broken down into bite-sized or multi-day tasks.
Are you ready to join me?
Is your home in need of some serious decluttering?
Are you anxious to get rid of all that extra stuff crammed into closets and under beds, but not sure where to start?
Then try our 8-week guide that takes simple but effective steps toward freeing you from the clutter! Get it here
To guide you through the process, I've created a PDF file, sort of a mini-ebook (8 pages) with some thoughts on decluttering and getting started, tips on working through the process, and then a step-by-step 40 Day Plan.
Get your copy by clicking on the link below.
I made this plan detailed and specific because that's how I work best. If someone just tells me to take a week to declutter my house and go through it room by room, I'll get lost and overwhelmed.
This 40 day plan was created by mentally walking through each and every part of my home. For example, the kitchen is broken down into bite-sized pieces over the course of 7 days (with individual tasks like drawers one day, kitchen linens another, and cookbooks/recipes on another). Clothing is split up into individual closets, dressers, and even a specific day for shoes. I included the random areas, like the medicine/supplement cabinet and first aid kit, videos/DVDs/CDs, and holiday supplies and decorations.
Every day, you'll know exactly what to work on. It's all spelled out, and organized into manageable tasks, to keep it from being overwhelming.
This is going to be so good
Honestly, I'm excited to begin. Our household purge last fall was such a positive thing and I am eager to remove more and more of the clutter from our home.
I've also set some goals for what I want to use the garage sale money more… even more motivation!
I hope that many of you will join me on this challenge and experience along with me the increased freedom and peace that comes from taking control of your belongings, instead of letting them control you. You will be happily surprised by how much more less really is.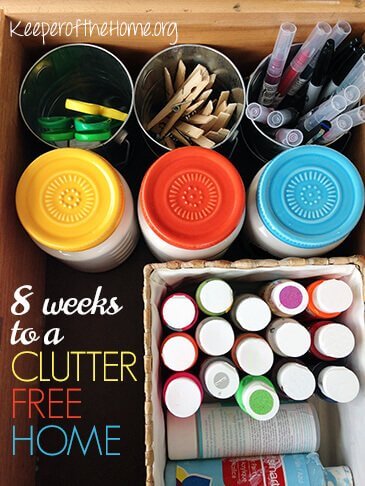 Is your home in need of some major decluttering? Do you have any specific goals you'd like to meet, financially or otherwise?