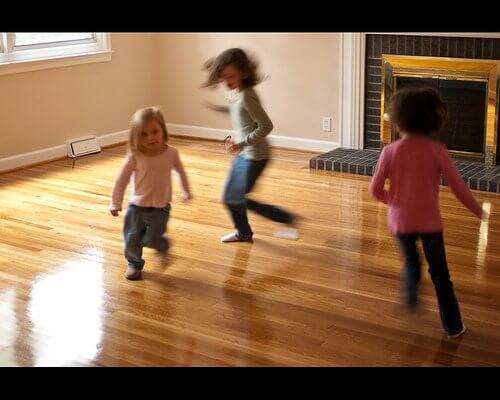 Last week, we turned our house upside down. Almost literally.
In a matter of one morning, we uprooted everything in our family room (which housed all of our children's toys, DVDs, some books and random other things), our entire downstairs storage (boxes upon boxes, whose contents we had long forgotten), and our "messy" room (an office-like room that was a catch-all for things without a proper home). A week or two earlier, I had also dramatically cleared out our family closet, main bathroom, and kitchen in similar fashion, inspired by Organized Simplicity.
Next, we purged. And we were brutal. Didn't love it? Gone. Couldn't remember the last time we used it? Gone. Somewhat broken and not particularly important to us? Gone. None of the children were especially attached to it or used it regularly? Gone.
It felt like half of what we owned, though I'm sure it wasn't close.
We left the bulk of the furniture alone, that wasn't the issue. It was all the other stuff. 
Stuff.
When did we get so much stuff? Did we even know all the stuff that we had? If we took this box or that box from storage, would we even miss any of it?
I wish I had taken pictures to show you (but I was actually ended up sick with the flu during much of the process- my husband is truly amazing to have finished it himself!). We filled our entire minivan almost 1 1/2 times with things to bring to the thrift store and the dump. We don't think we're done, either. There are a few rooms that need some more attention yet.
Not to mention that once we started, it became so freeing to purge that we almost don't want to stop. 
Since everything vacated the premises 48 hours ago, we can't stop commenting on how peaceful the house feels. We've lived here for almost a year and a half, but only just this weekend it began to feel like our home, instead of just a place where we live and keep our stuff.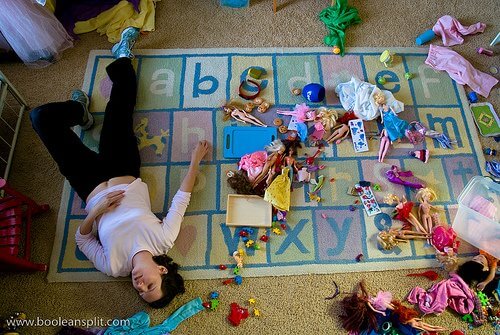 Bringing the Toy Clutter Under Control at Last
One of the best parts of it all? Our family/play room had been driving me batty since we moved in. I had such a hard time encouraging the children to keep it tidied and I often cleaned it myself after they went to bed, out of sheer frustration. It overflowed into our dining room and kitchen and toys were often scattered all over the house. It was discouraging to say the least.
Our solution for the toys? We moved the large oak shelves that held all of the children's bins and baskets of toys down to our basement storage area (where they are not allowed to play or go without permission). We got rid of the large toy box that held all of the odds and ends and contributed much to the mess.
All that we kept upstairs was their wooden play kitchen (empty), a wooden stroller/cart, a few stuffed animals, and our son's train table (in his bedroom). We put everything back into organized containers and baskets, downsized due to the purging. And we put them all downstairs on the shelves, out of site.
Several instantaneous results of doing this:
We bring one bin up at a time, and rather than getting quickly bored, we've noticed them engaging more thoroughly and getting bored less quickly.
Clean up is a snap. I simply say "put the toys back in the bin", which is infinitely less overwhelming to young children than "please clean up the playroom".
There isn't much mess to spread, so it stays contained and the other parts of the house remain tidy. Ahhh.
Do We Own It or Does It Own Us?
As we drove home from a family dinner last night, my husband commented to me that even though he hadn't felt that we had a lot of stuff (and compared to many North American families, we probably didn't), he didn't realize that it had owned us in many regards.
Stuff is funny like that. When you have it, you have to store it, care for it, use it (or tell yourself that you'll use it at some point), clean it, carry the weight of it. There is a mental, physical and emotional price to the things that we own.
For us, it feels good to be back in control, owning our stuff, instead of continuing to let it own us.
What's the status of your stuff? Who really owns who?
Both images by Robert S. Donovan