6 Superfoods to Boost Immunity
No need to curl up with a box of Kleenex when the weather gets frightful: here are 6 superfoods to boost immunity and help you stay healthy.
By Kelly Smith, Contributing Writer
Wintertime is here and with it comes peak cold and flu season. But there's no need to dread this time of year. There are lots of ways we can strengthen our immune system and enjoy these chilly winter nights snuggling up with our loved ones, rather than a box of Kleenex.
Of course, living a healthy whole food lifestyle is our first line of protection against the cold and flu season. Arming your immune system with the nutrients it needs will not only help you to fight colds, flus and other viruses, but also helps to protect your body from chronic health conditions too.
When it comes to the immune-boosting power of real food, you can't beat the top six superfoods listed below. Each is packed with key nutrients that add an extra cold-n-flu-fighting punch to your winter meal plans.
6 Superfoods to Boost Immunity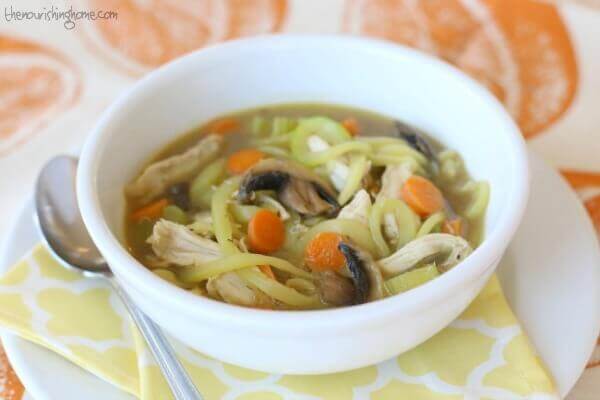 Chicken Soup
Mom was right, chicken soup is good for fighting a cold! Yet, it's also great for staving one off too! That's because the key ingredients – chicken and bone broth – have immune boosting super powers.
Chicken is high in zinc, iron and vitamin C; all fantastic for promoting healthy immune function. Homemade bone broth, rich in gelatin and other nutrients, helps to promote a healthy GI tract. Improving your gut health not only helps your body fight viral and bacterial invaders, but also helps your body better assimilate nutrients, which benefits overall health and wellness.
Looking for a delicious chicken soup recipe? Our favorites are Chicken & Mushroom Zoodle Soup (shown above) and Chicken & Veggies Soup with ginger and turmeric.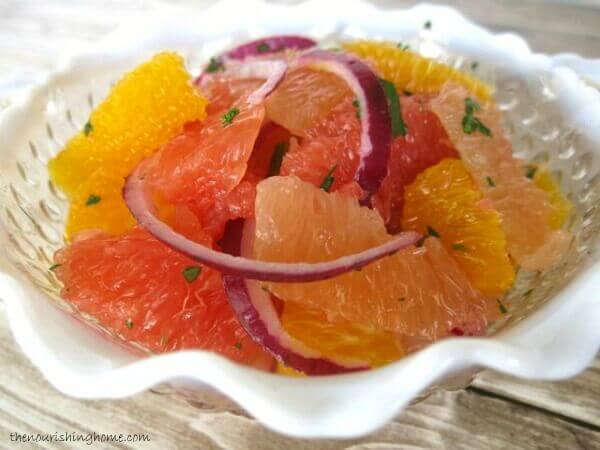 Citrus Fruits
We all know vitamin C is a key nutrient for maintaining a healthy immune system. But did you know that vitamin C from real foods – rather than supplements – is much more effective?
A study in the Journal of the American College of Nutrition found that women who consumed more than 200 milligrams of vitamin C from food daily were half as likely to catch a cold than women who's diets provided less than 100 milligrams a day.
The advantage of eating vitamin C-rich foods (as opposed to taking a supplement) is that your body receives lots of other beneficial nutrients at the same time, such as soluble fiber, which not only helps to boost the immune system, but helps to reduce inflammation as well.
One of the best (and tastiest) sources of natural vitamin C is citrus fruit, which is readily available in the winter months. Learning how to section citrus fruit makes it easier to enjoy it solo, or to create sweet-n-tangy salads like this Fresh Citrus Salad with honey and lime.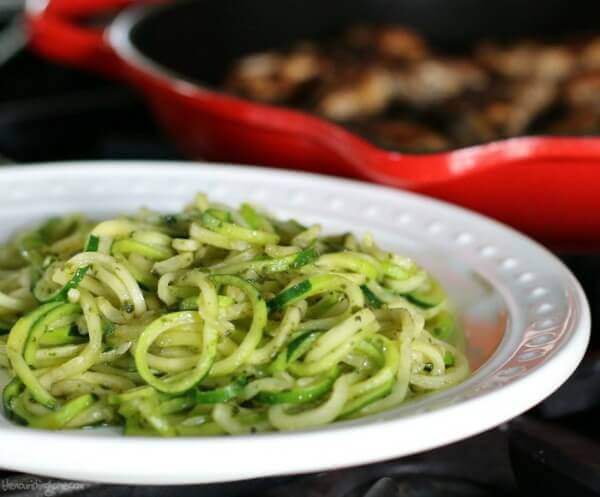 Garlic
Garlic is full of potent antioxidants, and contains powerful antibiotic, antiviral, and antifungal properties which help the body ward off and fight infections. That's why garlic tops the charts as one of best immune-boosting foods.
Because of garlic's renowned health benefits, experts recommend eating it every day. For optimal benefits, garlic should be enjoyed fresh, since the active ingredients are destroyed within an hour of smashing the garlic cloves. A delicious way to enjoy fresh garlic is to include it in salad dressings and sauces like the flavorful and creamy Avocado Pesto Sauce shown above. It's not only delightful on pasta (or veggie noodles), but also makes a wonderful sandwich spread.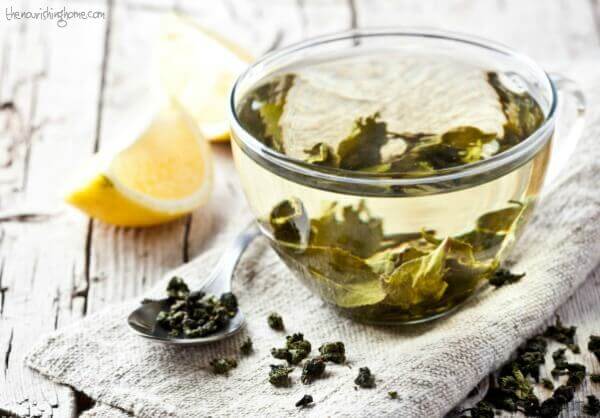 Green Tea
Green tea is a well known superfood, but it's the special type of flavonoid called epigallocatechin gallate (EGCG) in green tea that helps boost immunity, since it helps fight bacteria and prevent viruses from multiplying.
Matcha, the most nutrient-rich green tea, is more than 100 times more potent in EGCGs than regular brewed green tea and can be used for making more than just hot tea and smoothies. Try our luscious Green Tea Panna Cotta and you'll see what we mean.
When brewing green tea, to maximize its benefits and minimize bitterness, use just-below-boiling water, and steep no more than a minute or two. A little lemon and raw honey also helps curb bitterness and adds an extra boost of immune-stimulating power.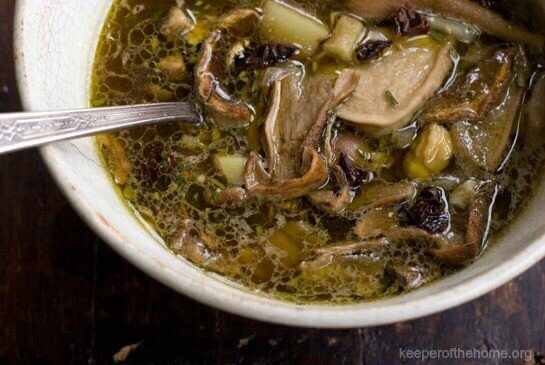 Mushrooms
Mushrooms are rich in protein, fiber, vitamin C, B vitamins, calcium and other minerals known for strengthening the immune system. They also contain powerful compounds called beta-glucans, which are renowned for their immune enhancing properties.
A couple of my family's favorite ways to enjoy mushrooms include the flavorful and soothing Mushroom & Herbs Soup shown above, and homemade dairy-free Cream of Mushroom Soup, which is perfect for making easy, flavorful casseroles.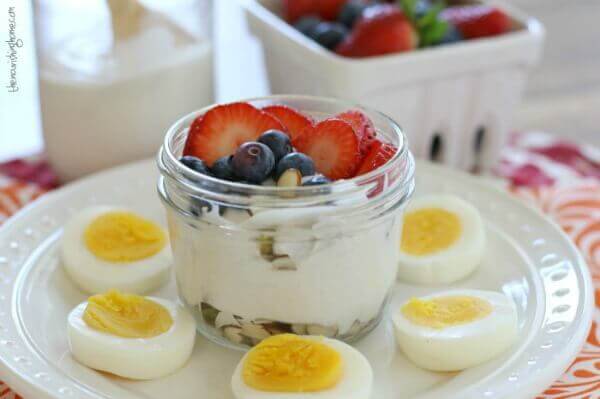 Yogurt (& other probiotic-rich foods)
Friendly bacteria have a powerfully beneficial effect on your gut, which is your body's first line of defense against illness. Enjoying probiotic-rich foods like yogurt, kefir and other cultured foods on a daily basis not only improves gut health, but also aids in the production of antibodies that boost our body's defenses.
For maximum benefits, buy yogurt that has "live and active cultures" printed on the label. Or better yet, learn to make your own Healthy Homemade Yogurt. It's super easy and contains higher levels of healthy gut flora than store-bought brands.
More ways to boost your immune system
To ensure optimal health, focus on rounding out your plate with healthy fats, lots of colorful fruits and veggies, and lean grassfed meats, since protein helps support the body's natural defenses.
And, be sure to drink plenty of water, as hydration also plays a big role in keeping your body and immune system healthy and well.
As you're striving to fill your plate with healthy foods, it's also important to live a healthy lifestyle. Making sure to regularly get a good night's sleep, exercise and reduce stress are also proven ways to boost immunity and improve your overall health and wellness.
*Note from Ann: Kelly is right, it is so important to choose the right foods to boost immunity and ward off illness, especially during cold and flu season! I recently started cooking whole chickens in order to make chicken soup with the leftovers and enjoy the benefits of bone broth. Give it a try, it's easy! Kelly, thanks for such an informative post and for sharing these power packed recipes! P.S. I seriously did not know that about garlic!!
No need to curl up with a box of Kleenex when the weather gets frightful: here are 6 superfoods to boost immunity and help you stay healthy.
What are your favorite ways to enjoy these top superfoods to boost immunity?