My 10 Favorite Real-Food Recipe Sites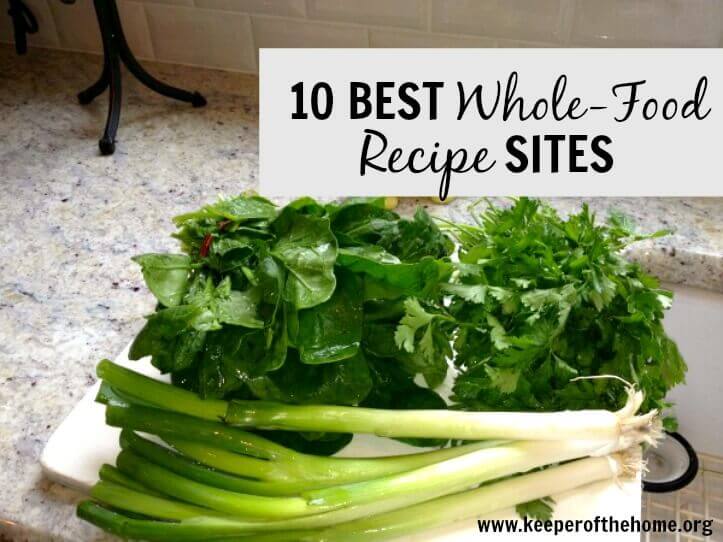 I have recently started meal-planning for the month. It is just amazing to look at the month of meals, PLANNED, in my calendar! While it is a bit of a bear to plan 30 days of meals at once, the rewards far outweigh the trouble! Anyone with me??
Whatever your method of planning meals (or not planning meals!) there probably comes a point where you think, what am I going to make for dinner? I need some inspiration! Here are the places I go for real-food meal-planning inspiration:
Keeper of the Home, of course! Sometimes I type "meal plan" or "recipe round-up" in the search bar, and this is the jackpot, because you'll end up with lots of meal ideas!
For The Love of Cooking: Nothing fancy-schmancy, just normal good food.
The Pioneer Woman: No, not every recipe is 100% real food, but I can often adapt (for example, using this cream-of-soup recipe, or other homemade versions of things).
All Recipes: I like the reviews and comments feature of this site. I often use this site when I want a recipe for something kind of common (chicken enchiladas, for example). I'm able to see which recipe is most popular and get ideas that way. You do have to weed through a lot of standard-American recipes, but many are real-food!
Damn Delicious: I know, I know…the name! I wish it were different! But the recipes sure are…delicious.
Nourishing Home: I love Kelly's recipes, especially the sweets!
Stacy Makes Cents: You'd be surprised how many things you can make in a Crock-Pot, even in the warm-weather months!
100 Days of Real Food: It seems she has a recipe for everything!
Kitchen Stewardship:  I don't know what I like more…the recipes, or Katie's adorable sense of humor!
Pinterest: Real earth-shattering news here! We all know Pinterest is great for recipe searches, but I do have to give a specific shout-out to my allergy-friendly dinner board. It is a great place to look if you have dietary restrictions, like our family. Nothing gets your mouth watering like browsing Pinterest late at night for recipes!
So now it's your turn. Where's your favorite real-food recipe sites?