10 Easy Natural Household Switches (That Anyone Can Make)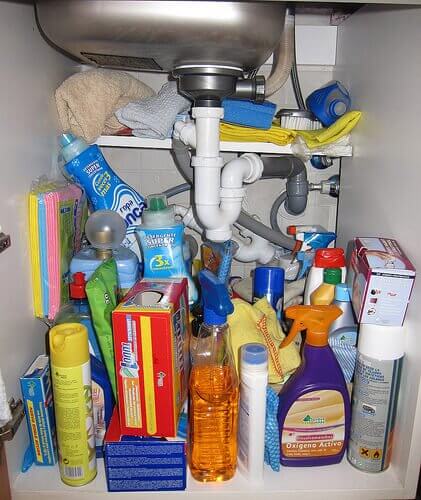 This month we've been talking all about ridding your home of toxins. That can get overwhelming, fast, as you look at all the things in your home that contain toxins. Where do you start?!
Today I have 10 very easy switches for you. These are common and frequently-used household items that you can simply switch for a purchased or homemade alternative, depending on where you are in your journey or how brave you're feeling. 🙂
Personal Care
Facial cleanser
Rather than using a standard product that's filled some pretty serious stuff, choose a natural alternative. Plain castille soap (like Dr. Bronner's) is a good, reasonably-priced purchased option. Or, you can try out oil cleansing and even make your own blend (I love mine!). Making your own sugar scrub for occasional exfoliation is also easy!
Lotion
Ick, have you read the ingredients on most of these? Luckily, coconut oil or any other natural oil is a good solution (olive, avocado, jojoba, etc.). If you want to get fancy, try making your own lotion.
Shampoo
Nothing good here either, with the sodium lauryl sulfate and other petroleum-derived products. Burt's Bees is a good purchased substitute. Or, you could try going no 'poo and washing your hair with baking soda and water. I find it works best for me if I have a high percentage of baking soda (at least 1 part to 2 parts water) and I add some rosemary or grapefruit essential oil to blend.
Without the EO, it doesn't work for me at all — something to keep in mind if you've tried it before and didn't like it. Play with the exact percentages of baking soda to water and which EO you add and how much, and try apple cider vinegar rinses if you like, too (I don't).
Deodorant
This is one area you'll have to step out and try to make your own. I don't know any commercial brands that don't have some form of aluminum. And we do not want to use that! Luckily it's pretty easy to make and use, so I'm told…I haven't tried it yet.
Hand Soap/Body Wash
I usually use Dr. Bronner's as soap. Erin (from The Humbled Homemaker and also a contributor here) has a recipe for a foaming hand soap that she uses in her home, which features castile soap but makes it easier and more fun for the little ones. Plus it's more frugal because it stretches the soap further. I also like Burt's Bees baby wash for the kids, because it is fairly natural and tear-free.
Toothpaste
The most important thing here is to get a fluoride-free version. Brands without SLS (sodium lauryl sulfate) or glycerin are better too.
We have a decent brand at Trader Joe's, and some people enjoy "tooth soap" brand (although I have never tried it). Another writer, Courtney, recently posted a recipe to make your own.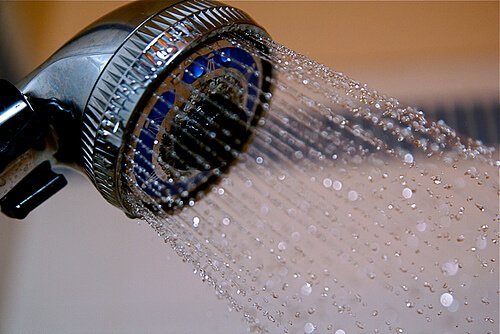 Cleaning Products
Basic Cleaning
I like to use some of the Seventh Generation products when I feel like I really need something "clean."  They have an antibacterial line that relies on essential oils rather than chemicals, which I use on occasion. (That stuff also gets anything out of the carpet if you catch it immediately — strawberries, blueberries, red juice, etc.)
For most daily uses, though, 1/2 and 1/2 white vinegar and water works well.  I like to add lemongrass essential oil to mine (I love that stuff). Vinegar is also a great addition to your dishwasher as a rinse agent, and your washing machine as a fabric softener. I've been known to use it as drain cleaner (with baking soda), to clean mirrors and windows, or pretty much for any cleaning job I have.
Laundry Detergent
I can't actually give you a homemade option here because I haven't seen any point in trying one. I got hooked on soap nuts about four years ago and haven't looked back.  I've heard they don't work in all water types, but I have hard water and they have worked well for me.
I chose them initially for cloth diapers and I never need to strip my diapers unless someone's sick or I've temporarily "lost" one of them (i.e. they went way too long between washes). There are also commercial "natural" laundry brands, as well as homemade recipes for those who are inclined to try.
Paper Towels
While not a "cleaning product," per se, it's still a disposable product and a source of bleached cottons. Not very environmentally friendly! Instead, try microfiber cloths, or organic cotton cloths for cleaning. They work really well, and microfiber is cheap and lasts awhile (yes, it's really a form of plastic…so there's that to consider).
In fact, it's good to replace as much disposable stuff as you can with cloth or other reusable things. And I promise this doesn't make (much) more laundry for you. I do maybe once extra load every week or 10 days with all my kitchen wash cloths and towels.
Shower/Tub Cleaner
A few years ago, my shower was filthy (who am I kidding…it currently is again!). I was so frustrated with the mildew that I tried everything to clean it — CLR, bleach, any caustic chemical I could find. And…nothing. It just would not go away. I was also pregnant with my second so this was not good for me. Finally, I flooded the shower with warm water and sprinkled baking soda everywhere. 20 minutes later I simply wiped away the mess with no effort. I was amazed!
Baking soda proved to be a very safe way to remove mildew in the shower with minimal effort (at least for someone who is not allergic to mold; if you are especially sensitive you may need something else, or have to have someone else do the job). It also worked great to scrub the counters (mixed with a little water or castile soap), and made my metal fixtures very shiny again.
I clean most things with baking soda and vinegar and don't even bother to mix up special "cleaners."  I have several boxes of baking soda around, a big jug of white vinegar, and a spray bottle of diluted vinegar. That's pretty much it — nothing fancy!
Making the Switch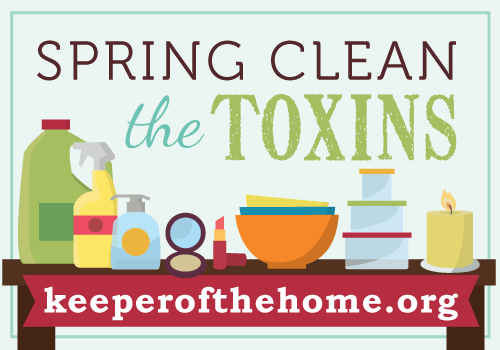 Making the switch to natural products doesn't have to be hard. These are all little easy switches above, with both purchased and homemade options, depending on your comfort level and budget.
I recommend replacing each product as you run out.  When you run out of toothpaste, don't buy more of the "usual," buy a new less-toxic option. When you run out of laundry detergent, buy a safer brand next time.
It's a good idea to stock up on baking soda and vinegar immediately, whether you've run out of other things or not. They're so cheap — baking soda is around $0.50 for a small box, and that will last awhile — that spending the $3 – $5 to have it on hand is no big deal.
If you start with these little switches, I bet you'll look around a year from now and have a totally different home. How wonderful will that be?
What are your favorite natural options for cleaning and personal care?