Winter Giveaway Week: Win 1 of 2 Year-Long Memberships to Plan to Eat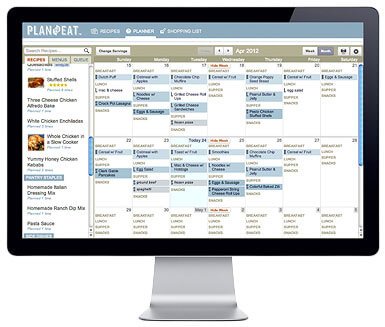 Meal planning is such a must for busy moms and homemakers.
Even as we're spending a year traveling around the world (yes, really- you can read about it here), I'm still realizing the need for it.
Just this afternoon, I drew up a list of the foods I've managed to stock up in our small, temporary pantry and kitchen. I took that list and went straight to my Plan to Eat account.
Last spring, I mentioned that I had been finding my Plan to Eat account more useful than ever, now that so many of my recipes originate from an online source, rather than a cookbook. This time around, I discovered another huge perk of this online service– even thousands of miles away, in a totally foreign place, all of my recipes and previous menus are still right at my fingertips!

This is the simple meal plan that I made up for this week. The variety of foods available to me here is much more basic than what I can buy back home, and yet going back through my old plans and recipes inspired me with ideas of things that I could still make.
After using Plan to Eat over the past several years, in the midst of trying other meal planning systems, these are some of the reasons I go back to it time and again:
Ease of use. The drag-and-drop feature just makes it so quick and easy to create your menu.
Recipe storage. Yes, I use Pinterest and bookmarks for remembering where my favorite online recipes are, but taking the 2 minutes to actually load them into your Plan to Eat account means that they're right there where you need them. I can categorize my recipes, give them tags, search them, use them to create shopping lists and more.
Recipe sharing. Who doesn't love sharing their recipes with friends? When I'm in a rut or can't find a recipe in my own account that suits my needs, I really appreciate having the ability to search my friend's recipes that they've shared with me (and vice versa- I share mine with them). I can also access all of the excellent recipes from the Plan to Eat blog.
Recipe queue. Ever think to yourself, "I need to remember to make that recipe soon!"? I do, all the time. And then, I forget to make it. With the Recipe Queue, if you notice a recipe that you want to remember to make, just add it to your queue. Then whenever you make a new meal plan, check your queue to see if there are any good ideas or recipes you'd almost forgotten about.
There are many other features that make this program a winner. I know a lot of women find the shopping list creation a real time-saver. The grocery store mobile app makes your shopping list instantly available to you on your smart phone. I've even written a more detailed list of features I use and love in this post.
Because meal planning really is worth it.
I'm thrilled to offer 2 year-long memberships (worth $39 each) to my readers, because I am such a huge proponent of meal planning! It saves you time, money, sanity, and truly helps you to put nutritious, homemade meals on your table.
If you know that you need to make strides towards regular meal planning and you're looking for a tool to help you do it, I highly recommend that you check out Plan to Eat's tour (so that you can see what it's all about) and then sign up for a free 30-day trial to see how it would work for you!
As an aside, do you want to be my friend on Plan to Eat? I'm "keeperofthehome" and you can request to share recipes with me. The more, the merrier!
A a huge bonus, from now through to March 31, Keeper of the Home readers will receive 30% off an annual subscription to Plan to Eat using the coupon code: keepthathome.
Would you like to be entered to win 1 of 2 Year-Long Memberships to Plan to Eat ($39 value each)?
Rather than simply leaving comments, I'm trying out a new method for entering giveaways. Click below to complete one Rafflecopter form, for all of your multiple entries, and then you're done! If you're reading in an email, make sure that you click through to enter from the actual website.
If you're thinking of purchasing a subscription, here's a great opportunity to save some money.Through March 31, Keeper of the Home readers will receive 30% off an annual subscription to Plan to Eat using the coupon code: keepthathome!
Giveaway ends 2/23/2013 at 6:00 pm.

Disclosure: All opinions expressed are my own. I honestly use and love this system. This giveaway was generously sponsored by Plan to Eat, and I have also recieved a complimentary membership for the purpose of review.