Why I'm So Glad I Exercised This Pregnancy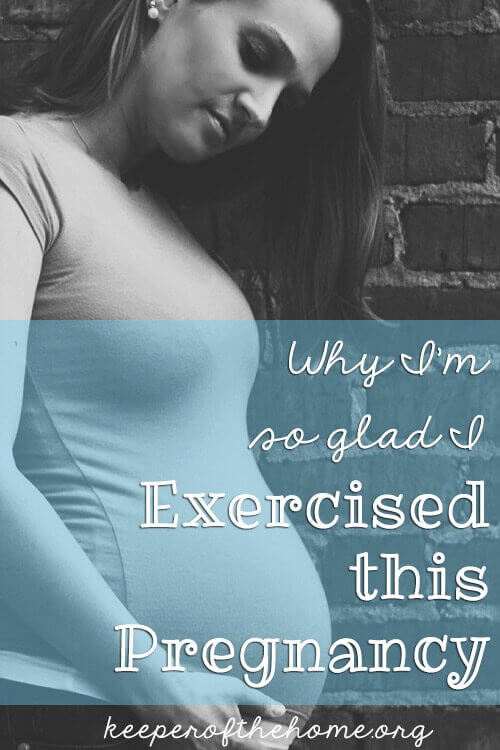 From my 4th month of pregnancy onwards, most early mornings would find me sneaking downstairs in the dark, donning sweatpants, a t-shirt and hoodie. After drinking half a glass of water, then filling my large glass back up to the top, I entered my private exercise studio, otherwise known as my husband's freezing cold, converted-garage music school studio.
Pointing the space heater directly at me (until I warmed up enough each morning to push it away), I would stick a pregnancy exercise video in to the computer and spend 20-40 minutes pumping iron. working up a huge sweat. doing mild cardio and toning.
My Personal Experience with Exercise in Pregnancy
It works. It really does.
When I was pregnant with my first child, I was very good about spending 30-60 minutes almost every single morning doing pregnancy yoga, or else going for a long walk in the park or along the river. I had nothing to compare that pregnancy with, but I diligently kept up with my workouts because that's what the books told me to do and the yoga made my aching muscles more bearable.
With my second and third pregnancies, I wasn't very disciplined. I tried to stay active by taking my kids on walks to the park, gardening and other physical activities, but nothing consistent. I struggled with a great deal of sciatica and some minor blood sugar issues (with my second only), even though my pregnancies were still wonderfully healthy overall.
I'm not always good about including regular exercise in my life, but during the month before I found out I was pregnant with baby #4, I had set some exercise goals and was pushing myself to truly get in shape. I bought Jillian Michael's 30-Day Shred. I didn't do it every single day, but at least 4 days a week. It was brutal, but I felt that my endurance and strength were increasing and I began to love doing it.
Once the first trimester morning sickness and fatigue hit this time around, I realized that although I had little energy to exercise, I really missed it and how good it had made me feel.
I found that I lacked the energy to do much those first couple of months, but once the nausea began to decrease and I wasn't dragging myself through each day, I knew that it was time to return to my morning exercise ritual.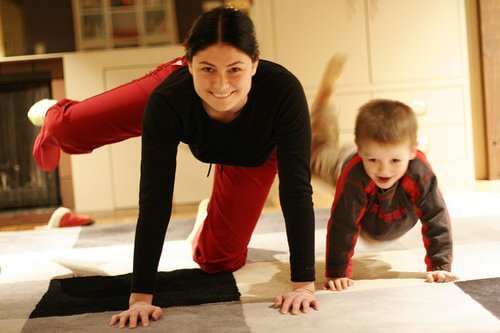 How I Worked Out This Pregnancy
I had already ruled out going to a gym, because I find it too impractical trying to get out of the house as a mom of littles, and after doing a trial week at the gym my husband attends, realized that I didn't like feeling self-conscious with others looking at me. The privacy of my own home felt best.
I compared a lot of pregnancy videos, looking at video length, type of exercise, intensity, and video reviews. After coming off of the 30-Day Shred (which is very intense and pushes you hard), I knew that I didn't want something too slow or gentle. I wanted to find an exercise video that still challenged me, pregnant or not.
After much searching, I settled on Lindsay Brin's Complete Pregnancy Fitness 4-DVD Workout Set. It includes cardio and toning routines for first, second and third trimester, as well as a post-natal bootcamp DVD to help you get back to your pre-baby body. Each video is about 40 minutes long, give or take. Some days I did a whole video, other days only half (due to lack of time, not because it was too strenuous).
Overall, I'd give these videos a 7.5 or 8 out of 10. I still felt that I could have worked out at a higher intensity, and would have liked more intense cardio portions. Most days, I would follow whichever version of an exercise was the most intense or difficult, rather than doing any of the modifications, and sometimes I threw in a few extra reps of something if the transition between exercises felt too slow to me. By doing this, I was able to mostly achieve the intensity that I wanted, and still had the flexibility to choose something more moderate on days when I was really tired or feeling sore.
I definitely appreciated that the videos went along with each trimester. This made it easy to figure out how hard to push myself at each stage of my pregnancy, plus the variety was nice.
There are plenty of other videos out there, and next time around (God willing), I'll probably add another video or two to my repertoire just for variety. I still have my original Gaiam Pregnancy Yoga DVD, although I have to confess that I have only touched it twice this entire time. I prefer the cardio and toning much better. I liked that all I really needed was the video and a set of weights (or you can also use two sets- heavy and light).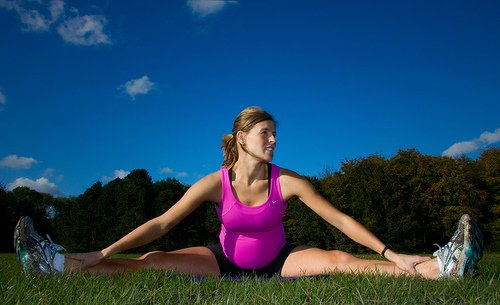 What Are the Benefits of Exercise in Pregnancy?
Improved circulation
Healthier placenta
Helps to moderate weight gain
Easier recovery post-partum
Increased energy
Less back pain
For me, the most noticeable benefits were having more energy, and definitely decreased back pain and post-poned sciatica (it didn't come until around 35 weeks this time, compared to 24-30 weeks in previous pregnancies).
I also found that I was able to sleep more soundly than I have previously, and didn't even start sleeping with an extra pillow (for leg/back support) until this past week, at 37 weeks. I've been completely comfortable with no extra support at all!
Exercising Safely
I'll be the first to admit that this is not an area of knowledge or expertise for me. These are just a few things that I've learned by reading some books on pregnancy exercise and through the DVD set I've been using.
Drink extra water before, during and after your workout
Particularly if you plan to do a long workout, eat something with both carbohydrates and protein before beginning. If I was only doing a shorter workout, I found that I could go without eating first, but would definitely need a hearty snack immediately after.
Listen to your body. If you just don't feel well that day (even if it's something that you can usually handle without a problem), just take it easy.
If something hurts, stop. I can usually tailor sit during pregnancy quite comfortably, but last week the baby dropped very low and it began to hurt, so I've taken it out of my routine.
Always warm up, and finish with plenty of stretching. I began to find the stretching so beneficial that on days when I simply don't have time for a proper workout, I still ensure that I fit in 5-10 minutes of stretching.
Use videos/exercises intended for pregnancy. There are a lot of things to take into consideration with a body that is changing due to pregnancy. It's best to follow the instruction of someone who is more knowledgable than you are about how to adapt exercises to make them safe.
Expect that you will workout at a level slightly below what you are usually capable of. I was frustrated at not always breaking a sweat each time I worked out with my new videos, but the one time I did push myself to workout like I had before pregnancy (I definitely pushed myself too hard), I felt it and realized that I had to take it down a notch.
Here are some more tips for exercising during pregnancy, and how to do it safely.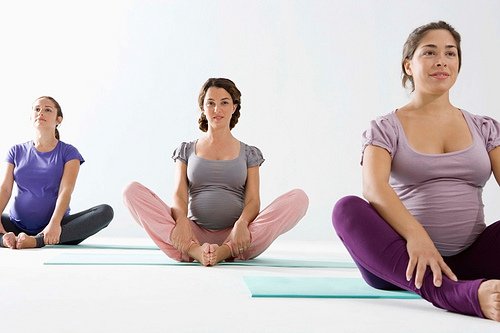 Now That I'm at the End
Exercising throughout this pregnancy was one of the best decisions that I made. I've been a bit busier since December and struggling to get in as many workouts as I did during the fall, and the difference is noticeable to me. I actually begin to crave it when I miss more than a day or two.
I'm 38 weeks pregnant now and plan to continue right up until the day I deliver. As soon as I get the go-ahead from my midwife, I will be back to moderate exercising for a faster recovery and to help prevent post-partum depression.
For me, exercise has made such a difference. It isn't miraculous and doesn't solve every pregnancy struggle. Have I finally hit a wall of exhaustion? Yes. Did I ask my husband the other morning whether I was this miserably uncomfortable and emotional at the end of my other pregnancies? You bet I did. (And his answer? "Yes, sweetheart, every time." It's good to be reassured that this is par for the course!).
Still, I'm a pregnancy exercise convert. You can bet you'll find me back in the garage with my videos next time around.
How about you? Have you exercised during your pregnancies and what results or benefits did you notice?
Disclosure: This post includes affiliate links.