A Day in the Life of Stacy: Homeschool Mom Who Asked for Help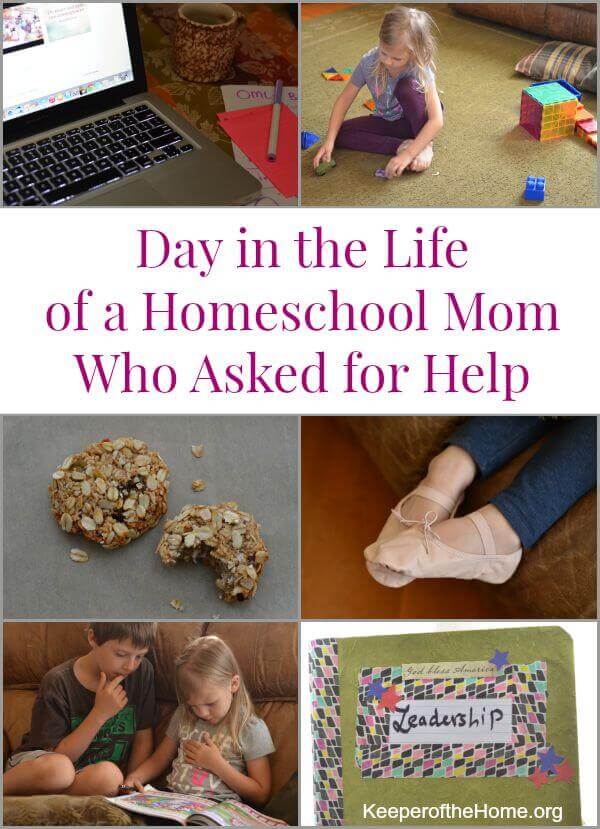 By Stacy Karen, Contributing Writer
Each year when I start to think about writing a Day in the Life post, I'm a little disappointed that I don't have my life more together. I keep thinking I'll be really fancy and organized next time I write one of these, but it hasn't happened yet!
If nothing else, I've slowed down a lot over the past few years, and I take that as some type of accomplishment. Even if it came as a result of chronic illness.
I do cherish the slower pace; not living my life at a hundred miles an hour is a blessing.
In this post I'm sharing one of my easier days with you. A few years ago, these kind of days were but a dream. It's taken quite a bit of work and a lot of help to get to this stage.
Let's begin . .
6:45 a.m.
I wake around 6:45.
One of my children is dealing with some difficulties at the moment (that I don't want to share publicly) which have led to a number of late nights and some extra exhaustion for most of the family. For this reason, I'm not trying to get up at the crack of dawn, but allowing myself some extra rest whenever possible. (You can read more about my grace-filled morning routine here).
I get up and turn on the teapot, then make sure my oldest daughter is awake. She has an online class at 8 a.m. It's the first week of our online school program, so we are getting used to the new rhythm and pattern in our daily life.
I make a quick breakfast and spend a while chatting with my daughter. It's nice to have this one-on-one time together.
She goes to get ready and I open my computer to check my email, pay bills, and make a to-do list.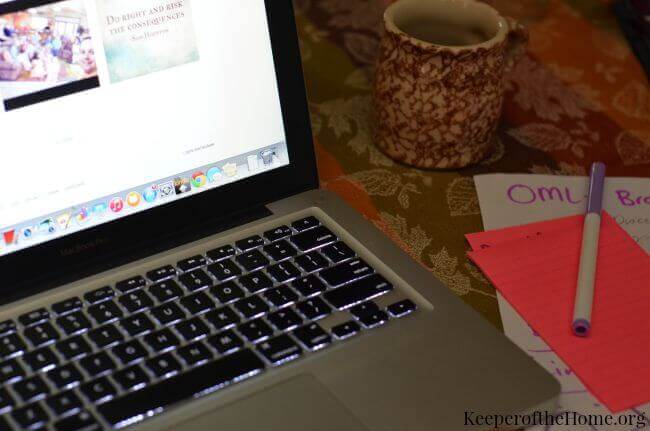 8 a.m.
Since we inadvertently downloaded a virus to our PC yesterday, I have to pass my laptop to my daughter for her class after a few minutes.
I do some Bible reading and my other kids come to the table for breakfast.
After that it's time for quick cleaning and getting ready for the day.
9 a.m.
At 9am my mother-in-law arrives. She recently began helping me two days a week and it has made my life so much more manageable!
I don't want to make you jealous, but guys, my mother-in-law is awesome. She comes and helps with homeschool, laundry, whatever! I know I have it good!
The kids are excited to see their grandma. They jump around and tell her a few stories before she takes the two youngest children to the church building for "school time."  (We live next door.)
This is something new we are trying, and so far it's working very well. While my oldest daughter  attends her live online classes, the house needs to be reasonably quiet (since she may have to talk during the lesson). Our home is fairly small, so it's easier to keep the younger kids out of the way rather them continue to shush them all morning.
My mother-in-law takes a bunch of their school work with her and they knock out as much as they can before returning to the house.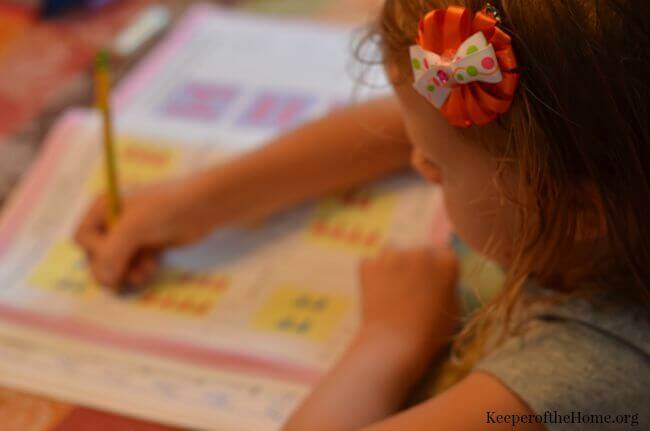 While they are gone, I spend some time cleaning, doing laundry, and preparing lunch. I also help my daughter with different tasks when needed.
Noon
We eat lunch around noon. My husband also eats with us. It's a good opportunity to discuss what they are learning that day and also just generally chit chat about life. (There's also plenty of "please sit properly in your chair . . .eat with your mouth closed . . . no, you can't have a brownie for lunch." And so on.)
1:30 p.m.
At about 1:30 a dear lady from church comes and picks up my oldest daughter and takes her to her ranch. There my daughter will help with some of the chores and get a horse riding lesson. This lady and her husband volunteered to do this and I am incredibly grateful!
Afterward they take her out to dinner and bring her back home. (I know! Amazing!).
While my daughter is out of the house, I do a few more chores and a little school work with my son and youngest daughter.
We also get some ballet shoes in the mail and have to try them on right away!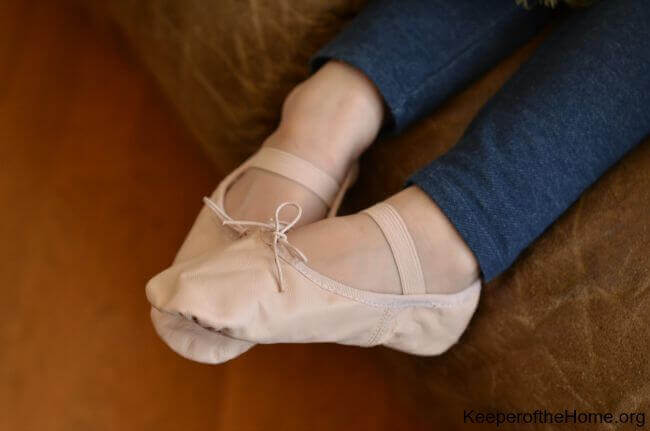 This week, my mother-in-law then takes them to her house so I can have a few hours alone.
I know, this seems like I'm getting a lot of time alone, but remember, this is only one day out of my week. It's not like this every day! I promise.
I have about two hours to myself. I use this time to do some online work, which includes working on blog stuff, ordering household items, replying to e-mails, and organizing information for the upcoming school year.
4 p.m.
I pick up my son from his grandma's at about 4 p.m. and take him to martial arts.
After his lesson I get to take a group exercise class with the Sensei, which is a lot of fun (and a great workout.)
I like to look at this sign in the dojo when I exercise (it keeps me going!):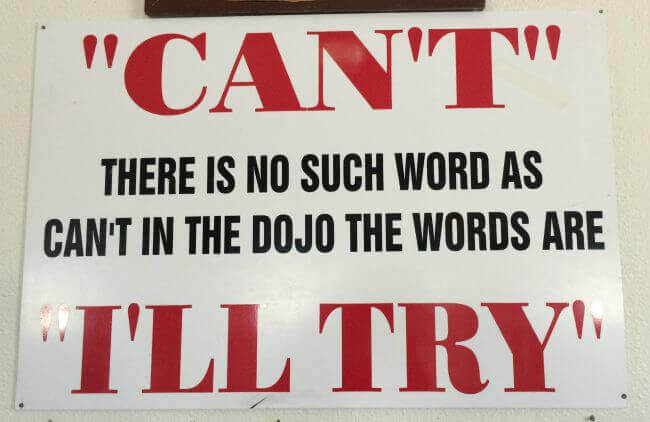 We then run home and get dinner going. My oldest is already back and my husband is at the church building teaching a small group Bible study.
I read to my littlest before setting the kids up for a movie (I have to attend an orientation for the new online school program).
After that it's time to get ready for bed.
My husband comes home and hangs out with the kids (plus helps them get to bed).
Once they are there, it's not long before we are in bed too.
We chat and the day is done.
I take these days as true blessings. A gift to this once exhausted, run-ragged momma.
If you are struggling like I was, I encourage you to think of ways to get help. It's humbling to ask for it, but it could change your life (and the lives of those who help you)!