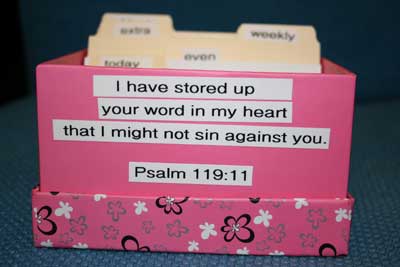 Looking for a way to memorize scripture with your children?
Over the last month or two, we have begun using a system that is
working so well for us. It helps us to not only learn new scriptures,
but to continually be reviewing the ones that we have already committed
to memory.
My husband ran across this system on a Charlotte Mason site. The
method was relatively simple to put together. The most time consuming
aspect was actually choosing the verses that he wanted to include in it
and typing them out, but setting up the box itself was quick and easy.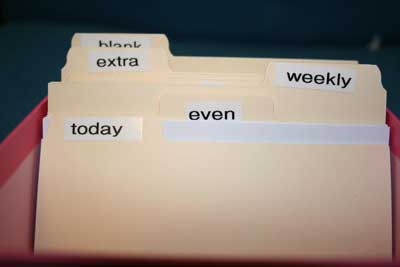 Basically, we always have one verse under "today" or "daily" that we are in the process of memorizing, as well as many others in rotation. Those verses are reviewed on even or odd days, the days of the week, and then the date of the month (this link explains it much better than I do). We bought a small box that fits index cards, and then a package of index card dividers from the dollar store. We printed the verses out on the computer, then cut and paste them onto index cards. We store all the extras at the back of the box, and gradually add them to the system as we learn them.
We like to do our verses while we eat breakfast (or dinner, if we weren't able to all eat together in the morning). Ryan leads us and we all repeat the verses together while we are learning them, and then take turns trying to say them on our own. I am constantly surprised and awed by how our 4 1/2 year old picks up the verses so easily and just rattles them off to us! Children have amazing, sponge-like memories and this is the perfect time to help them learn to hide God's word in their hearts. I am so blessed to see her learning these truths, and trust that as she understands and learns more of the Bible that it will bear much fruit in her life (and in our other children, as they grow old enough to do this as well).
Do you memorize scripture with your children or as a family? What types of methods or systems do you (or have you) used?