Using Sourdough in Wonderful and Unusual Ways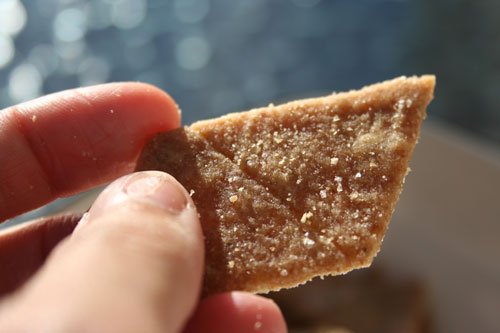 I tend to be a creature of habit. I like to do things the usual or "normal" ways. I color inside the lines. I like clothes in classic styles that match easily. I prefer using tried and true recipes or simply adapting an existing recipe rather than creating my own from scratch.
It shouldn't surprise you, then, to know that I use my sourdough starter for making (what else?) bread. Just bread.
How much I've missed by believing that sourdough is only good for bread baking! It IS wonderful for making bread. I love the mildly sour taste, the beauty of being able to skip the yeast, knowing that the phytic acid in my grains is sufficiently dealt with, the sheer frugality of sourdough, and the moist, chewy texture that it results in.
Were you aware that the illustrious benefits of sourdough are not limited to bread or bread-like (buns, baguettes, etc.) baking? I wasn't. I had heard that some people made sourdough pancakes, and I thought that was a nifty idea, but I never bothered. Stuck in my ways, head in the sand, I continued on with my bread-making ways until I began to explore the Sourdough eCourse put out by GNOWFGLINS this summer.
You can imagine my surprise when I looked at the course outline, and saw these offerings in the repertoire of lessons:
Tortillas and Tortilla Chips
Cakes (Chocolate & Spice)
Multi-Use No-Knead Sourdough
Cinnamon Rolls
Crepes and Crepe Cakes
Crackers
Gingerbread
and even Donuts!
My, how much I have to learn! And learning is exactly what I have been doing this past month.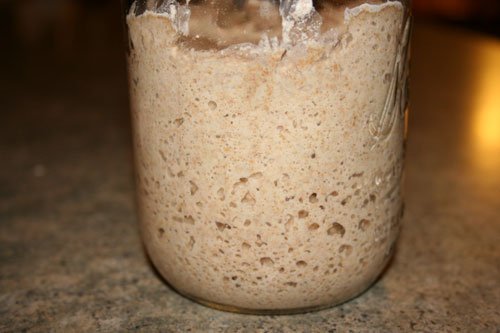 I began by making a brand new starter since I killed my previous starter when we moved this summer. Using the detailed instructions and tutorials, I managed to make what just might be the best starter I have ever made. I used rye flour, although you can use wheat, spelt or even kamut if you like. Mine is incredibly bubbly and active, rises extremely well and began working for me within 5 days of starting it.
Then, the real fun began. Here are some of the wonderful and unusual ways that I have been using sourdough in my kitchen:
Multi-Use No Knead Sourdough Bread
You've probably heard of Artisan Bread in 5 Minutes a Day. I've been eyeing the books ever since they came out, and have even tried it multiple times, but I just couldn't get over the nagging worries that the method couldn't sufficiently deal with phytates in the whole grains. That, and the fact that by the second loaf, a yeasty taste and smell began to permeate each loaf and we just didn't really enjoy the end result.
I had so much fun watching the videos for this No-Knead Sourdough Bread (adapted from Artisan Bread in 5 Minutes) with my daughter, and watching Wardeh and her friend turn out wonderful product after product with one simply-made batch of no-knead dough that took 5 minutes to make (before sitting overnight). Large and small loaves of bread, buns, English muffins, cinnamon rolls, even pita bread! Was there no end to its uses?
I had to try it myself. On my very first attempt, I made cinnamon rolls, buns and two loaves of bread. The rolls were soft and chewy, and not nearly as sour as I expected them to be (which the sweet topping made up for). My husband said the buns that we ate with our soup were among the best I've ever made– very moist, chewy and delicious. The bread was a piece of cake with the remaining dough, and was promptly frozen for when I go out of town and leave hubby and the kids to fend for themselves. If it tastes anything like the buns, it will be a hit.
Best of all for this busy mama? For each new baking project, the dough was already made and all I had to do was heat my oven, shape the dough (and season, if necessary), and bake it. Truly, 5 minute baking, but with a nourishing outcome!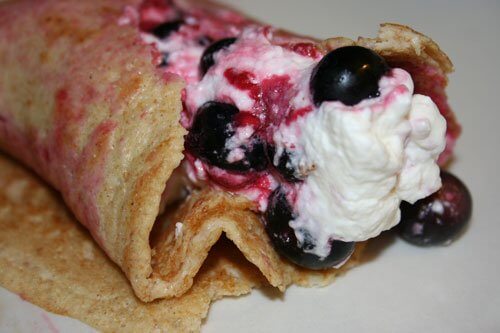 Crepes
Normally when I set out to make crepes, pancakes or waffles, I have to start the afternoon or evening before to allow sufficient soaking time. This recipe allowed me to use my sourdough starter as the basis of my batter, adding eggs, milk, salt and oil. It took only 5 minutes that morning to have my batter ready and my pans warmed up!
I had a few problems with my crepes tearing, but I think it may have had to do with making my crepes just a little too thin and having a few sticking issues on my cast iron pan. When I used my Earth Chef pan with ceramic, non-stick coating, my crepes came off easily.
Nonetheless, even the ripped ones were promptly devoured, once covered by berries and whipped cream!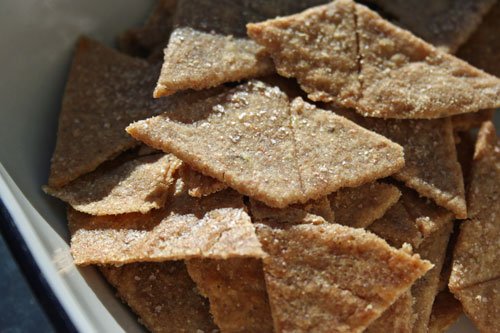 Crackers
These sourdough crackers have won a place in my heart and my recipe binder for 3 reasons:
They're really very simple and easy to make.
They're just plain tasty- I love the mild sourdough tang!
The specific directions helped me to make the perfect thin, crunchy cracker texture.
I used Katie's Crispy Sourdough Cracker Recipe. I added a bit of salt, garlic and onion powder, and some Italian seasoning. Though you only need to wait 7 hours, I sort of forgot about my dough and left it a full 24 hours before I got around to baking them. I thought I was in for some very sour and possibly inedible crackers, but I was wrong.
This recipe must be forgiving, because they turned out just fine, and we wolfed down 1/3 of them within less than 2 hours of taking them out of the oven. I'll take that as a good sign that everyone is enjoying them.
Conclusion?
There's a whole lot more to sourdough than meets the eye. My previous perceptions have been shattered and I now realize just how easy and versatile sourdough really is!
Want to learn more about how you can use sourdough to make all manner of nourishing and delicious baked goods? Sign up for the "Pay What You Can" Sourdough eCourse, where you will receive a lifetime membership and access to all videos and resources!
What is your favorite thing about sourdough and what sorts of wonderful and unusual things do you like to make with it?
**This post was sponsored by the GNOWFGLINS Sourdough eCourse, but all opinions expressed are entirely my own. Sponsored or not, I'm actually really glad that I've had a chance to review this course and add some amazing new recipes and options to my baking repertoire. 🙂