Q&A- Confusion with Soaking Grains
Here's a recent question from my inbox:

…What I am getting is that all grains that I use need to be soaked,
whether they are in the grain form or milled (flour) form. To me that
would include: rice, barley, wheat, spelt, kamut, oats, wild rice, and
then the flours from these types of things (mainly I use spelt and
wheat).  
What I do not get is do all of these things need to be soaked
first. Like if I want to make some brown rice, I normally take the dry
rice and add it to boiling water and I have rice to eat 30 min later.
If I am making bread, I scoop out whatever cups of flour I need and use
it. Are there some things that do not need soaking?
 
I noticed that a lot of the things seem to require dairy to soak
in. Neither I or my daughter can have dairy. I don't want to use lemon
juice or vinegar if it gives the grains a sour taste. I want my food to
taste the same it does now.
Nola
 
Are there others of you out there that are just as confused? Allow me to try to put some of that confusion to rest!
What needs to be soaked?
Pretty much everything- oats, wheat, spelt, kamut, barley, rye, all of it.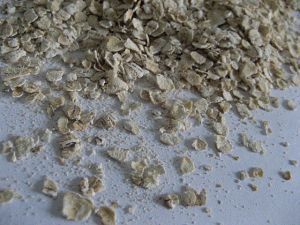 The one possible exception I have come across is rice. It seems that (according to Nourishing Traditions
), rice can be eaten without being soaked. In fact, Nourishing Traditions includes both unsoaked rice recipes (though it cooks slower and longer- 1-3 hours instead of 30-45 minutes), in addition to soaked recipes.
How do I go about soaking everything before I want to make it?
Basically, you just learn to put it into your schedule of meal planning and kitchen work. So, if you know that you want to make biscuits with stew on Tuesday, and quinoa on Saturday, you might add soak flour to Monday's to-do list and soak quinoa to Friday's list.
Initially, it takes a bit of forethought and I would often discover days where I had forgotten to soak what I had planned to make. If I could swap my meals around, I would doo so and then do the necessary soaking for the next day. If I couldn't, I did without the soaking and made a mental note to consider the soaking time the next time I planned to make that meal.
I've noticed that most other "traditional food" bloggers include their soaking tasks with their daily meal plan. I do the same thing in my planner. I don't always remember to do it during the day, but I try to make a point of going through my planner before I go to bed, to see if there's anything I need to get going for the next day.

Do I need to use dairy for soaking?
Nope, you don't! You can also use lemon juice or apple cider vinegar. You would add these in the same amounts as you would when a recipe calls for dairy.
If it calls for a cup of dairy, you can just substitute a Tbsp of lemon juice or apple cider vinegar, then fill the rest of the cup up with water. The results won't be exactly the same, but if you're already on a dairy-free diet, you're probably used to that. On a bit of a side note- I often cut the diary required in my baking/grain recipes by half, just because I'm cheap, and usually no one is the wiser. It truly doesn't make much difference, in most recipes anyways.
For more on this, see Soaking Methods for the Dairy Intolerant.

Will it still taste the same?
Hmmm… depends. In most recipes I don't notice that it tastes a whole lot different, as far as tasting sour. Now, I usually use cultured dairy (kefir, yogurt, etc.) in my recipes, so perhaps their sour taste is a bit more mild. Occasionally, though, I do use lemon juice.
One place I notice a sour tinge to the flavor is in oatmeal. I've gotten used to it, and it's not really strong, but it is there. I've heard that rinsing the oatmeal and adding fresh cooking water helps remove the flavor. Personally, I don't feel like it's worth the hassle, so I don't do it.
I don't think that my breads or baking have any sourness to them. Are they different than unsoaked products, though? Yup, they are. Baked goods are often a little bit denser (but not always), and they do take longer to bake. Some things are nicer- I really like grains like millet, quinoa and rice soaked, because they seem a bit softer or lighter to me.
Best of all, soaking makes grains sit better with me. I have a hard time digesting unsoaked grains, or ones that are raw (soaked, but not cooked), or only lightly cooked. Soaking and proper cooking really enhances my digestion, and that is so very worth it to me!
A few more Q&A on Soaking Grains (these links are all from Passionate Homemaking, who answered some soaking questions a while back)..
Any other questions? Fire away and I'll do my best to answer them! 🙂