Using Beans to Keep the Food Budget in Check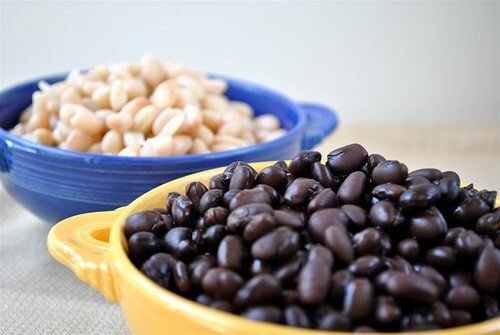 I recently shared a very popular $250 sample grocery budget, and mentioned that one of the ways that I would stretch things out was with the use of vegetarian meals, most of which feature beans and legumes. Katie has written an incredible recipe ebook called The Everything Beans Book (keep reading for a coupon code!), which is chock full of recipes to help even bean-loathing families learn to happily eat more beans, up their nutrition, and keep costs down. And now, I'll pass it over to Katie to share some of her tips with you…
Guest Post by Katie Kimball of Kitchen Stewardship
Can you live a life with beans on more than just rice and beans?
I believe you can, and although I have beans and rice recipes to share for Mexican and Cuban style, plus a homemade twist on rice-a-roni, imagine 27 more ways to cook with beans. Definitely one way to cut your budget while using whole foods!
Keeping the Food Budget in Check
I dearly miss my coupons now that I make almost everything from scratch. Avoiding processed foods sometimes means forfeiting couponing, which takes away that receipt-loving triumph of, "I saved more than I spent at the grocery store!!!"
I've had to find other ways to trim the food budget, and cooking with beans is surely one of them, even though canned beans have doubled in price in a decade – doesn't that make you want to cry?
Certainly a can of beans is still more frugal than a pound of meat, and you can cut the cost even more by using dry beans.
If you don't know how to cook with dry beans, my frugal friends, now is the time more than ever as grocery prices continue to rise.
Why Beans?
I choose beans for equal parts nutrition and frugality, which isn't something you can say often.
My frugal eBook, The Everything Beans Book, not only has 30 beans and legumes recipes but also 20 pages of information.
I'll teach you:
How to cook with dry beans to maximize BOTH cost savings and your family's health
Tips for bulk cooking beans to cut your time in the kitchen
How to pair beans with other simple foods to best utilize the protein (including some you may never have heard of even if you're well-versed in complementary proteins)
Why you want to embrace beans in your meal plan
Ideas for picky eaters who hate beans (I was one of them not long ago!)
Frugal tips with every recipe to cut costs on all the other ingredients
And even a few tips on the whole flatulence issue
Lesson One: Three Ways to Sneak in the Beans
1. Use Lentils to Stretch the Meat
My husband hates when I reduce the meat or add fillers, especially in his favorite meals. He has stamped the seal of approval on tacos with lentils, however, so you can believe that they're top notch. It's simple: cook up some lentils (I do a huge batch and freeze them) and add them in a 1:1 ratio with a pound of ground beef for tacos. Use seasoning equivalent to two pounds, and I promise, no one will be any the wiser.
You've slashed your cost for a rather meat-based meal without compromising nutrition, and you might even have leftovers (which makes my husband very happy). This trick works just as well with really, really well-cooked white beans. They turn into mush and your taco meat looks surprisingly like a certain Mexican fast food chain that my husband may just be in love with.
2. Puree Beans in Spaghetti Sauce
Start with about a half can or one cup kidney or pinto beans and puree before adding to any spaghetti sauce. Protein boost!
3. Make a Sauce Out of Beans
This recipe is the free download from The Everything Beans Book, and it's perfect for the bean haters: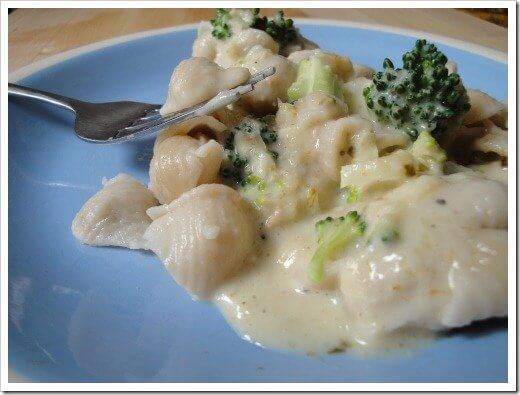 Recipe: Pasta with White (Bean) Sauce
If you don't tell your dinner guests you're serving beans, they'll be hard-pressed to figure out the difference between this protein-packed white sauce and a standard Alfredo. You can choose to leave the beans whole for a lovely texture, too.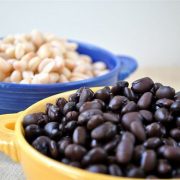 Print Recipe
Pasta with White (Bean) Sauce
Ingredients
½

c.

chopped onion

1 4-

oz.

can diced green chili peppers

drained, or 1 chopped jalapeno or Anaheim pepper

2

Tbs

butter

2

cloves

garlic

minced

2

Tbs

whole wheat flour or arrowroot starch

1/8-1/4

tsp.

black pepper

1 ½

c.

whole milk

1 ½

c.

shredded cheese

any kind works, but Swiss or Monterey Jack is great

1 15-

oz.

can white beans

drained and rinsed, or 2 cups cooked dry beans*

salt to taste

likely about a ½ tsp.

½

lb.

Linguine or favorite pasta

cooked according to package directions

*If soaking dry beans

start with 1 cup before soaking.
Instructions
In a medium-sized, heavy bottomed pot, cook onion and peppers (if using fresh) in melted butter until tender, adding garlic at the last minute. Stir in flour and pepper and cook two minutes. Add the milk all at once. Cook and stir over medium heat until bubbly and thickened, taking care not to scorch the bottom.

Cook one more minute, then add cheese and stir to melt. Add the beans and canned chiles (if using canned) and stir to heat through. Feel free to add extra milk at any point if the sauce is too thick for your tastes.

Serve over linguine or your favorite pasta. You might include steamed veggies right in the sauce for an all-in-one meal.
Notes
For the bean haters of the world: If you use an immersion blender and whiz the sauce, the beans (and their taste) disappear. You might want to add a bit of extra milk to thin it out, up to 1/4-1/2 cup.
For a printable version with all the frugal tips and ingredient variations, check out the free download of the beans recipe.
If I had time for a fourth, I'd share the amazing Black Bean Fudgy Brownies with you – guaranteed that no one without prior knowledge would guess that the main ingredient is beans, and there is zero flour involved! (Stephanie's note: These brownies are SO good!)
Get a taste of what's in the eBook with these other frugal bean recipes:
Katie's Simple Cabbage Soup with Secret Super Food 
Take $4 off The Everything Beans Book!
Katie has generously offered a coupon code for Keeper of the Home readers to save on The Everything Beans Book. Regular price is $9.95, but you'll get 40% off with code FRUGALBEANS, making it just $5.95!
How do you use beans in your meals to save money?
Top image by cookbookman17
This post includes affiliate links.