Safe Bath Products for Kids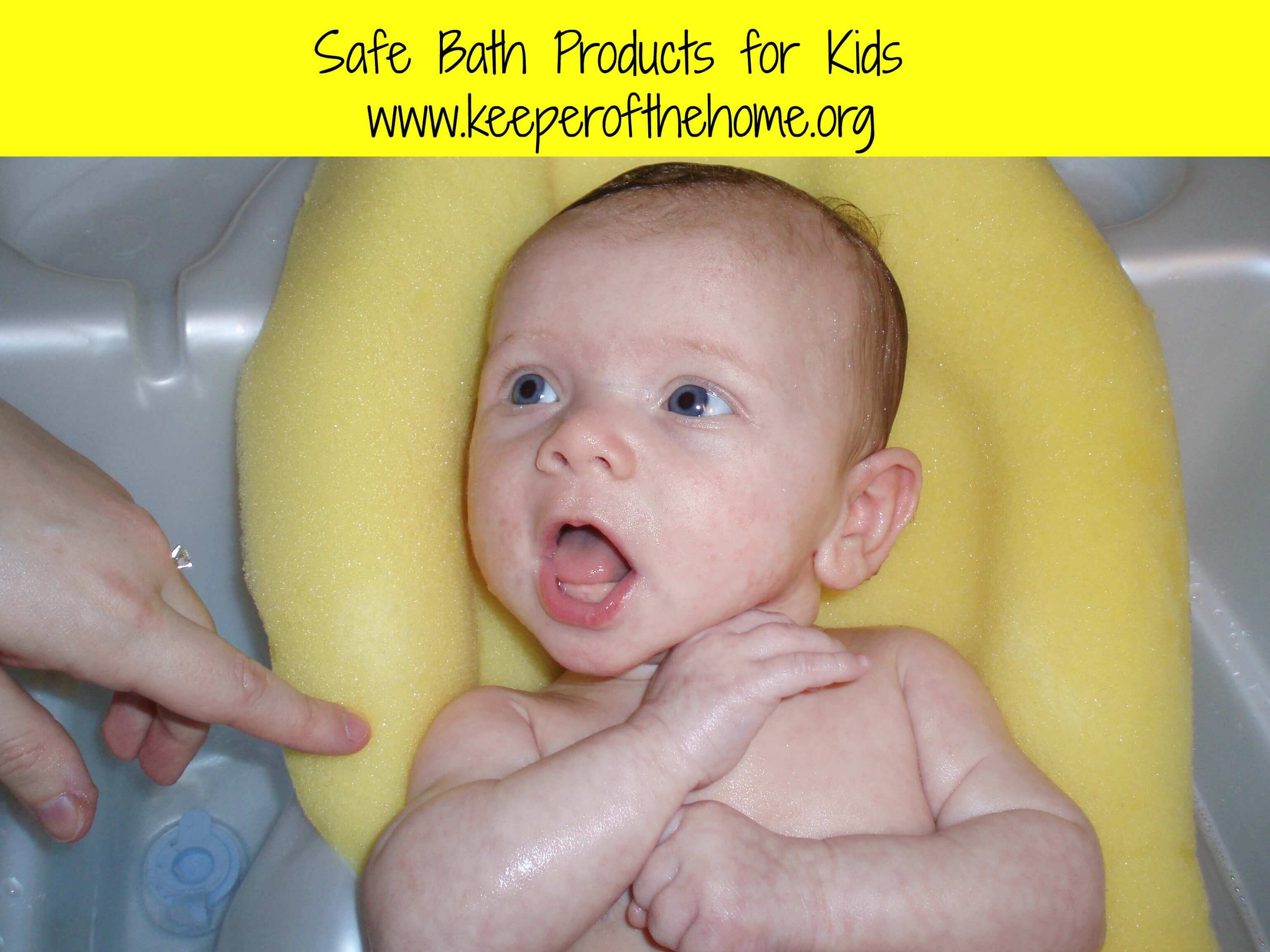 Written by Kate Tietje, Contributing Writer
When I was expecting my first baby, I bought so much stuff. Some of what I bought was all the "usual" baby care products — shampoo, baby wash, baby lotion, and so on. All of that stuff makes babies smell so good!
Then, when my daughter was a few months old, I was putting on her baby lotion after her bath one night and I watched an angry, red rash appear immediately. Wow! We never used that lotion again. (And yes, that's her in the picture above…when she was about 2 months old.)
I started looking into it and realized that many products on the market aimed at kids aren't so safe…or even necessary. Now I have three (very soon to be four) kids, and the products that we use are extremely minimal.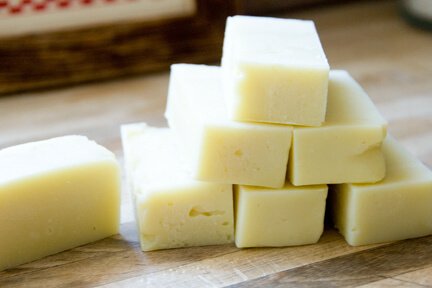 Safe Bath Products
Frankly, in the early months, I use almost nothing.  The baby isn't mobile and really isn't getting that dirty.
Only the diaper area really needs cleaning, per se (as opposed to wiping down). For that, I usually use Dr. Bronner's Castile soap, and only if it's a blow-out situation or the baby otherwise really needs that.
Mostly, I just use plain water to wipe the baby down as needed.
Older babies and kids do tend to get messy sometimes! Babies and toddlers like to play with food, and ones who are mobile like to play in the mud and sometimes they really do get dirty. One of my kids' favorite warm-weather activities is digging in the dirt, and it often ends up piled in their hair, smeared on their faces, and so on. So what then?
No 'Poo
Stephanie has talked about this before for herself, but I use it on the kids, too. I have used Burt's Bees Baby Wash and Shampoo on the kids' hair (which is tear-free and mostly chemical-free), but it's expensive. With three kids and the occasional "Oh, look, let's make extra bubbles!" it goes fast.
In an old shampoo bottle, I mix about 1/3 baking soda, 2/3 water, and a few drops of rosemary, grapefruit, or bergamot essential oil (you can use others, but I have found these most effective). This mixture is added to wet hair, gently rubbed in a bit, and rinsed out. It's very cheap and it's naturally tear-free. The kids don't mind using it…even the ones who complain about having their hair washed.
Castile Soap
I keep a bottle of Dr. Bronner's around — unscented or a scent that uses only essential oils (like lavender). This is a good all-purpose body wash and can also be used for hands. It's just saponified plant oils and really nothing else — no harsh detergents, colors, or other additives.
Avocado Oil
This is my favorite body-care oil. Coconut oil can be somewhat drying to the skin (I forget why — there is some scientific explanation about the types of fatty acids found in coconut oil and how this can dry the skin), so I don't use that.
The avocado oil is wonderfully moisturizing and also very safe.  I either use it straight on the skin, especially with really tiny ones, or I mix it with other ingredients like shea butter to make a lotion. The kids really like it either way.
We don't use any lotions regularly, only as-needed. We try to prevent dry skin by making sure the kids eat plenty of fat and also don't bathe too often (which strips skin of natural oils).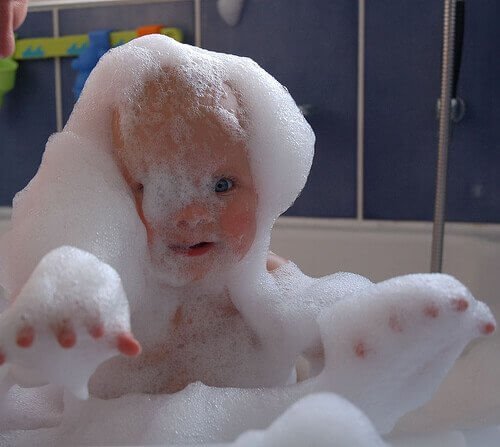 What About Other Products?
I really don't use anything else on a regular basis, and most babies and kids probably don't need more. Since some readers will be new to this minimalist idea, I'll quickly address a few other products or circumstances and how I handle them.
Bubble Bath
There are some organic, natural bubble bath products out there. The kids might be given these as gifts sometimes, but they're not necessary and not a regular feature in our home. My True Nature makes one that we have used.
Diaper Time
I use cloth diapers and wipes. With my oldest, I'd make a "solution" in a spray bottle that consisted of water, essential oils, and some Castile soap. Once she was big enough to crawl and play with the bottle (around 9 months) that stopped.
I haven't yet had all my kids either old or young enough to leave a spray bottle on a changing table again. I just wet a wipe in the sink with plain water for most diaper changes, and I do keep a natural brand of disposable wipes in the diaper bag for when I'm on the go.
If the diaper is really that bad (which isn't too often), then I take them in the bathroom and use the Castile soap to wash them. This is rarely necessary, especially beyond the newborn phase.
Baby Powder
I haven't ever found a need for this. For parents whose babies are facing a yeast rash and need something safe to dry the skin, bentonite clay is probably the safest option.
Babies and kids just don't need a lot! It's very easy, if we let it be. 🙂
What baby and kid bath products do you use in your home?
Disclosure: This post includes affiliate links.