The GAPS Diet: One Mom's Experience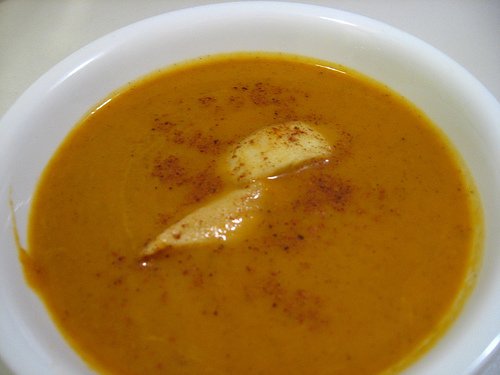 Image by Qfamily
After all the GAPS diet talk last week (what it is and why we're doing it), I thought it would be good to hear from a mom who has just recently started doing the diet with her children, and the amazing (and fast!) results that she has seen. Rene and I met a few weeks ago when we roomed together at Blissdom, and this frugal, real-food loving mama and I have become quick friends! Here are her thoughts the GAPS diet so far:
_____________________________________
My three year old was diagnosed with asthma a few weeks ago. We have started her on her medicines. However, I also wanted to see if there was something that we could change in our diet that would improve her symptoms so that hopefully she will not need as much medication in the future.
I roomed with Stephanie at Blissdom, and she was reading about the GAPS diet. I decided that it couldn't hurt anything to try it, and we all started eating the foods on this diet. We had previously been eating almost all organic food and following Nourishing Traditions.
So, I started my family on this diet. I am pregnant, so I made sure to add a few additional foods to my personal diet so that I would not detox too rapidly. My eleven year old understood why we were on the diet, and was very willing to eat these foods to support her sister.
My three year old, with asthma, was not too sure about it, and my one year old will eat anything. However, I am also not being quite as strict with my one year old because we are still in the process of just introducing her to various solid foods.
I was very surprised to see the immediate results of this diet. I did not expect to see any big changes, for a long time. However, I was really surprised. The second day of the diet, my three year old only needed her daily inhaler. She had been using her emergency inhaler several times a day previously.
However, the real shock was actually with my eleven year old. She has had skin problems since she was two. She has very dry skin, keratitis, and discoloration on her legs, arms and hips.
On the second day of the diet, her skin was noticeably less dry, had no bumps or discoloration on her hips and thighs. By the end of the week, her skin was almost entirely cleared up! We have treated her skin off and on since she was three using different medications and creams, and have never had good results. Her skin today looks like it did when she was two.
More work but it's worth it
Before you rush out to start this diet however, I will say, the diet requires a lot of preparation. I am used to planning my meals an hour or two ahead and then throwing a quick meal together unless I am soaking grains for that meal. With the fewer foods that we are eating, my meals require much more planning and I have to really think about my purchases.
I am actually planning on writing out my meal plans for a month this week, so that it will be easier to prepare our meals. However, the extra work seems like it is definitely worth it, considering the results that I have seen.
I have also noticed an incredible behavioral change in my children when they are on the diet. Outbursts of anger have been reduced and their ability to focus on tasks for longer periods of time has increased.
My three year old actually went off her diet yesterday because of the processed foods served at church, and she ate twice at church yesterday. She has needed the emergency inhaler three times today, which she had not needed since two days after I started the diet.
Starting off
To start off the diet, I made two different types of soup. A savory soup with root vegetables, and a sweeter soup with acorn squash and butternut squash. Both have a bone marrow base. And we have basically been eating marrow soup three meals a day, with whey added in.
I will say that the repetitiveness of these meals at the beginning is a challenge, but for us, well worth it for the results, and we will be able to add in more foods later. My daughters like egg drop soup, so I have been adding some egg to the soup as well as a few vegetables. We have also had egg casserole, meat and veggies from the crockpot, and even homemade applesauce.
It will be interesting to see what happens when we move on to the next phase of the diet, but right now, I am totally sold on this diet after seeing the immense changes in my children's physiological and behavioral health.

Rene is the wife to a great guy, homeschooling mother of three with another on the way. She loves to save money, cook and garden. You can find her at her blog, Budget Saving Mom.