The Friends and Foes of Motherhood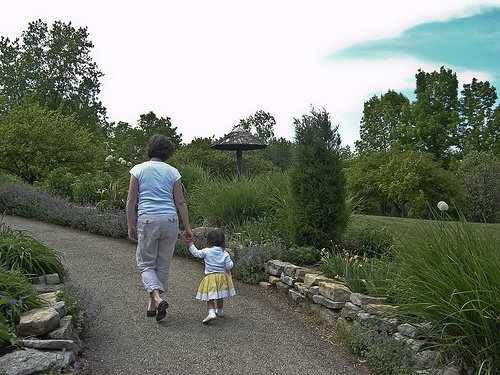 Motherhood isn't easy. There are many ways to describe motherhood – joyful, challenging, unique, consuming, wonderful, exhausting, humbling, rewarding – but easy isn't one of them.
As mothers, our greatest privileges and our greatest joys in life also happen to be some of our greatest challenges.
There are things we can do to help make the job of motherhood easier and more joyful.
Those things are like friends in that they lighten our burden and make our journey more joyful. They are the friends of motherhood. They can make our responsibilities easier, although not necessarily easy. Just like our friends in real life, the friends of motherhood help us along, lift us up and encourage us to continue trying.
And on the contrary, there are also things we do that make our mothering more difficult and challenging; those things are our foes.
So what are the friends and foes of motherhood?
First, we'll talk about the friends. The friends of motherhood are patience, forgiveness and confidence.
Patience
"Have patience with all things, but chiefly have patience with yourself."  – Saint Francis de Sales
No doubt about it, motherhood takes patience! The patience to wait for your three year old to put his shoes on by himself. The patience to clean up the floor underneath the highchair… for the fifth time that day. That all takes patience and the more patient we can be, the easier our days will be.
I often find that the same situation can be exhausting or amusing depending on my attitude. Often, whatever has happened to try my patience will only be made worse by the display of impatience, and, most of the time, being patient will better the situation. Patience really is key to the happiness and peace in our homes.
And just as important is the the need to be patient with ourselves. It's far too easy to beat ourselves up, criticizing and judging ourselves for our shortcomings, weaknesses and mistakes. But if we can be patient with ourselves and continue trying, we'll be far better in the long run, and so will our children.
Forgiveness
"Forgiveness is not an occasional act, it is a constant attitude."  – Martin Luther King, Jr.
If you stop to think about it, a mother is constantly forgiving, forgiving her children for misbehaving or acting out. It seems so common that we may not even recognize it as forgiveness. But it is. Forgiveness allows love to flow and to be felt by our children even during times of discipline.
Forgiveness builds a bond of trust between a mother and her children. Over time, our children will learn that our love is constant and is not contingent upon their behavior. This will help them to be honest with us and be more open to communication about potential problems or decisions they might be facing. Forgiveness also frees us from the burden of anger and the distracting desire for a retaliative type of discipline.
Similar to patience, we also need to forgive ourselves. Just like our children, we will often make mistakes, and we need to forgive ourselves and move forward with confidence.
Confidence
"Confidence comes not from always being right but from not fearing to be wrong." – Peter T. McIntyre
The friendlier you can get with confidence as a mother, the better off you'll be. Confidence in motherhood is difficult. It's easy to feel less-confident then we should.
We all need to trust, however, that God gave us the children he gave us for a reason, and be confident that through prayer and effort, we can raise them as they need to be raised and mother them in the way that they need to be mothered.
Confidence does not mean that you discount all others' thoughts and suggestions, valuing only your own. Confidence in motherhood is the understanding that you are capable of raising your children the way they should be raised, taking ideas from all valuable sources and putting them to your use in the best ways for your children. Confidence is the ability to give consideration to any thought or suggestion, whether yours or another's, and be confident in your ability to evaluate the idea.
Confidence should not be shaken by mistakes. Learning does not take place without mistakes, and a confident mother knows that, with every little stumble she is increasingly capable.
Unfortunately, on the other hand, there are foes of Motherhood too: perfectionism, comparison and discouragement.
Perfectionism
"The thing that is really hard, and really amazing, is giving up on being perfect and beginning the work of becoming yourself."  – Anna Quindlen
Perfectionism is the archenemy of motherhood. We're not perfect, our house isn't perfect and no matter how perfect we'd like our little merit badges (aka children) to be, it's just not going to happen.
Striving for perfection causes us to miss out on the wonderful things that are happening all around us. We miss them because we're not looking for them; we're focused only on the achievement of perfection.
Perfectionism is damaging to our self-esteem and is a form of negativism. In constantly striving for something impossible to achieve, we hold ourselves to an unreasonable standard and then focus only on how we and others don't measure up. We become critical of ourselves, our husbands and our children.
In the end, any improvements we might make will be outweighed by the damage caused by perfectionism. It is a constant effort to let go of perfectionism, but the advantages are well worth any effort.
Comparison
"Enjoy your own life without comparing it with that of another." – Marquis de Condorcet
Comparing ourselves to other moms and women is the worst thing we could possibly do to ourselves! We're all different, with different strengths and also with different weaknesses. Far too often, we compare our worst with another's best. And that's not fair!
There is simply not time to be everything to everyone. If a mother is constantly comparing herself with others and trying to be what they are, she will spread herself so thin that she becomes unable to do anything well. She will plunge herself into a never ending cycle of discouragement. We all have God-given strengths to help us raise our children, and we should focus on them.
Rather than comparing and competing we should commend and compliment each other. We're all in the trenches of motherhood; we know what it's like. We should be each other's cheerleaders, recognizing the strengths and gifts of others and applauding them rather being envious.
Discouragement
"Let no feeling of discouragement prey upon you, and in the end you are sure to succeed." – Abraham Lincoln
Allowing ourselves to be discouraged slows down our progress and dampens our determination. Things never go quite right or quite as well as they could go, but the best thing we can do is laugh it off.
Getting discouraged only worsens the situation and plunges us further down in a frustrated cycle. It distorts our vision and makes small things seem overwhelming.
Discouragement often makes us confused, and produces inner turmoil because we feel hopeless; we want to give up but then feel guilty for doing so. It's just the opposite of the peace we would like. Discouragement exhausts our strength and we lose the power of action.
Fighting discouragement will give us strength and power in motherhood. The ability to be cheerful, especially in the face of discouragement and frustration, will bring a peace unparalleled.
Those are the friends, and the foes, of motherhood. Just simply recognizing them when they appear can help us to encourage the friends and defuse the foes, making our motherhood experience the best it can be. And once recognized, the first step is already taken. Motherhood will never be easy, but it will be worth it!
What are your friends and foes of motherhood?