To the rockinest Daddy we know…
(…that was what we put on the inside of the iPod card the kids and I made for our iPod-loving, musician Daddy, as well as a Best Daddy award ribbon colored by Abbie, a French Toast breakfast in bed, and a trip to somewhere fun after church for a gelato treat, in case you were wondering what I had decided on.)
A Tribute
Thanks for always being ready to have fun. Your joy and delight at spending time with your children is evident. Your playfulness, silly games, made-up songs (think potty-training) and dramatic storytelling (think David and Goliath) bring never-ending smiles, giggles (along with the odd teeth-to-head collision), and sheer enjoyment.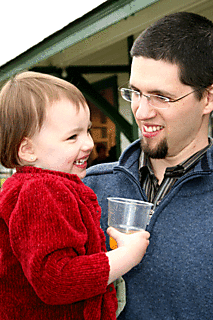 I love to watch your relationship with Abbie bloom, and how she trusts you with her heart. You have a beautiful connection, and she is such a blessed little girl to have a Daddy that is fervent and passionate about protecting and guarding her heart. Your "dates" with her are so cherished, and even the health nut in me can't help but say yes when you ask to take her out for ice cream (again), with that sweet sparkle in your eyes.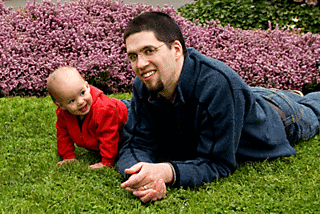 Your ever-deepening relationship with Caden is so precious to me, as I know that you long for a greater ability to connect and pour your Father's heart into your son. Right now, you are the hilarious Daddy who throws and spins and flips him to his heart's content. But one day soon, you will be the man that he looks up to, admires, and wants to be like. I know that your heart's desire is to disciple and train him to be a godly man, a faithful husband and a loving father, and if he is anything like you, he will be all of those things.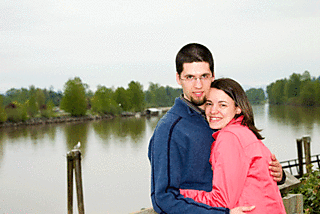 And I am continually blessed to be the mother of your children, and the wife of your youth. I can imagine no great role and no greater joy than to serve you and our family. Thank you for allowing me to do so, each and every day. Your commitment to care for and provide for your family astounds me. Your hard work and faithfulness is an example to me. And your love shows me more of Christ and draws me closer to Him.
Happy Father's Day,
Love Abbie, Caden and Mommy