The Evolution of a Baby-Wearing Mama and the Carriers I've Grown to Love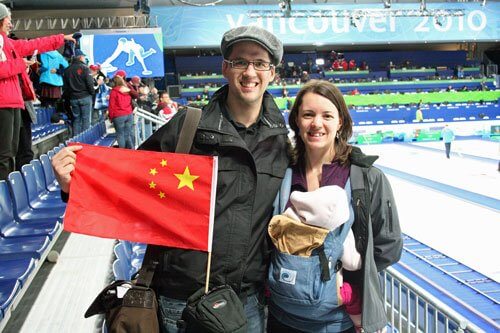 Like cloth diapers, baby carriers can become a bit of an addiction.
Over the past seven and a half years, as I've gone from one sweet baby to four little ones, I've tried my fair share of baby carriers. They are one of the tools that makes my mothering infinitely easier and I grab for one at least once a day and sometimes more.
There are lots of reviews out there on specific carriers if you're looking for one to purchase. Today I'm going to take you on a journey from my first experience of baby wearing, to what I presently use with my 4th baby, and all the things I've tried in between.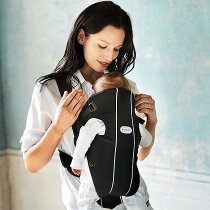 Baby Bjorn
This was the beginning of my baby-wearing journey. It was what everyone else seemed to use back then. Come to think of it, they didn't wear their babies very often or for very long… hmmm.
I used a borrowed Baby Bjorn with my first baby. I'm sure they've improved over the past 7 years, but I wasn't impressed. My shoulders and back literally ached within 20 minutes, the straps rode up my back and I was constantly yanking them back down, and the carrying style options were extremely limited. If baby needed a different position, it was a no go. Sorry about that, baby.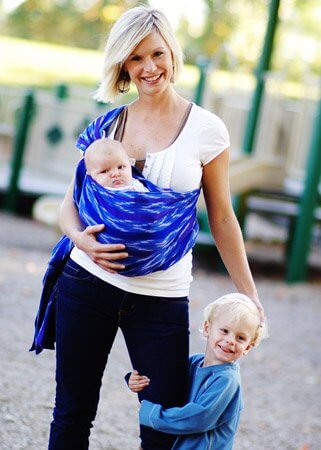 There are many rings slings, but this one is a Maya Ring Sling
Ring Sling
My first ring sling was from a thrift store. It was too big and I couldn't get it tight enough to hold my daughter snugly. I had to hold her tight to me whenever I bent down or moved in any quick manner.
Then I tried a custom-made ring sling that belonged to a friend. I could immediately see that hers was quite a few steps above mine. It tightened nicely, and she could use it to carry her slightly older baby on her hip. She adored using it. I was tempted, but didn't want to fork out the money.
At the very least, it got me thinking that there might be something to this whole baby carrying thing…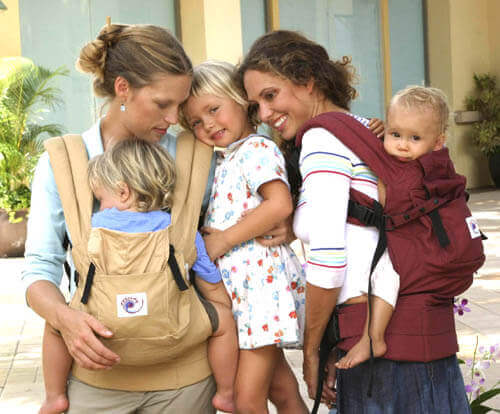 Ergo
I made it to my daughter's first birthday without a carrier. Then she began cutting molars and wanted to be held every second of every day. And suddenly investing in even an expensive carrier sounded like a very good idea.
I was hearing really good things about the Ergo and decided that that's what I needed. I promptly used some saved up birthday money to purchase an Ergo original style baby carrier.
It was the best thing ever and worth ever penny. I wore her on my back, and once I got the hang out getting her in and out safely, it was quick and easy to use. She was delighted to be carried around all day, and I was delighted that I could actually do it for an hour or more at a time. I sometimes used it as a side carrier, but having her on my back was my favorite. The sitting position she was in seemed very comfortable to her and she frequently fell asleep while being carried.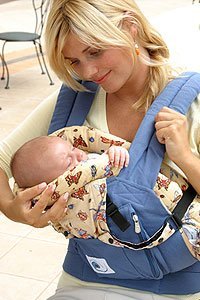 Ergo with Newborn Insert
Eventually, she outgrew being carried and I became pregnant with #2. I knew that Ergo also made a newborn insert, so I made sure to purchase it before baby came. If I loved the Ergo so very much, surely I would also *heart* the newborn insert, right?
Wrong. There were a few major problems. For one, it was difficult to get my new baby situated comfortably in the insert so that the circulation in his little legs wasn't compromised. One time they actually started turning blue! For another, he was born in late May, and even when dressed in only a onesie, the insert was roasting hot for his poor, sweaty little self. It felt extra bulky to wear and made me hot, sweaty and cranky. I got rid of it in a thrift store purge before my 3rd child was born, having worn it less than 10 times.
I do have to mention that while writing this post, I noticed that they now have a new version of the newborn insert than what I used… perhaps it's an improvement?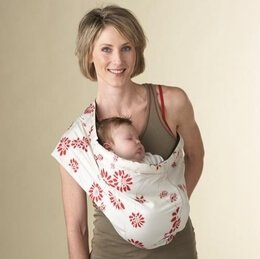 Fitted Sling
While pregnant with my 3rd child, I decided that it was time to pursue slings again as a newborn option, to use until baby was big enough for the Ergo on my back (around 4-5 months, when they can hold their heads up well).
A fitted sling appealed to me, as one negative of the ring slings was the extra fabric that hangs down and flops around. I know some moms like it, because they can use it to cover themselves while nursing in public, but it drove me nuts. After looked into fitted slings, I found a Hotsling in my size (these come in 6 sizes based on your measurements) on Craigslist.
Slings are very convenient. They slip on and off at a moment's notice, which is ideal when you have 2 toddlers and the baby is screaming. Sometimes, they are just perfect for calming a newborn baby, because of their snugness. Other times (especially with my 4th baby), it's just a bit too snug and even a newborn will want to be more upright than a fitted sling allows.
They do fold up small and so they're convenient for travel, for church, for grocery shopping, etc. Ultimately, they still hurt my back and shoulders, although I can tolerate wearing one for about 30-45 minutes.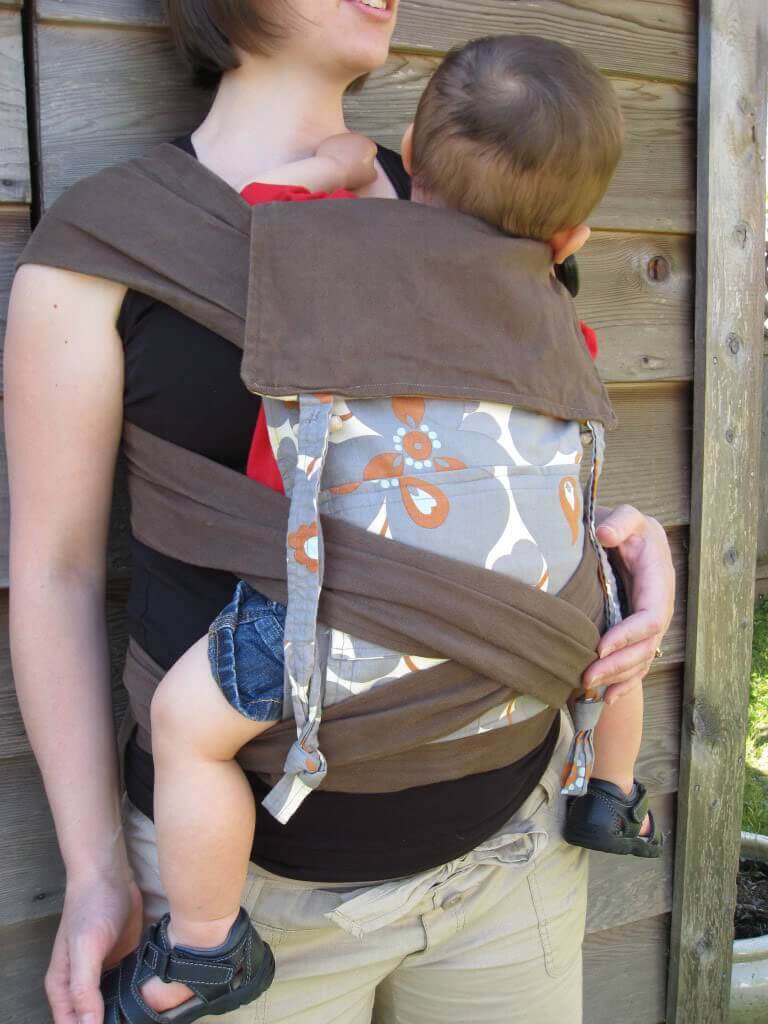 Chai Wrap Tai
(These are actually no longer available, but they're very similar to a BabyHawk Mei Tai)
This unique carrier is a hybrid between a traditional Asian Mei Tai and a wrap carrier (like a Moby). I received one for review when Johanna was already about 18 months old and though I liked the idea of this carrier, she far preferred to run around than be carried.
I set it aside for baby #4, unsure of how much I would use it. Knowing that I was planning to write this baby wearing post, I pulled it out a few weeks ago to give it a fair trial.
I'm in love.
Although this is a wrap style carrier, with very long straps that need to be tied a certain way, it was far easier to put on than I anticipated. I had it down after about 3 or 4 attempts. The reinforced solid fabric front (like a Mei Tai) holds baby in very snuggly, but allows them to be upright. You can also pull the head covering up over them and snap it in place if they fall asleep, to provide them some darkness and keep their head from bobbing around.
Best of all? I can wear it for an extended period of time, without pain or strain. Baby is soothed quickly in this carrier and as he gets older, I can try using it for side and back carrying as well.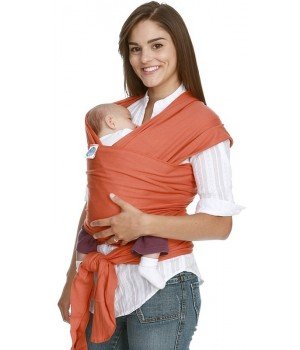 Moby Wrap
I had seen these before and felt intimidated by the yards of long fabric. I had heard amazing things about them, but wondered how I would ever learn to wrap this thing properly? When Courtney (a writer here at KOTH, and also the owner of Simply Nurtured, an online shop with natural essentials for baby and mom) asked if I wanted to try a Moby Wrap with my new little one, I was definitely intrigued.
Before trying it, I read through the manual over and over, trying to wrap my head (no pun intended) around this tying business. I didn't do it perfectly, but nonetheless, once I slipped my fussy baby in, he calmed down quickly and I was pleased by how snug and secure this wrap felt as I went about cooking dinner and cleaning up after children.
After having used both the Moby and the Chai Wrap Tai these past two months, I'm a fan of them both, but for different reasons. The Moby fits so snuggly, spreads the weight evenly across my back, shoulders and chest, and makes it easy to be mobile. The Chai isn't quite so snug or supportive of my back (it is those things, just not as much as the Moby), yet it's easier to put on, feels lightweight, and folds up smaller. They'll both grow along with baby, allowing for different carrying styles.
Four Babies In: My Final Thoughts
I say final knowing that by the time baby #5 or #6 comes along, I may have gone ga-ga over another type of carrier, but this is what I think thus far:
Quickest to put on: Fitted or ring sling
Cheapest: Sling or Moby Wrap (and it depends on the brand, of course, but many fall between $30-$50)
Best for small babies: Moby Wrap or Mei Tai style
Best for large babies and toddlers: Ergo
Best for packing up small: Sling or wrap style
Best for local walks and hikes: Ergo
Overall top choice for an "everything" carrier: Mei Tai (with Moby coming in a close 2nd)
You'll notice I didn't include "Best for nursing". Truthfully, I just don't like nursing with my babies in a carrier. I know plenty of moms do. If you're one of them, would you comment on what type of carrier you like best for nursing purposes?
I've also realized that I prefer to have multiple carriers to use at different times. If I had to, I could get by with just one style, but having several is nice as it allows you to really pick and choose according to each carrier's strengths and weaknesses.
Which carriers have you tried? What have you loved and which ones didn't work for you?
This review is based purely off of my own experiences and is not sponsored by any carrier. The Moby Wrap and Chai Wrap Tai were both received for the purpose of review, but all opinions are my own. This post includes affiliate links.