HealthIER Camping Food: 7 Tips for Taking Real Food With You
Written by Stacy Myers, Guest Writer
I've been camping since I was 8 years old. At my request, my parents decided to try it once – and they ended up LOVING it. We've been every year since then. My first child, Annie, went on her first camping trip at 2 months old.
We started out in tents but my parents graduated to a pop-up camper. However, when we camp we like to "rough it." We usually don't use electricity, but we do use gas for our little camping stove…perfect for our secluded mountain camping spots.
One of our favorite parts about camping is the food. For some reason, food tastes so much better outdoors! And cooking the food is most of the fun!
There are some people who think going camping means you eat cans of Beenie Weenies and pre-packaged doughnuts. That's never really been the case with us – we enjoy experimenting with food while we camp and we try to eat a wide variety of foods.
Now, let me pop in here just a minute and confess something. We do relax our standards a bit when we camp.  There are certain foods that we just really enjoy and would miss them if we skipped them. Since we live by the 80/20 Principle, I figure that one can of corned beef hash for Barry every year isn't going to kill him (but I would recommend that you NOT read the ingredient label. Ha!).
Our goal is to "healthify" the normal camping food so that we can still enjoy favorites without feeling like a big blog of marshmallow laziness.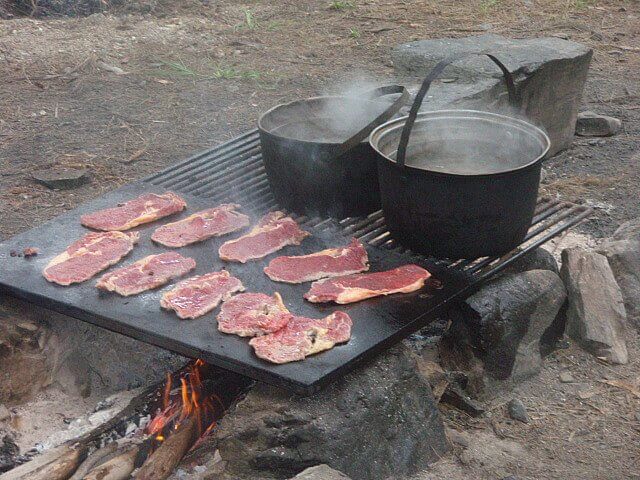 7 Tips for HealthIER Eating While Camping
1. Take wheat bread for sandwiches. Sandwiches are such a quick and easy camping food – whether you're eating pb&j or just ham. Using wheat will give you a quick fiber-pick-up. I've been known to make my own Honey Oat Bread for camping – however it's been our experience that homemade bread can mold very quickly in the damp mountain air even if it's packaged VERY well.
To solve this, we try to eat it within two days. If I want to take two loaves, I freeze one before leaving home and keep it in the ice cooler until a few hours before we want to eat it.
2. Scramble eggs for breakfast. We're BIG egg fans – we mostly eat farm-fresh eggs. I would really miss them if we skipped them for a week. But, it's rather hard to take a dozen eggs and keep them from breaking. Our solution? We mix up our eggs before we leave and put them in a Tupperware container – then we stick it in the freezer to freeze. Not only does this make traveling with eggs easier, but they also act as a "cold pack" to keep your cooler warm. When they start to thaw, we eat them. *When mixing up your eggs before freezing, count on 2-3 per person – camping gives you a BIG appetite. :-)*
3. Take potatoes instead of potato chips. This is one of our very favorite camping foods! We take a big bag of potatoes and it usually lasts us all week. Wash and slice them to your liking, put them in a foil packet with butter and seasonings and seal it up. Toss on top of the grill, turning occasionally, until they are done. You can do this with just about any vegetable. A few of our other favorites – onions, zucchini and summer squash.
*NOTE – Our family has really cut back on our aluminum foil use as we embrace our new healthier lifestyle, but we do use it occasionally while camping.
4. Make your foods instead of buying pre-packaged. What's your favorite camping food? How about making that at home instead of buying it at the store to take? It just takes a bit of pre-planning. Make a batch of homemade Potato Doughnuts or take a batch of Cinnamon PB Granola instead of buying store cereal.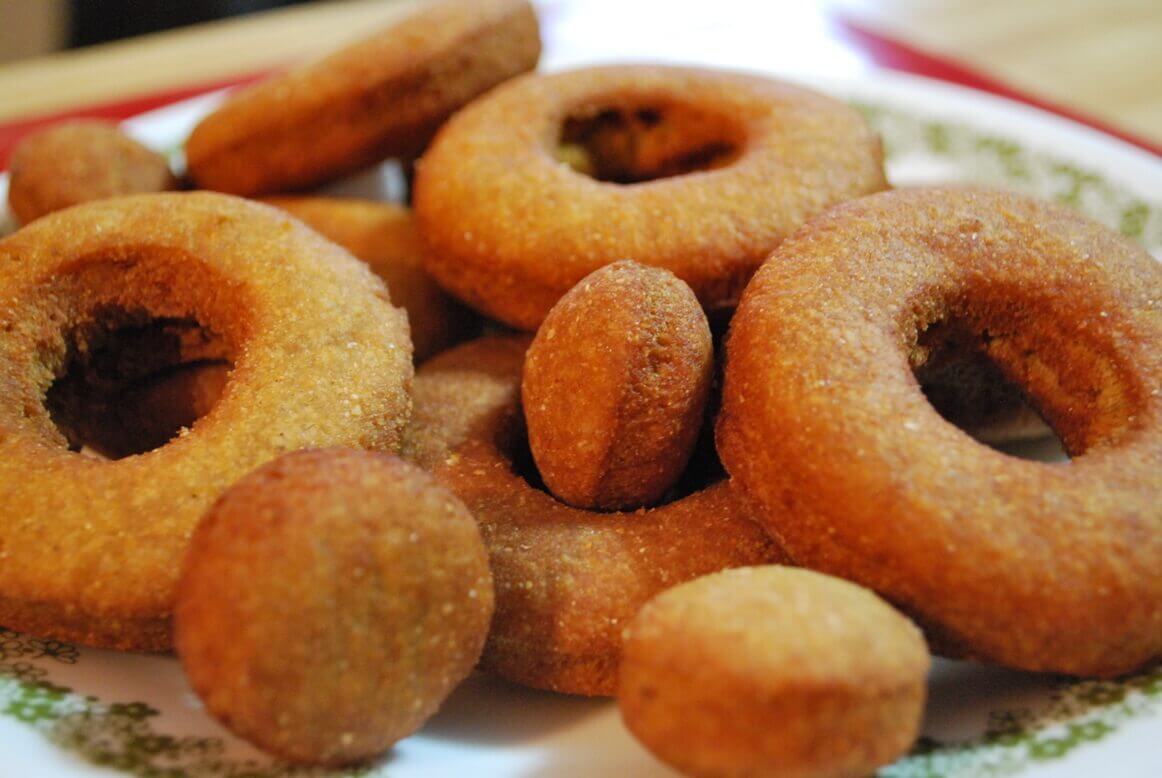 5. Take fruits and vegetables. This almost goes without saying – but if you take fruit instead of junk food, that's what you'll have to eat when you get hungry. We eat loads of bananas and apples while we camp – and the best part is, they don't require refrigeration and they're easy to eat on the go if you decide to take a hike.
6. Consider taking a crock pot. If you're the type of person who likes to use electricity when you camp, this is a great option! Make a freezer meal out of your recipe before you leave and when it thaws at the campsite in the cooler, sock it in the crock pot to cook for dinner! Now your food can cook while you camp or swim. Just mix the whole recipe together and freeze it. Some good options – Crock Pot Jerk Chicken Hoagies, Crock Pot Barbecue Beef Brisket, or Crock Pot Beef Burgundy Subs with Au Jus. Then all you need is the bread!
7. Give yourself some grace. Stress is a killer. If you need this vacation to get away from life and relax, stressing over your food isn't going to do you much good, is it? Do what you can, and enjoy the time with your family. They'll remember the time with you more than they'll remember the food.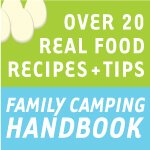 Stephanie's note: If you're looking for more healthy food ideas, camping-specific recipes, and tips for camping (with real food and with young children), the Family Camping Handbook from Kitchen Stewardship is an excellent resource. It's only $6.95, and has actually been updated now to include not 20-something but a full 36 real-food, camping-friendly recipes.
How do you make your camping food more healthy?
Top image by merfam
This post includes an affiliate link.