While I was giving my sweet children a bath on Friday afternoon, a mysterious blue bin showed up outside my front door. I brought it inside, and lo and behold, discovered that someone had gone grocery shopping for me! Even better, everything inside was organic, fresh, sprouted or sourdough, and toxin-free. What luck!
Well, not quite. 🙂 In actuality, I had done the grocery shopping myself… on my computer, while my children played happily behind me. Two days later it showed up at my door.
I didn't have to brave the snowy roads. I didn't have to find a time when my husband could let me use the car. I didn't have to put both kids in their car seats, get them arranged in the shopping cart (or remember to bring a quarter with me), feed them snacks intermittently to keep them happy, say no to their requests for half a dozen items or lug them back into the car and then out again, while juggling bags of groceries and keeping Caden from falling down on the wet, slippery driveway.
This was Week 1 of my spud! organic grocery delivery service trial and here's my loot: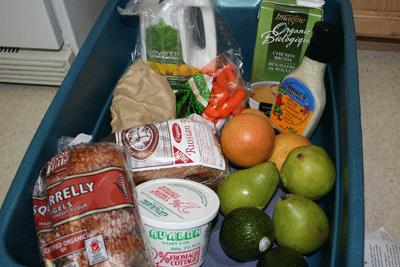 My order was a bit on the small side, as I had already done a big shop at the beginning of the month (we had been away for over a week and the fridge was barren, let me tell ya!). So I just ordered a few things that either sounded tasty or would add to some meals I was thinking of making (breads and bagels, unsulphured dried apricots, some produce, cottage cheese, much-needed dishwasher detergent). I've been a bit under the weather, so you'll notice a few convenience items I don't normally purchase (salad dressing and store-bought soup broth), but they'll make a couple of meals just a little bit easier, just this once.
Here are a few thoughts on my spud! experience thus far:
** My order arrived on schedule, placed neatly beside my front door. I missed it while I was bathing the kids, but no matter. The cold items are placed in an ice pack, off to the side from my fresh items, so everything is just as it should be.
** The organic produce looked really nice. The pears are beautiful and not quite ripe, the avacados big and firm, the fresh ginger fragrant, the grapefruits plump and juicy (the baby carrots were nice, too, though I've barely ever seen bad baby carrots).
** The dishwasher soap was packaged in a bag, so it couldn't spill onto my lovely food
** My order came with a great little newsletter on back of my order summary. I loved the recipe for mock souffle, and can't wait to try it!
**The bread… oh the bread. I chose some real European style, slow-risen sourdough rye. It's intense and delicious. I was thrilled beyond words to discover so many properly prepared breads among their baking section! Can't wait to try something else next week!
** Highlights from their website so far:
Local items are specifically labeled, and if you click on the word "Local" you can find out exactly how far that item traveled to get to their warehouse
Each product has a detailed ingredient listing, as well as a link to more information about the company that makes it
There is this great thing called a Standing Order. What this means is that you can choose the items that your family regularly uses, such as a dozen eggs, 1 gallon of milk, and a cluster of bananas per week. These items will automatically be on your weekly order, and then you can add anything else that you want on top of those items. Standing Orders can be weekly, every second week or monthly, and can easily be edited to add or remove products. As a great bonus, you automatically get 5% off of each item in your Standing Order.
It was so easy to revise my order the day after I had already submitted it (of course, you can only revise up until the cutoff date for your delivery day). I realized that I really wanted more avocados, because the two I had bought had only made me crave them more. I logged in, added my avocados, updated my order and submitted it, and received my new order statement. Piece of cake.
In general, the website is just well done. It's appealing to look at, simple to navigate and I found everything I needed without a problem. There's much more on the website that I want to explore in more detail, and will share with you next week!
They carry more Nourishing Traditions styled bread products (old-fashion sourdough and sprouted grains) than I would have imagined! In my suburb of Vancouver, I don't know of any bakeries making bread of this caliber, but having their warehouse near downtown Vancouver, they have access to some fantastic bakeries, and I can't wait to sample some more of their wonderful offerings!
A few cons (it wouldn't be a true review without at least a couple, right?),
** I wanted to buy more Stevia, but they didn't carry it. I was a bit surprised, as I thought it had become such a standard item in health food stores.
**Naturally, it's a bit more expensive than much of my regular shopping. My produce market, though it doesn't carry 100% organics, is particularly well priced, so I found some of the produce prices a bit tough to swallow. Some of them were just fine, though, especially when I consider how hard it is to find many of those items organic (ie. pears, bell peppers, etc.). I think it's important to realize that there is somewhat of a price for a service like this, for 100% organics, for the convenience and ease, for the gas saved, etc.
For the order pictured above (plus my dried apricots, which I forgot to put in the picture), I paid $53.83, although $4.00 of that was just a deposit on the freezer pack that came with my order, so really it came to $49.83. When you consider I had a few convenience foods in there, a specialty bread, plus the dishwasher detergent, and that every single item was organic, that's not too bad. Also, Americans, you have to consider that those are Canadian prices, which are definitely a good 10-30% more expensive than what most of you pay.
Next week, I'll dive into the prices a little bit more. There are some other aspects of the service that could definitely help to make shopping there more affordable, including the standing order system, bulk products, buying multiples of an item to receive further discounts, a points reward system, weekly specials, etc. I'll try to compare it to my regular shopping and see how it adds up!
Overall, I was definitely please with my first week of ordering from spud! Make sure you check out your local spud! website, either www.spud.com.
(And just a little food for thought- next week I will be letting you know about an a special deal that spud! is offering specifically to my readers, so that you can also give them a try and see how their service works for you!)
Another happy week of "shopping" through spud! (It barely feels like shopping when I get to do it from my computer and pick it up from my doorstep!)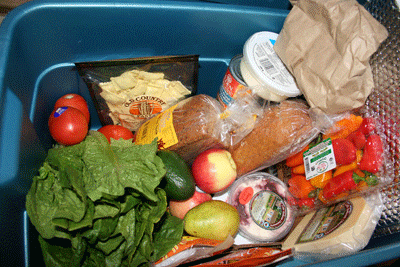 This week, I was so excited to try two more of their artisan breads (appropriately, I chose two from the Artisan Bakery in Vancouver), the Whole Spelt Bread and the Sourdough Rye Bread. Both are delicious and wholesome, made with the old-fashioned, slow-rising process that makes the grains as digestible and nutritious as possible!
Another wonderful product we tried this week was cheese from Little Qualicum Cheeseworks, a local artisan cheese producer, that is not certified organic but is certainly raising their cows and making their cheese with the best practices possible. I choose one hard, raw, gourmet cheese called Rathtrevor, which Ryan and I just love! The other is a soft cheese called Fromage Frais, similar to cream cheese, in berry flavor. It is just heavenly.
For produce, I wanted to try their lettuce, peppers and tomatoes, The only peppers they had this week were mini sweet peppers, which were definitely expensive, but just exploding with flavor. The tomatoes were firm and sweet, and the lettuce was large, crisp and very fresh. We enjoyed a wonderful greek styled green salad, with some of these veggies and the feta cheese I purchased. Since the pears were wonderful last week, I ordered a few more of those, as well as some Ambrosia apples, more avocados and some Crimini mushrooms (which I did up in this style, and they were amazing).
I also bought a few cans of organic refried beans on sale, as well as two packages of organic corn tortillas and an unusual-for-me purchase of fancy, fresh pasta for a night when I wanted to make an easy meal!
All in all, I was once again pleased with my order, and especially with the high quality and freshness of the produce, breads and cheeses!
Now, I promised you two things in this second review (see the first week here). The first was a really good look at how you can save money and make a service like this affordable. The second was a deal for my readers to give spud! a try, and you'll find that at the end of this post. 🙂
What I've done is gone through each element of their service that could help you to save money, pointed out anything that I think is particularly noteworthy about it, and ways that you could best take advantage of it. For the Americans, please note that I am reviewing the Canadian service, so pricing will be different of course, as well as the availability of particular products based on which city or state you are living in, since spud! works with local producers and farmers as much as possible.


Produce Caselots– Some items would be worth it to stock up on. Cases of apples, potatoes (good price for organic potatoes!), carrots, squash, etc. Anything that keeps well for a long time. Another possibility would be to buy together with a group of friends, purchasing cases for the purpose of splitting up amongst the group.
Multibuys– when you buy 2 or more of these items, you get an extra percentage off (usually 5 or or 10%, depending on the item). There are several items I noticed that would be worth stocking up on- for instance, coffee beans, bottled drinks and water, bulk baking supplies like chocolate chips, bags of frozen berries and veggies, ketchup, honey, peanut or other nut butters, soap and shampoos, canned seafood, meat and poultry, etc.
Super Deals– items that are perhaps being discontinued or that need to be sold quickly and are limited in quantity. These ranged from 10% up to around 30% discount.
Produce Specials– there are regular produce specials, changing from week to week. For example, this week's included avocados (mmm, love these!), oranges, celery, carrots and sugar snap peas, all at 10% off of regular. Shopping these produce specials would be a great way to keep produce costs a little lower, and you can simply meal plan around what's on sale.
Grocery Caselot– There is a great range of product in this category and excellent savings to be had. This is a way to really stock up at better prices, or to share cases with friends. One example I noticed was for Seventh Generation Chlorine Free Diapers, regular $17.20 per package (which is already cheaper than my local grocery and health food stores). Buy 4 packages in a case, and they become $14.50 each, which is barely more than Pampers or Huggies, if disposables are your preference. Another example is the large cans of Eden Foods Organic Crushed Tomatoes. These are regular $4.15 a can, but become $3.10 each when purchased in a case of 12 (and by the way, Eden is one of the few or possibly only companies using specially BPA-free linings in their cans!). Other great deals include coconut milks, non-dairy milks, canned beans, etc.
Grocery Specials– Similar to produce specials, a great way to simply check what's on sale and focus your menus on some of those items. Sales are generally 10% off of regular price.

Bulk Buying- This is one of my favorite aspects of spud! Unlike many health/natural food stores which sell only in small amounts and packages, not only does spud! sell in caselots for both grocery and produce, but they also sell bulk for items like dry beans, lentils, nuts and seeds, dried fruits, grains and baking products.
For beans, lentils, nuts, seeds, etc. most items can be purchase in smaller packages (usually 500 grams for beans, and 200 grams for nuts), but also in large amounts (usually 10 or 11 kg) as well. This is a great way to stock your pantry (or freezer, if you're buying nuts and seeds).
Under baking supplies, they carry large bags (20 kgs) of organic flours, such as whole wheat, white, spelt and cornmeal, as well as bags of organic sugars (brown, white, turbinado). Baking soda, baking powder and shredded coconut are also available bulk. I've compared the prices to the best prices I know of in Canada for bulk whole grain flours and they are very comparable.
Standing Order– I mentioned this feature and it's a great way to top off the savings that are possible. Everything in your standing order is automatically discounted by 5%. This is an excellent way to save on items that you know you use regularly.
All of these money-saving buying methods can be found under Sales and Offers, in Go Shopping.
My overall thoughts: I will most likely order from spud! again. It won't become my regular, only place for shopping, but I will definitely make use of it here and there to get organic produce that is difficult to find elsewhere, to simplify life some weeks when I'm lacking in time or can't get the car during the daytime (and maybe especially when the new baby arrives!), and perhaps also to make some bigger bulk purchases from time to time. I think this is a fantastic service, and I've been so impressed! Thanks spud!
Ready to try spud! out for yourself??? (Americans, use this link to spud!)

Place 4 orders from spud!, and you will receive $5 off of each of your first three orders and $10 off of your fourth order, for a total of $25 in free, organic groceries delivered to your door!
When submitting your order, use the promo code: KEEPERBLOG09 and your discount will be added to your new account!
Edit: There were some issues with using the promo code, but spud! assures me that all is well and you can go ahead and use the code now to place an order! Sorry for any inconvenience!
Have you ever used a grocery delivery service like this? What about it appeals to you (or doesn't appeal to you)? What things would you like me to explore about the sevice and report to you on next week?