Who knew that this: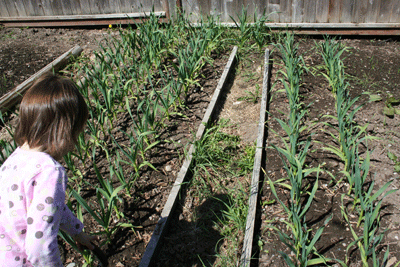 would turn into this: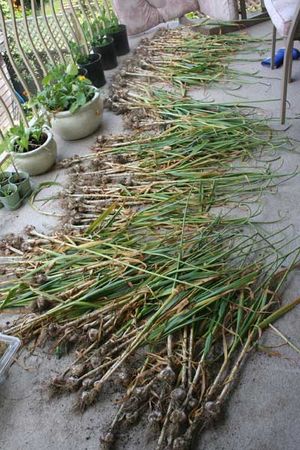 That's a whole lot of garlic!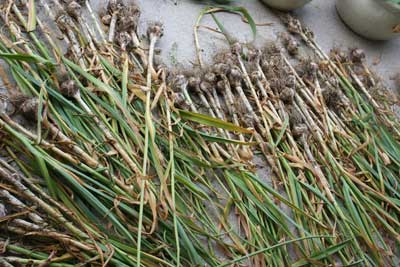 On Wednesday morning, my brothers-in-law kindly helped me to pull up all of my garlic. I planted it late last October, mulched it with leaves over winter, and it has been steadily growing ever since. I probably could have let it grow even another week or two longer, but I had the manpower (literally!) available to me and wanted the garden space, so up it came!
It's currently sunning out on my deck (lucky garlic!). In an hour or so, I'm going to have to pull it all downstairs to lay it out in the garage to air out for the next few days (since we'll be out of town, I can't risk leaving it on the deck in case of rain). My goal is to dry as much of it as I can so that it can be stored through the fall and winter. Any bulbs that aren't in prime condition or that don't dry out nicely will be peeled, chopped and frozen into little cubes (my friend's idea- clever, isn't it?).
Now look at my barren garden!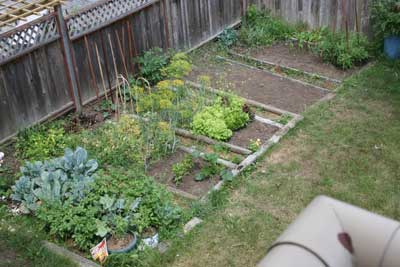 Can you believe I planted a row and a half of garlic? Neither can I! But this morning I got in my two Delicata squash seedlings, and I have plans for more of the space that includes a second planting of both carrots and lettuce/greens, and more to be determined.
On other notes, I've been pulling up lovely turnips lately. Since we don't tend to eat a lot of turnips in the summer (we prefer them in hot soups, stews and casseroles), I've been peeling and cubing, and then blanching and freezing them. I did the same with some snap and shelling peas, and it looks like pea season is pretty much over for us now. More re-planting to do, I suppose!
We've also been enjoying broccoli just recently! I'm sad at how small the heads were, but it was exciting and yummy nonetheless. We have beautiful purple cauliflower heads forming, which I absolutely can't wait to eat! My tomatoes have also just begun to flower- hooray!
How are your gardens doing? What have you been harvesting lately?