Pregnancy Update: 16 Weeks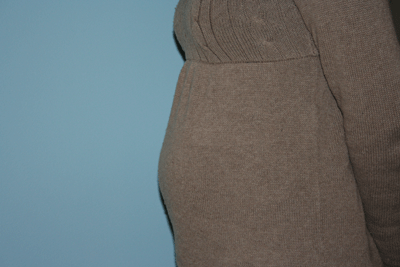 Despite the fact that I've known I'm pregnant for two and a half months, have spent the bulk of that time either sick, tired or both, and am developing a nice little baby belly, I still don't really feel pregnant (don't worry- I'm pretty sure that I am! 🙂
I think one of the things that has made this pregnancy feel so different from my last two is that my heart and hands are so much more full, with two little ones to care for already. Trying to take care of the needs of my children, my husband, and my home (not to mention, participating in other relationships, church fellowship, and maintaining my blog and completing an ebook) just has me so occupied that I find pregnancy sometimes get relegated to the back of my mind, strange as that may seem.
The person in the house who is probably the most excited about and continually talking about the new baby is actually Abbie! She loves to pray for our new baby, to kiss my belly, to pour me glasses of water "to keep our baby healthy" and just to remind me of the precious gift coming our way!
I am starting to become more aware, though, and increasingly excited, now that I am feeling well most days and starting to regain more of my energy. I've felt the first few teensy, fluttery movements and I know that as they increase in intensity and frequency, I will have a wonderful and constant reminder of this sweet new person that we will be meeting in about 5 1/2 months!
I do definitely have a belly and am starting to show obviously to others. I took advantage of some Christmas and birthday money (thanks Nana!) and all the after-Christmas sales to stock up on some shirts that have worked well for the transitional time before I move into maternity clothes. There are many styles right now with empire waists or that are simply loose enough to accommodate a still-small but expanding belly for a little while (and will fit again after baby is born).
For bottoms, I've been wearing the small selection of "larger" pants that I keep set aside for the early months and also for after baby comes, although just this week I am finding that these aren't cutting it anymore either (even with elastic bands), so I've just pulled out all of my true maternity pants. Sigh… 🙂 Guess that's how it goes with baby #3!
I've had a couple of appointments with my dear midwife, Anne. She delivered both of our other children, and feels like a family friend. It's always a blessing to spend a little while with her, just talking over concerns, getting suggestions, and just recently, hearing the baby's heartbeat! We are preparing for another homebirth, and I am really looking forward to it, August heat and all!
Now that I am able to eat and cook more freely, I've been working hard to add in many more fresh fruits and veggies to my diet (fiber!), to keep up with my Cod Liver Oil, B vitamins and Calcium/Magnesium supps, and to increase my protein and iron consumption (I loosely follow the Bradley method and aim for 80-100 grams of protein per day). My appetite is increasing, though the heartburn still attacks from time to time, and I am trying to make every bite count, nutritionally speaking.
My main complaint right now would be the fatigue that I can't quite kick. I've had several Vitamin B shots in the past few weeks, and those have really made a difference, in my nausea and heartburn as well as in my energy levels. However, it doesn't feel like quite enough. I'm planning to try to up the iron in my diet, as well as add in an iron supplement for a month or two, and see if that does the trick to deal with this fatigue (my iron supplement of choice is Floradix liquid iron, which I am going out to buy today- yay!).
And that's about it- I wish I could tell you about the plans I have to start preparing for baby, but right now I'm still working hard to get back on track with my cooking and cleaning and just getting through the day without needing a nap! 🙂 Really, no matter how tired I am or whether I'm struggling to accomplish all that's on my to-do list, I feel so blessed to be pregnant and so thankful for this new addition to our family!
Any other pregnant mamas out there? Where are you at in your pregnancies and how are they going so far?