Simple Summer Herbs: Refreshing Infusions
By Meg Dickey, contributing writer
Behold the flowers that deck the field,
The gentle breeze perfuming
And tender herbs their fragrance yield
Are health and life diffusing.
~Harvard Shaker Community Herb Catalog, 1843~
For some of us, the tantalizing breezes of summer are already wafting over our gardens. As the days warm and the herbs in our gardens increase in size and production, there's no better time to indulge in a pitcher of iced herbal tea, or herb flavored water kefir.
There are some standard herbs that make wonderful tea – mint, lemon balm, lemon verbena – but don't limit yourself! One of my new favorite summer blends is a combination of lemon basil, basil, lemon rind, and stevia leaf. It makes a nearly perfect effervescent lemonade when cultured with my water kefir grains!
Try these other tea herbs to boost your summer flavors!
lavender, rose petals, borage blossoms: wonderful floral taste, and you can add rosehips for a little sweetness!
anise hyssop: delicate taste of licorice & mint (another one of my favorites for water kefir!)
chocolate mint: this is divine when you're craving something sweet!
hibiscus & chrysanthemum: our drink of choice on blistering hot days. Chrysanthemum promotes sweating, which cools our body down. Hibiscus adds a refreshing tart taste that perks us right up.
lemongrass, lemon balm, lemon verbena, lemon thyme, lemon basil, lemon geranium: summer tastes like lemon to me! Any of these herbs, separately or combined – are wonderfully refreshing. I like to float lemon slices in the top of the pitcher whenever I've made a lemony-herb infusion. Very pretty!
To brew an herbal infusion:
Harvest leaves and flowers and rinse. Put a few handfuls into a pitcher (I usually use a half gallon mason jar) and fill with cold water. Refrigerate overnight. Strain, pouring over ice, and garnish with fresh leaves and flowers.
You can sweeten to taste, but I usually choose to throw a little stevia leaf in with the herbs if I think it will need it. Always try it without sweetness first – I've sweetened many an infusion with stevia, licorice, or cinnamon, helping to avoid adding any more sugar to our diet.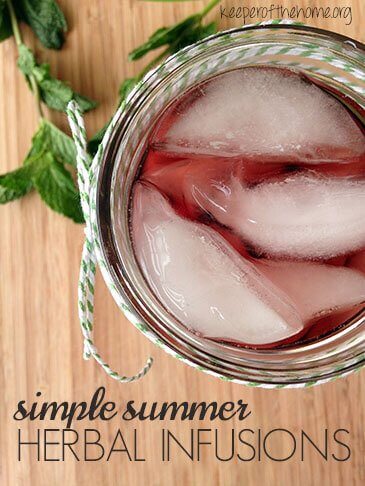 Next time, I'll be talking about using herbs to stay cool naturally in summer!
What are some of your favorite herbal infusion combinations?
top photo credit