Giveaway: Fuzzi Bunz One-Size Diaper, Hemp Insert and Bamboo Wipes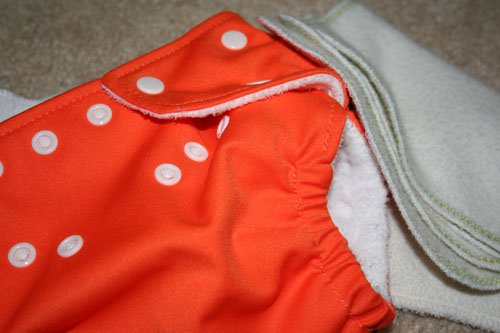 Now that I've got you all thinking about diapers (not to mention the fact that one of the themes at Keeper of the Home this month has been reducing waste), it's the perfect time to offer a giveaway of my current fave, the Fuzzi Bunz One-Size pocket diaper!
Just Bumming Around, who happens to be one of my fabulous March sponsors, kindly allowed me to review several of their products on my own little sweetheart. Now it's someone else's turn to give these wonderful diapers and accessories a go!
Barbara has a policy of only selling cloth diapering supplies that she absolutely loves and thinks are the best. I've been cloth diapering a long time and I think she's got pretty good taste.
Here's what she's giving away to one lucky mama:
1 Fuzzi Bunz One-Size diaper, winner's choice of color/pattern
One Countoured Hemp Insert
6 Bamboo Wipes
Fuzzi Bunz One-Size Diaper
Here's what I recently said about this diaper that I use and love:
"I wasn't sure that I could love another diaper as much as I initially loved my BumGenius, but I was wrong. The new Fuzzi Bunz one-size is hands down my current favorite diaper.

It uses a unique cinching system with the leg elastics that allows you to change the size from the inside, rather than using a snap system on the front of the diaper (like most pockets). This ultimately means a less bulky, funny shaped one-size- hooray! It also keeps the legs fitting snugly, no matter what size your baby is."
To read the rest of my thoughts, see the Keeper of the Home Pocket Diaper Review.
Contoured Hemp Insert
I have tried several different hemp inserts previous to this one, but I can see why Barbara was eager for me to try it. This is the mother of all hemp inserts.
It is made with 4 layers of a mix of hemp fleece and organic cotton, making it super absorbent. It is cleverly designed so that it opens in the middle, with 2 layers above and 2 layers below. This means that it offers a full 4 layers of absorbency, but dries relatively quickly for its size, because the layers separate in the dryer. It also has a large, wonderful contoured shape which means that it really fills the pocket completely, for full coverage.
It is ideal to use as a single insert during the daytime, or to double up with a microterry insert (micro on top, hemp on bottom) for excellent nighttime absorbency. Now that I've got the hang of using it, I'm lovin' this baby!
Bamboo Wipes
So. incredibly. soft. Seriously, why do babies get all the luxury?
They are made with bamboo fleece, and are 8×8 inches. They are double-sided, so even one wipe can handle a pretty messy job. I've always used cheapo baby wash cloths as my diaper wipes, but I can definitely see why you would consider using these instead.
Want to win this incredible cloth diapering package? Here's how:
*Please be sure to leave a separate comment for each additional entry- thanks!
Visit Just Bumming Around and choose your favorite color/print if you won the giveaway. Then come back and leave me a comment letting me know which one you would pick.
Explore Just Bumming Around's site a bit, and leave a comment letting me know any other products that particularly appeal to you, or that you've used before and loved.
Subscribe to Keeper of the Home by email or RSS.
Tweet this giveaway (use @keeperhome in your tweet)
Link up to this giveaway on your Facebook page.
Join the Keeper of the Home community forum.
Start a new thread or comment on an existing thread in the forum (and have you checked out the Cloth Diapering board)
Giveaway ends Thursday, April 1 at 9pm. Giveaway has now ended.