Savory Enchilada Pot Pie (GF, DF)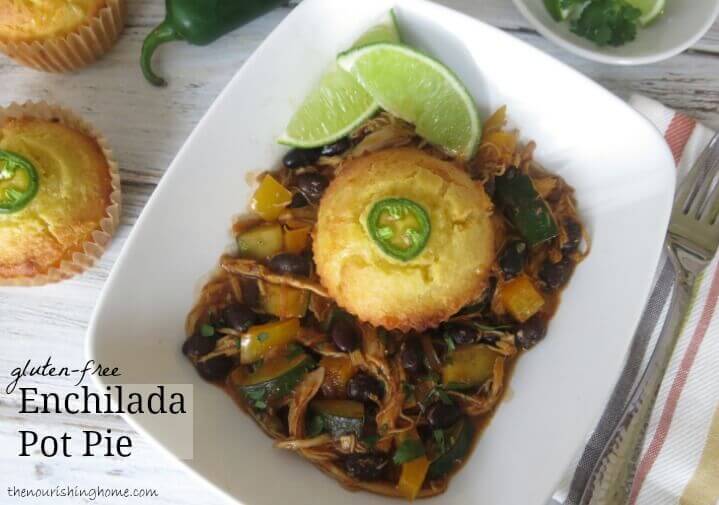 By Kelly Smith, Contributing Writer
Enchiladas were a real favorite of mine before I went grain-free and recently, after a little whining about how much I missed them, my brilliant 11-year-old son asked a simple question, which eventually led to this awesome recipe.
"Mom, why not just make them without the corn tortillas, like a casserole or something?"
I know I'm a little biased here, but seriously, this kid is a genius! Not only is this savory Enchilada Pot Pie perfect for those who are grain-free, but it's also a delicious alternative for anyone who loves the rich, satisfying flavor of enchiladas without all the fuss of stuffing and rolling them.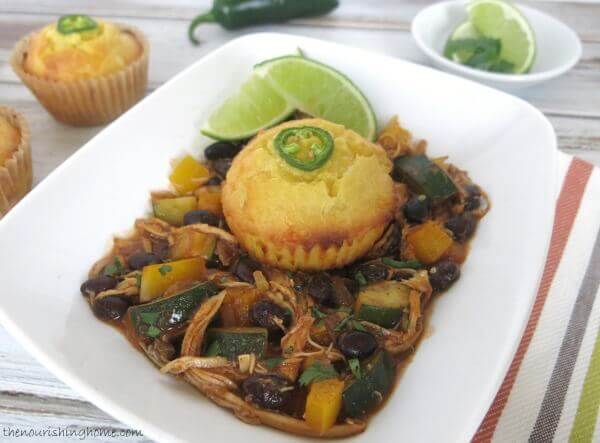 Topping the enchilada-style stew with a mock-cornbread muffin (or gluten-free corn muffin) gives them a corn-like flavor and texture, as well as that classic "pot pie" look for added appeal.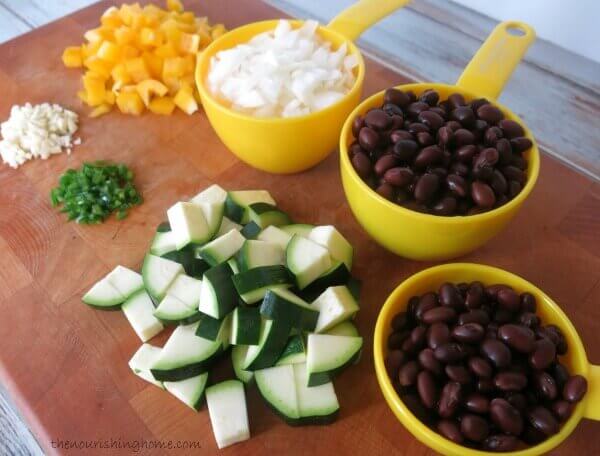 P.S. This recipe comes together in a snap if you soak and cook the beans in advance, prepare the enchilada sauce ahead of time (if using homemade), and pre-chop the veggies by scheduling a weekly prep day. With these steps in place, this meal literally comes together in 30 minutes or less. And be sure to check out the recipe note below for how to maximize your time to get two meals in the time it takes to make one. Yay!
Print Recipe
Savory Enchilada Pot Pie (GF, DF)
Ingredients
1

batch of your favorite grain-free mock-cornbread or gluten-free cornbread muffins

1

tablespoon

olive oil

1

cup

finely diced yellow onion

1 small onion

1

cup

diced yellow or red bell pepper

1 small pepper

1

medium zucchini

diced

1-2

teaspoons

minced jalapeño pepper

3

garlic cloves

minced

1/2

teaspoon

sea salt

2

cups

shredded cooked or roast chicken

1 1/2

cups

soaked and cooked black beans

or one 15 oz. can, rinsed and drained

1 1/2

cups

mild enchilada sauce

Optional: Fresh cilantro and lime wedges
Instructions
In a large skillet over medium-high heat, add olive oil and onion. Sauté until onion begins to soften (about 3-4 minutes). Then add the bell pepper, zucchini, jalapeño and garlic. Continue to sauté until the onion is translucent and lightly golden brown.

Next, add the salt, chicken, black beans and enchilada sauce. Mix together until thoroughly combined. Cover the skillet and allow the mixture to gently simmer about 5-10 minutes, until the zucchini reaches desired level of tenderness. Remove from heat and keep covered.

Make cornbread muffins of choice, following the recipe instructions. Once the muffins are done. Place the skillet of enchilada stew back on the burner and warm over low heat.

To serve, evenly divide the enchilada stew among 4-5 bowls and top with a cornbread muffin (or two).

Garnish with a sprinkling of fresh chopped cilantro and lime wedges, if desired. Absolutely delicious! Enjoy!
Notes
This enchilada stew is perfect for freezing. So why not maximize your time and make a double batch? Serve half now and freeze half of the stew for later. That way, you'll have a delicious dinner ready to go – just thaw the stew overnight in the fridge, warm and serve with leftover cornbread muffins.