Learning the Gentle Art of Infant Toilet Training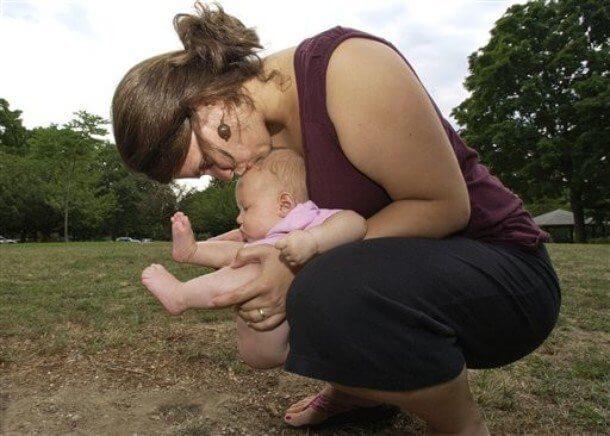 Image Credit
Guest Post by Louisa
I toilet-trained my first child when she was four-months-old. I thought I would start this guest post with a statement that knocks most people's socks off when they hear it. "Four months old, you are kidding, aren't you?" No, I kid you not.
I had worked extensively in China and seen what mothers did there; always aware of their children's needs, able to listen to the signs that told them when their child wanted to pee and available to help them achieve their own personal hygiene at a very early age, many from birth. In our age of disassociation from our babies, when we wrap them up, place them in prams and car seats and leave then in front of TVs for hours, it seems impossible to be in such harmony with our little ones, but it is absolutely possible and many, many, many people have done it before now.
After reading Jean Liedloff's Continuum Concept before giving birth and then the book Diaper Free: The Gentle Wisdom of Natural Infant Hygieneby Ingrid Bauer, I knew that I wanted to train my baby too, it just seemed the natural thing to do. So this is what I did and you can too, if that is what you decide.
I believe that diaper-free babies are eco-friendly, aware of their bodies at a young age, sociable and under no pressure to perform in any way. They must be 'responded to' from a very early age however, before the feeling of peeing in a diaper gets too natural for them. It all takes time, patience and devotion, something that has to be thought about very carefully indeed before embarking upon as you have to be 100% available. This doesn't mean sitting and watching your baby's every move, it means being there for her when she needs to tell you she wants to pee/poo.
It is very well worth it for the sake of the planet alone, but also for the deep and long-lasting connection you will be forging with your child.
Starting off simply is a good plan. Use one less diaper at night by leaving your baby free from the waist down after her bath in the evening and getting her to sleep on a thick towel. Babies will very rarely wet themselves whilst asleep and will benefit from air circulation around the parts that have been enclosed and wet all day. This I did with my baby and never had an accident in bed, nor diaper rash. It helps if you co-sleep with your baby, (but I figure if you have thought of infant training, then you have probably thought of co-sleeping too) so when she fidgets in her sleep, you can get her up and let her pee into her potty. Making quiet hissing sounds will encourage her to relieve herself straight away, then you may settle her down again.
This routine I was doing pretty soon after birth with my baby, I then graduated onto awareness of her needs during the day. Making the hissing sound whilst holding her in a comfortable position over her potty I found to be a key factor to my success – staying tuned to her cues also was crucial; a young baby will cry to be helped to pee/poo before she gives up and does it in her diaper. Be gentle, understanding and don't get stressed, if you miss it this time, you may very well get it next time, no problem! Having your baby wear diapers during the day is up to you, having the potty in view as the child learns to walk is also up to you. As a rule of thumb, your young baby will pee 20 minutes after drinking fluids, then approximately every half-hour thereafter and once or twice during the night.
This is the start of diaper-free babyhood and it happens like this all over the world. That is why Chinese children have splits in their pants with their bottoms showing and use the gutters regularly, I kid you not.
My first born was a happy, capable and contented baby, we taught her to make a sign for 'pee' long before she could talk and she seemed very capable at managing her own 'toilet matters' as she grew.
She laughs now at seven-years-old when I tell her what she could do at four months old and she thinks it is the most natural thing in the world too.
What do you think… is this an idea that appeals to you? I'd love to hear who else (this is Stephanie speaking now) is intrigued by this idea, and especially if anyone else has tried it!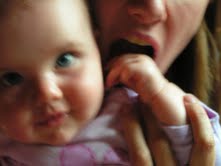 Louisa has brought her children (7 and 4) up in a natural way, she lives in the mountains of France, home schools and follows the principles of Weston A.Price and Rudolph Steiner. Her first child was potty trained at four months old, both her girls co-slept with her and her husband and were carried until the age of one. She lives in a TV-free house. She believes that when a woman takes on the role of nourisher, (both physically and emotionally) she becomes both hearth and heart of her family. Read her slow-living blog at: constantstateofflux.com or find her on Twitter as @lululovesmilk.