Jenuinely Pure a Genuine Delight
With my first baby, many years ago, I used Johnson & Johnson's. It was, after all, what my mom used on me. And the smell of the lavender calming wash and lotion was enough to convince me that yes, I was going to follow in her footsteps.
I was even able to ignore some disturbing things I heard about the ingredients in baby soaps. To be honest, I couldn't handle it. And the people telling me seemed … well, they didn't seem to be quite logical or able to speak rationally. They were a just a leeeetle bit too passionate, too invested in convincing me, too sure of themselves in a self-righteous "ah-ha!" way.
It wasn't until a friend of mine, who cleans for cancer families, shared some heart-to-heart facts with me that I experienced what I can only call a conversion.
And then I was relieved of aisles of shopping at the store, much to my delight, and I was introduced to soaps and products that were lovely and so very different than what I had been using.
Gentle for Baby
My latest baby, who loves his bath in a way that makes me think of how I love my coffee, gets more baths than any of my previous ones.
But can you blame him? He has a whole staff of siblings who want to jump in there with him. He can splash and sing and even growl: they will smile and laugh and entertain him as much as he wants.
Now that I'm convinced about what products I use for soap, I've noticed that it's far easier just to grab a bar of soap — any bar of soap! — to wash him. He hasn't seemed to have any skin problems, so I haven't worried much about whether they're gentle enough or any of that. It's not completely logical on my part, but I hate shopping and I have other kids with skin problems. So what they use, the baby can use, for the most part.
The lavender smell of Jenuinely Pure's baby wash is enough to make me snag it for my shower. My 8-year-old daughter was begging to use it and loved how it washed her as much as I loved how it washed the baby. (My 5-year-old boy was less impressed.) It doesn't take much to do the job, and you can rest assured that it's all organic and natural, so what's going down the drain won't hurt the environment.
I also had the baby cream to try, and when I read that it's made of butters, I understood the texture of it a little better. In fact, if you're far from Iowa, they recommend that you use the baby oil instead. The smell of both of these products is as divine as the wash, and, while I was tempted to test it, I did not verify whether using them will make my skin as soft as baby's. 🙂
From Iowa to You
Jenuinely Pure is based in Iowa. Founder Jenny Drew is a mom who was passionate about making natural products at affordable prices. She writes,
We believe what you put on your body has a tremendous impact on your health and our mission is to provide you with excellent products you can use with confidence. We are also passionate about educating our customers on why it is so important to Make the Switch to natural, pure and safe products.
All of these products have been used in Jenny's home for many years, and they also have the EWG (Environmental Working Group) seal of approval.
There are a host of other products in the Jenuinely Pure store, and from what I've seen of the baby line, I have high expectations for them.
Looking to Save?
As it happens, we have a special offer for KOTH readers: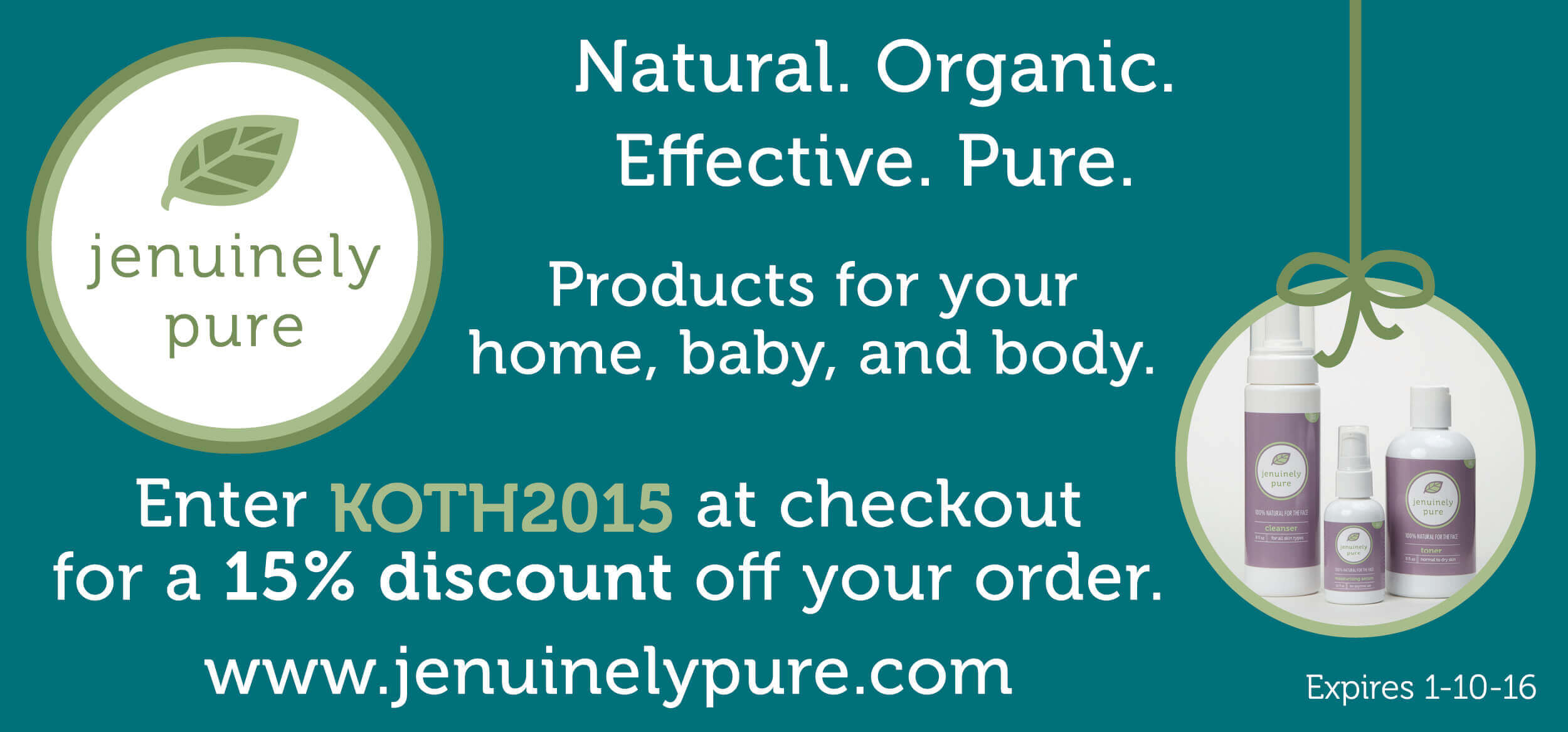 Join the fun and enter to win!
Disclosure: This giveaway is sponsored by Jenuinely Pure. They provided me with several products to use, review, and enjoy. Even so, the opinions above are solely my own.