Meet my newest mothering helps: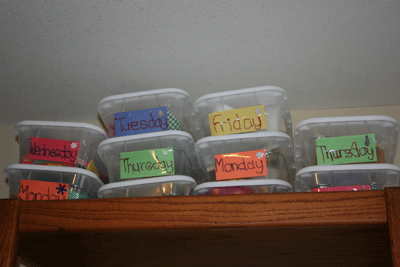 Aren't they lovely? What's that… you want to know what they actually are?
These are the newest addition to my arsenal of tools that I am using to make portions of our daily routine run that much smoother. To my 4 yr old daughter, they are her "quiet time bins". To my 22 mth old, they are simply a fun container of toys that Mommy puts in front of him.
They were initially inspired by an article in Above Rubies, on what to do with little ones while homeschooling. One idea was to create bins with entertaining toys and activities for toddlers, with a different one to pull out for each day of the week. The idea was further inspired by seeing Crystal's bins for her daughter's quiet times- activities that she can do during the 1-2 hours that she spends in her room each afternoon (this is similar to what we do with our daughter).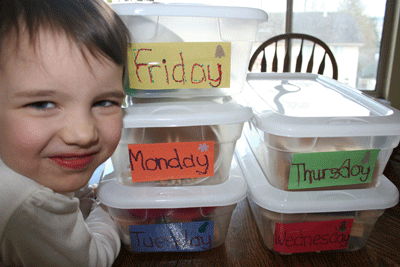 Abbie helped me put them all together and choose some of the activities. She also traced each of the days of the week, for both sets of bins and helped me tape them on.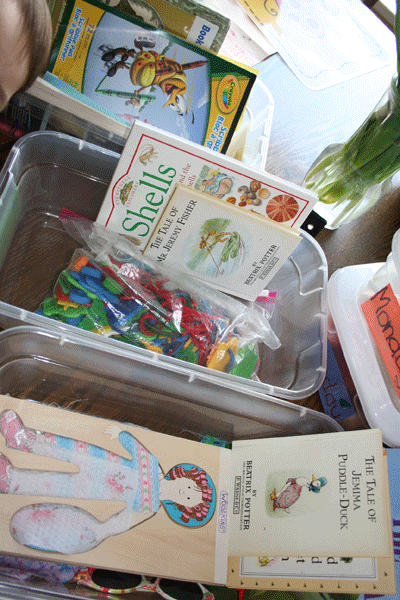 Here is a glimpse into a few of Abbie's bins: One has drawing and coloring supplies, another has beading materials, and another has a wooden dress up "doll". Each bin also has 2-3 books that she enjoys.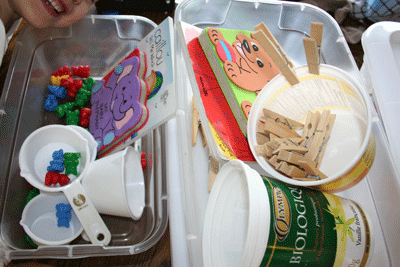 Here are two of Caden's bins. The first contains measuring cups and colorful counting bears. The second is wooden clothes pins and yogurt containers. His other bins have similar types of creative toys to keep a toddler occupied. All of his bins have 2 board books (read: indestructible) as well.
We've been using Abbie's bins for a week now, and they have definitely helped her to look forward to her quiet times and stay better occupied, and they are also simple for her to clean up afterwords.
Caden's will be implemented this week, as I will be training him to have a "playpen" time (working my way up to 30 minutes at a time) each morning while I do home education (learning time, as we say in our family) with Abbie. He will be given one bin to play with while he stays put in his playpen, which will free me to help Abbie with things like her printing, math, etc.
Are any of you using bin systems like this? What do you use them for and what types of activities do you have in them?