Two Reviews: Helps for Breastfeeding Mamas
If you've been around my blog for long, you'll know that I am a huge advocate of breastfeeding, and so I was thrilled when I was offered to try out and review a couple of products intended to help breastfeeding moms. What I specifically loved about these two products is they are aides for times when breast doesn't feel best, or when a mom needs a little extra help.
The Shower Hug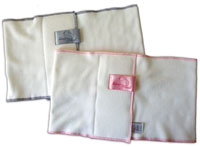 This creative idea was conceived by (you guessed it) a mom, who understands some of the discomforts that can go along with pregnancy and nursing. Anyone ever had incredibly tender breasts during pregnancy, so tender that you winced if you accidentally brushed up against something, or when you tried to take a shower? How about when you're post-partum, your milk has come in, and your sweet new baby wants to nurse approximately 13 times a day? Ouch… talk about tender!
The Shower Hug is made out of very, very soft knit terry velour, and is intended for helping to shield and cushion that tenderness, obviously for when you're in the shower (hence the terry fabric and the name) but it can have other purposes as well. One I thought of in particular was as a nursing bra during the night, in the early weeks of nursing, to avoid having to wear a constrictive bra and to catch heavy leaking in the soft, thick, absorbent fabric.
I tried wearing it in the shower one day, and it was sooo comfortable! I could totally see how one of these would be soothing and would make showering very bearable during periods of tenderness or soreness. I liked mine so much that even though it was too big for me, I decided to keep it and sew it to make it fit me.
If you know of a mama who is struggling with a lot of tenderness, this just might make a very thoughtful pregnancy or post-partum gift!  To find out more about The Shower Hug, check out their website, www.showerhug.com.
PumpEase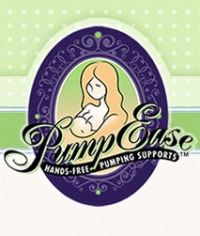 Ask me just how much I admire moms who struggle to breastfeed, but continue to pump: enormously!!! 
In fact, one of the most inspirational breastfeeding stories I know of is a friend of mine who was badly burned on her chest as a young child, and had extreme pain and difficulty nursing her first baby due to her burns and scar tissue. She turned to a professional pump in order to give him the much-needed milk that he just could not get at the breast, and although it was continually painful, even agonizing, and very time-consuming, she persevered and gave her little boy 6 entire months of every ounce of breastmilk she could pump out, until she finally had to give in to her body's limits. How's that for a mother's sacrificial love?
Though I personally have not had to do much in the way of pumping, I
know of many moms who have needed to, for one reason or another.
Obviously, breastfeeding is simpler when it can happen sans pump and
bottle, but I applaud those moms who are struggling with it or have
some reason that they cannot, and yet desire to keep giving their baby
the very best milk they can give!
That's why I loved PumpEase! I can only imagine how helpful it would have been for my friend to have had a tool like this, to make two-sided pumping a hands-free experience and allow her to redeem some of the precious hours she had to spend doing it.
The big idea behind PumpEase is that you wear it around your chest, over your nursing bra, and proceed to hook up either your single or double breast pump. Start pumping, and pull out your book, computer keyboard, or even a sandwich or a cup of tea. Depending on how you feel about nursing in front of other children, you could even snuggle up your toddler beside you and read to them while you pump. What a great invention for helping moms to redeem some of the time that goes into all that pumping!
PumpEase comes in several different fabrics and their new spring patterns look cute. You can purchase directly through their website, at www.pumpease.com. Did I mention that they're Canadian-made? (Go Canada!)
Has anyone ever used either of these great products? Do you know of any other helpful products for encouraging moms in their efforts to breastfeed?