Dinner in 30 Minutes or Less? The Author of Good Cheap Eats Shares Her Secrets (and Zucchini Fritters Recipe!)

Do you love serving up homemade food to your family but wish it didn't take so much time?
My friend Jessica has become a pro in the kitchen over the years. As a mom of six kids (including teenage boys!), she makes a whole lot of food. She also happens to like really good food, and makes it a priority to focus on unprocessed, wholesome, homemade meals.
All of this awesomeness in the kitchen has led to her writing four recipe books, and today I'm talking to her about her newest one (and I happen to think it's her best one yet – which I can say since I own all of them :).
It's called Good Cheap Eats: Dinners in 30 Minutes (or Less!), a promise which should make a whole lot of busy moms happy.
I love learning from other foodies like myself, who appreciate nutritious and interesting meals, but aren't willing to spend all day in the kitchen. Jessica lets us in on some of her secrets for cooking homemade dinners, but faster and easier.
What non-essential kitchen appliances do you think are the best investments?
Jessica: I have five or six favorites that I would consider "essential", but that are probably not absolutely necessary to make a good meal happen. I didn't have any of them when we went to France for a month, and we still ate. At home I really rely on a food processor, immersion blender, panini press, electric griddle, rice cooker, and a slow cooker. All of these help me immensely in regular meal prep.
How do you encourage your family to help out in the kitchen?
Jessica: Pretty much everyone in the family loves to cook and/or bake. We didn't really do much to "encourage" it other than make cooking and baking a regular thing we did with our kids as soon as they could stand on two feet.
My 18-year old son is very health-minded and cooks a lot of great meals. My 8-year old daughter loves to bake. No one minds cooking, it's the cleaning that's a problem! Haha! Every child has a regular kitchen job with chores rotating monthly.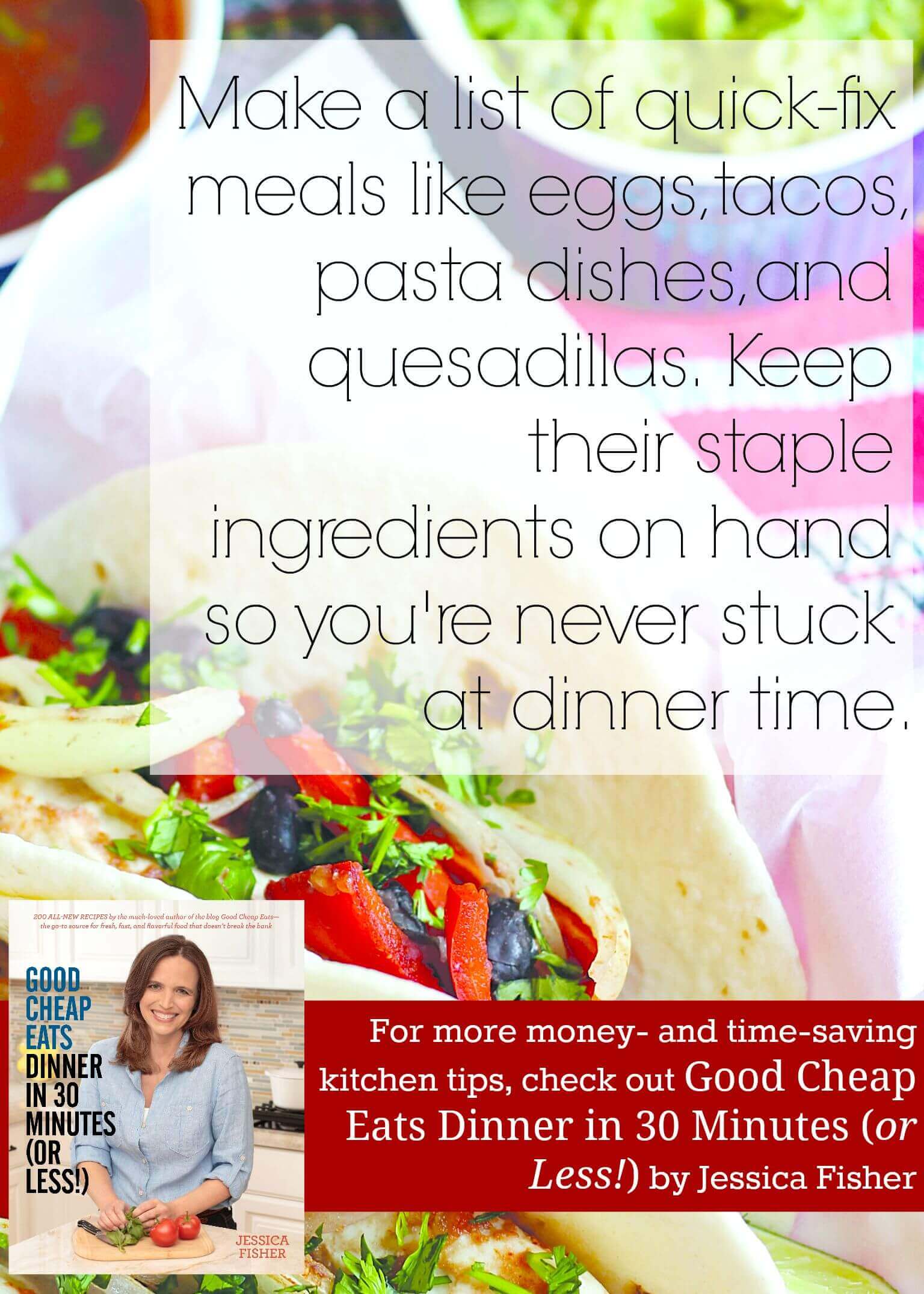 In the book, you mention having a list of emergency meals that you know by heart and are always ready to cook. What recipes are on your go-to list?
Jessica: I have a lot of non-recipe recipes: tacos, burritos, beans and rice, pasta with red sauce, pasta with alfredo. I also make a lot of chicken stir fries. I just throw stuff in a pan 'til I like it.
How do you prevent food or ingredients going to waste in your kitchen?
Jessica: This is an ongoing challenge and one of the biggest ways I think a person can save money on food: reduce waste. I try to serve most leftovers for lunches the next day. Cleaning the fridge and pantry on a regular basis helps remind me what we have. Doing a Pantry Challenge every six months or so helps us use up those bits of random things.
Where do you draw your inspiration for creating new recipes?
Jessica: I often try to healthify old standards or make takeout favorites easier to make at home. I might also tweak a classic dish in a new, more widely approved way. For instance, I love patty melts and I love most of the ingredients in a Reuben — except the corned beef. So, I did a smashup of a patty melt and those traditional Reuben toppings. It's such a great sandwich. My kids love it.

Are there any ingredients that are worth it to splurge on and buy organic?
Jessica: Grocery prices have fluctuated so much over the years, it's really hard to give a hard and fast answer on this. When the organic variety is out of my price range, I lean on the Clean Fifteen and avoid the Dirty Dozen. I would love to buy all organic, but it's just not doable for us. I focus on items that are free of added hormones, when possible.
What foods should you buy vs make at home? (salad dressings, condiments, bread, etc).
Jessica: My heart is with homemade. I love making my own salad dressings, pasta sauce, salad dressings, spice mixes, and baked goods. I can almost always make those items healthier, cheaper, and tastier when I make them myself. My husband and daughters make homemade corn tortillas and we are just getting into making our own Asian "fake-out". Homemade is a great way for us to enjoy restaurant flavors on a budget.
Which recipes from the book are the most popular with your kids? In general, is it rare that all six of them will love a certain dish?
Jessica: It's hard to narrow it down to most popular, but the Alfredo Noodles are always a big hit as well as the Marsala Fried Chicken. The Pork Medallions are one of our special occasion dinners. The Loaded Potato Soup is another that everyone gobbles down.
I can count on at least four kids loving anything that my husband and I love. The other two are loose cannons sometimes. But, they all love sauerkraut, a favorite of my childhood that my husband doesn't care for. It's a running joke at our house. I usually serve it on workdays when he's not home.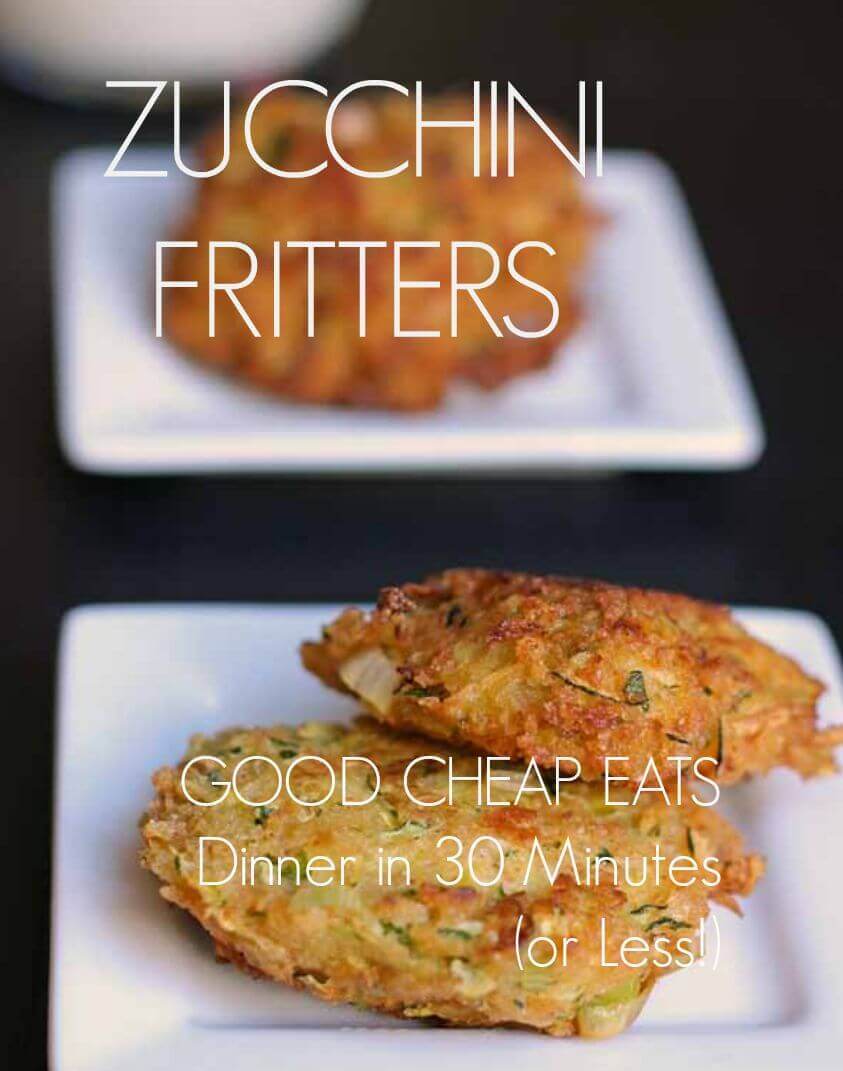 And now for Jessica's amazing Zucchini Fritter recipe!
Why did I not have this recipe last summer, when I accidentally ended up with not one, not two, but three zucchini plants in my garden?? It's genius and my kids are all over these!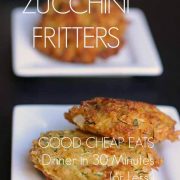 Print Recipe
Zucchini Fritters
These crispy little cakes of zucchini and leeks, dipped in homemade ranch dressing, are a delicious side dish for all kinds of suppers and a great snack all on their own. They will turn zucchini haters into lovers—I promise! The leeks get crispy when fried, adding great texture and a flavor reminiscent of onion rings. You can substitute shredded onion for the leek, if you prefer. (Used with permission from the book Good Cheap Eats- Dinner in 30 Minutes (or Less!)
Ingredients
2

medium zucchini

¼

large leek

chopped (about 1 cup)

2

large eggs

beaten

1

cup

panko bread crumbs

Stephanie's note: I would probably use day-old bread to make bread crumbs, as Jessica suggested above

1

teaspoon

kosher salt

½

teaspoon

paprika

Freshly ground black pepper

Vegetable oil

for frying (Stephanie's note: I'm a fan of frying with olive oil)

Creamy Buttermilk Ranch Dressing

page 129 or sour cream, for dipping (optional)
Instructions
Shred the zucchini using a box grater or the shredding disk in a food processor. Squeeze the zucchini to get rid of any extra liquid. (I do this in a nut milk bag, but you can also use layers of cheesecloth or a thin dishtowel.)

In a large bowl, combine the zucchini, leek, eggs, panko, salt, paprika, and pepper to taste.

Heat ½ inch of oil in a large nonstick skillet over medium-high heat.

Form the zucchini mixture into 2-inch patties. Fry the patties in batches in the hot oil until golden brown, 2 to 3 minutes per side.

Drain the fritters on paper towels. Serve immediately with dipping sauce.
Jessica is also sharing a FREE 30-minute meal plan.
And you can pick her book, Good Cheap Eats: Dinner in 30 Minutes (of Less!), which was just released on Amazon!