Preserving Summer's Bounty: Considering the Savings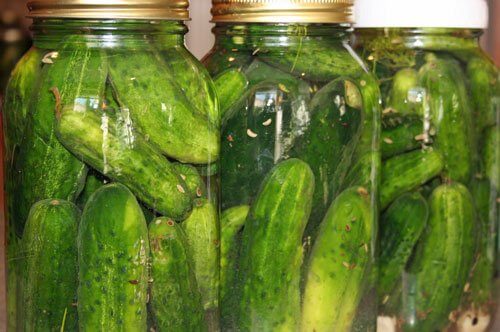 I'm definitely back in the saddle, doing a ton of preserving after a nice little mid-summer break.
I went to my local produce market on Thursday afternoon and decided it was high time that I stock up on some of the wonderful, seasonal deals that were available and get my little tush back into the kitchen to put it all away for the winter!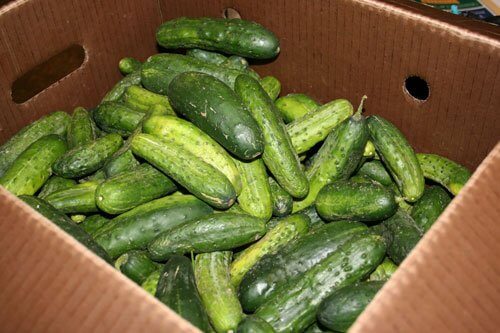 I started with this 20 lb box of pickling cucumbers. I bought a couple bundles of fresh dill to go along with it.
Using this lacto-fermented dill pickle recipe (but adding a few more spices this time– fennel, caraway, mustard powder, black peppercorns) as well as the Bread & Butter pickle recipe in that same post, I made a huge batch of pickles.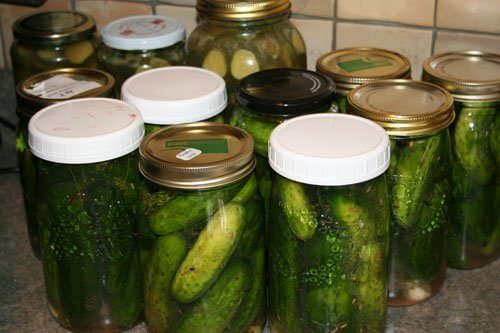 All of these, plus those 3 half-gallon jars in the very first picture. Yes, we really like pickles! Plus, they are fantastic for aiding our digestion and so we often eat a pickle or two when we sit down to lunch or dinner.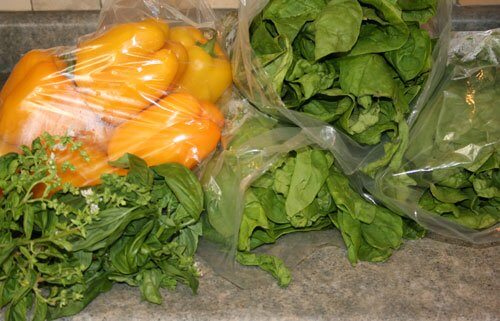 Next, I began to tackle this fresh spinach, yellow bell peppers, and basil (two bunches from my own garden, one from the market).
Spinach :: I did it exactly as I showed in this spinach freezing tutorial from last summer.
Peppers :: After washing, I diced them all into about 1×1 inch pieces, then put one pepper's worth of pieces into little bags, and put all of those into a large Ziploc.
Basil :: I used the Nourishing Traditions pesto recipe as my base, but I sort of just made the pesto by feel and worked with what I had. Fresh basil, some spinach added (because I didn't have quite enough basil), fresh garden garlic, parmesan cheese, sea salt, and cashews (because I didn't have pine nuts), with extra virgin olive oil. Blended it all up in the food processor until it tasted good, then put it into two glass jars to freeze.
The spinach I like to use in scrambled eggs, omelettes or quiche, Spinach Rice Casserole, pastas, soups, etc. The peppers will be perfect for pizzas or casseroles throughout the winter, when peppers shoot up to several dollars per lb. The pesto is for pasta, sandwiches, pizza or just whatever sounds good!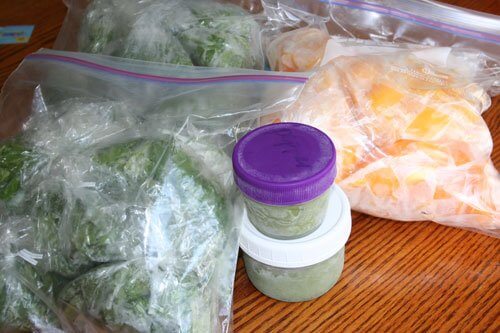 While I was working away yesterday, I started trying to figure out how much I was saving, by buying seasonally and preserving the food myself. Here's what I came up with:
Costs
$26.50   Pickling cucumbers- 20 lbs
$4.00    Fresh (unsprayed) dill- two bunches
$2.67    Fresh (unsprayed) spinach- 3 humongous bunches
$2.76    Yellow peppers, local- 4 lbs
$3.98    Basil (unsprayed)- 2 bunches
$0.00   Garlic and 1 bunch basil (from my garden)
$4.00    Herbs, spices, salt, olive oil, parmesan cheese, whey (this is an estimate, but there's no way it cost more than this)
Total = $43.91
Savings
$95.00 – Pickles at $5.00 per 1 quart jar (for Bubbie's, the brand we buy, very comparable in type/quality of pickles)
$7.96 – Yellow peppers (this is a very LOW estimate, at $1.99/lb compared to the $0.69/lb I paid this week. Often in winter, they get as high as $2.49 or even $2.99 at the market I shop at, or even $3.99 in grocery stores)
$29.85 – For 15 packages of frozen spinach at $1.99 per package. If I was buying it all fresh in the winter, the price could potentially be even higher than that.
$6.99 – I believe this is the cost of a comparable size jar of pesto at Costco. Except that half of my ingredients are organic, unlike the Costco one.
Total = $139.80
That is a savings of $95.89, or about 65%!
And that is why preserving is worth it to me. Wholesome, nourishing foods for my family at a fraction of the price. Not to mention the ability to support local farmers growing great food in season.
I should also mention that the time it takes to do all of this isn't that unrealistic either. I put up 19 quarts (4 3/4 gallons) of pickles in about 2 hours Friday morning, then took a break to get dolled up and take my hubby out for a special birthday lunch. Later in the afternoon while the little ones slept, I put in another 2-3 hours making pesto, and dealing with the peppers and spinach, while making dinner and tidying the house for a birthday gathering.
**Did you see the huge list of food preserving tutorials, recipes and resources that I've put together? Check it out and then bookmark it for later reference!**
How much money do you think that you save by preserving food in season? Do you think it's worthwhile?