Pregnancy Update: 20 weeks!!!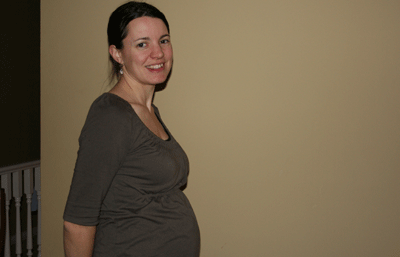 **Not my best pic ever, but this one was better than the first 10 we took 🙂
Whohoo- I love hitting the halfway mark! 🙂
Honestly, I can't believe I'm already at 20 weeks. Although 1st trimester feels long while you're in the midst of it, now that I've been out of it for a while and feeling better for almost the last 4 weeks, I absolutely cannot believe how the time has flown and how little time is left until we meet this new little one!
I think a sense of mild panic has set in. This is a way bigger topic than I can talk about in this update (I will get back to it in a real post, soon), but I am realizing that I need to completely revamp my system of organization and household management. That may sound extreme, but I really don't think it is. The mediocre systems of organization that I used while single continued to work into my early marriage and even somewhat with the birth of my first baby.
Fast forward several years and add another baby and a bigger house and a blog, etc. and I have seen my fragile system of "organization" come crashing down in many ways. Clearly, I need a stronger foundation as our family continues growing and just to handle the complexities that come with managing a busy home. Anyhow… more on that to come. It'll be a big topic for me this spring, I'm sure. 🙂
So I have a lot of work to do. But I am so thankful that I am feeling better, have my energy basically back, and by next week I will be back to really focusing on getting things in order in my own home and family after a month of being either out of town, having my husband out of town and/or having guests and a baby that I have been doing full time childcare for. As of next Monday morning, life will be more or less back to "normal" and I will be getting down to the business of getting ready for this baby's arrival!
In other news, the pregnancy itself is going well and baby seems to be doing just great. I visited my midwife last week, and was blessed to hear baby's heartbeat, strong and steady. These visits are always so reassuring for me, because I don't feel my babies very early. I did feel both Caden and this baby quite early, around 14 weeks (just teensy movements) but then as I hit around 15-16 weeks, there is something about the location of my uterus, and perhaps the placenta as well, that prevents me from feeling much of anything until somewhere around 20-22 weeks.
It can sometimes cause a bit of anxiety for me, but I am trying to be more relaxed this time around and realize that this just might be the way that it goes for me and to trust that God is quietly knitting this baby together in the depths of my womb, whether I can feel it or not. 
Movement or not, I am definitely popping out! I am in full fledged maternity clothes for the most part and being asked unabashedly by people that I run into whether I am expecting, so I guess it must be pretty obvious. I love getting a belly, though, as it just makes it all the more real to me. I was so excited to find a cute maternity dress this weekend (nope, no great sale or anything, just a needed wardrobe item) that will work perfectly for the spring weddings we will be attending, as well as for going to church or out on dates with my hubby.
I've been seeing a Naturopath in addition to my midwife lately, just to deal with a few concerns. I haven't been sleeping well at all, which is probably due to the fact that we have had some stressful situations to deal with this past month (that unfortunately show no signs of winding down, as of yet), as well as being awoken each night and morning by the baby who is staying in the room next to us for three weeks.
All in all, insomnia has hit hard at times, I have been fighting a cold on and off for a month, my skin is incredibly dry, my eczema at an all time bad, and I am just feeling quite weary. My Naturopath has been wonderful to prescribe a botanical tincture to help support my adrenal glands (these are affected greatly by stress), a homeopathic remedy for my skin, and a herbal relaxation tea to take before going to bed, in addition to upping my dosage of Cod Liver Oil, B Vitamin complex and liquid Iron. Overall, it seems to be helping, and although I am back to fighting a head cold, I feel better in a general sense and hopeful that things will improve from here on out. 
I've been off track with my exercise this past month, with all the things going on, but I am so eager to get back to both my Prenatal Yoga and also out to start my gardening and to go for some early spring walks and enjoy the sunshine! It always feels so good to be active during pregnancy, and I find the more active I am, the less I feel the aches and pains, and the more than I can manage the sciatica (that I am just starting to feel little tinges of- so early this time!).
So that's how I'm doing… how about the rest of the pregnant mamas out there?