10 Ideas for Celebrating Christ at Christmas with Young Children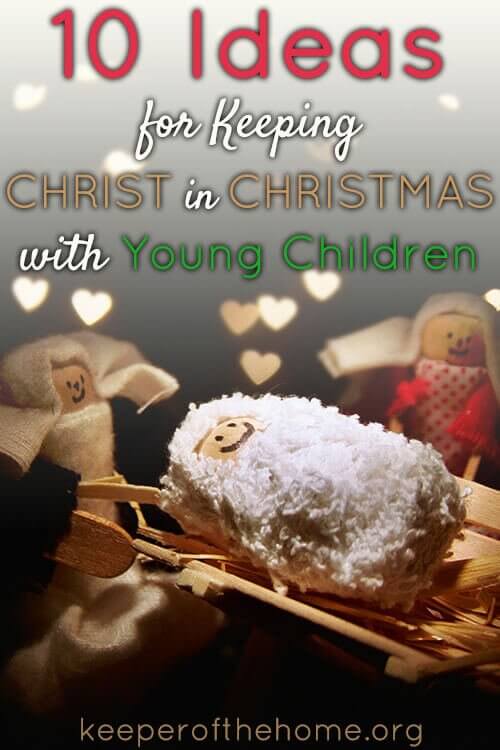 This post was originally published in December of 2012 but we find these suggestions to be a great list to revisit each year for inspiration and ideas as to how to introduce the holiday season to your little ones!
By Jessica Smartt, Contributing Writer
Isn't Christmas with little ones wonderful?
It's been quite a Christmas here, already. We've suffered three broken ornaments (one vintage), one ripped Christmas book, two discovered presents, a missing baby Jesus, and our monstrous tree has toppled over twice. (Don't worry: two tree stands, four saw-ings, one PVC pipe, and two strands of fishing line later, it's as stable as can be.)
Oh… and did I mention a rather tense and snippy mom?
I keep wondering: how can we celebrate a true Christmas, amidst the wonderful stresses and messes of life with little ones?
This year I'm focusing my energy on a few of these ideas for a real, memorable, and Christ-centered Christmas.
Have a feast!
I love these musings from Ann Voskamp about feasting on Christmas. Our grocery budget is tight, but I've considered eating simply for a week– frugal soups and rice and beans  – so we can splurge Christmas morning on real, delicious foods God has given us.
What would Christmas feasting look like for your family?
Here, we'll have dairy-free cinnamon rolls or chocolate-chip banana muffins. (Food allergies aren't going to ruin our feasting!) I'm a potato girl, so I'll fry some hash-browns and brown-sugar turkey bacon. And of course, fresh berries! (Later we'll devour Braised Short Ribs with all the fixings!)
Let your kids throw him a party!
My toddler boys love celebrating someone with a birthday party. To them right now, honoring Jesus' birthday means a giant balloon, a homemade cake, and lots of loud singing! I think we'll invite the neighbor kids and make an event!
Enjoy good Christmas music and books. 
I know this might cause an outrage, but I'm just not a fan of "Frosty" or "Silver Bells"! (I know, I know…I'm a Grinch!) These just pale in comparison to songs that tell the real story. This is our favorite kids' album. My husband and I could listen to Andrew Peterson's brilliant "Behold the Lamb" album all year long! As far as books, consider visiting the library for a few Christ-centered books.
 Teach Christmas to little ones. 
This seems obvious, but bears repeating. Christmas can be confusing to little ones! It's Jesus' birthday, but there are trees, candy canes, Santa, penguins… frankly, it's hard for me to draw all the connections. Imagine the confusion if you're young!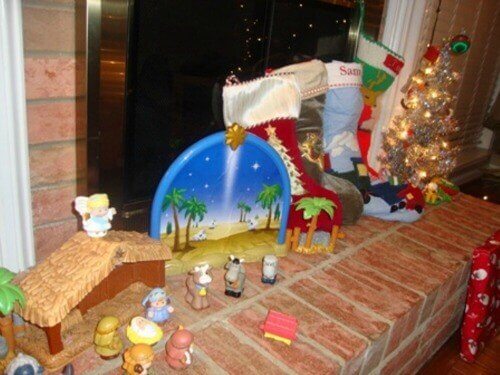 Here's a snippet of the conversation I had with Sam, our 3-year-old:
 Sam, do you remember that God sent Jesus down to earth to show people how to get to heaven? Every year we celebrate his birthday, when he was born as a little baby! Do you think we should give Him a gift? (Yes!) Well, do you know what He said he wants? (What?) He wants us to love other people and help them!
And how about really giving Jesus a gift?
This year we rolled pennies and dimes from our family piggy bank, headed to the dollar store, and picked out toys to cram in shoe boxes for Operation Christmas Child. Together we'll pick out a gift from the Samaritan's Purse or Compassion International gift catalog.
And I think we'll give Jesus "a gift" – a picture of us stuffing the boxes. (You could take or draw a picture.) Although certainly not necessary, I think having a visual, tangible "present" for Jesus is a great idea for little ones. Whatever gifts of love you give this season, be clear that they are gifts for Jesus!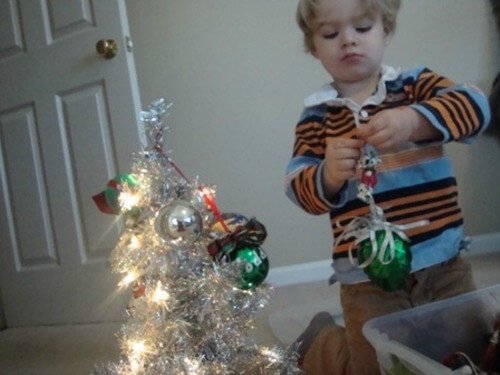 Simplify gifts.
I'm really intrigued by those families who forgo gifts at Christmas. Others do three gifts, symbolizing the three gifts Jesus received. I also like the idea of four gifts: "something you wear, something you need, something you want, something you read." Celebrating and Savoring a Simple Christmas has many thoughtful, homemade gifts I'd never thought of!
Make it to a Christmas Eve service.
I'll be honest; this often feels like a real sacrifice! Getting everyone dressed in festive attire, fed something semi-special, and in the car at 5:00 p.m. on Christmas Eve is sometimes the last thing I feel like doing, and I'm tempted to skip it. Yet these services can often be the most entertaining and memorable for little ones!
Use Christmas cards as acts of love.
Look over that list again. Who's missing? Elderly neighbors who linger to say hi to your kids? Out-of-town great-aunts? Would some of these folks enjoy pictures of your family or a Christmas coloring page? Funny, but a page of scribbles and a picture of your kids just might bless a lonely someone with His love.
Celebrate Advent daily. 
These days there are a plethora of Advent projects to choose from.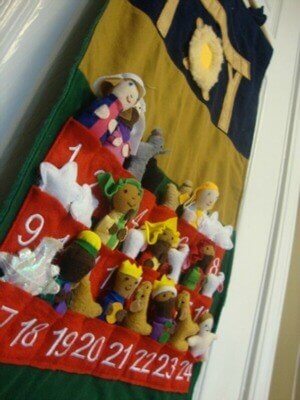 Ann Voskamp's Jesse Tree devotional is inspirational and outreach-oriented. Quiet times have been a struggle for me recently, and this is an answer to prayer!
Check out the Truth in the Tinsel resource with daily crafts for young children.
The Jesus Storybook Bible tells a brilliant Advent story. If you read 1-2 stories a day in December, on Christmas you'd be at Jesus' birth! If you don't have this beautiful Bible, consider gifting it to your family early.
You may have heard of the "elf on the shelf" tradition, where you hide an elf every day for your kids… I love this idea, which uses the "elf on the shelf" (or Santa, if you wish) to teach grace!
Or, how about taking time to meditate each day on a different name for Jesus? Here is an adorable project that your kids can do on the same theme.
Give yourself grace.
Perhaps it's been a long and stressful year for your family. Maybe you're frazzled and weary, and a list like this is more overwhelming than helpful. (I've been there!)
What would it look like to ask Him for grace?
Consider pausing to ask the Lord what He wants for your family this year. If that means a barren tree, a handful of unwrapped presents, and a take-out dinner from Olive Garden, so be it! Growing up, we once celebrated Thanksgiving dinner at a local restaurant because my mom had been sick. We kids loved it!
How do you keep Christ at the center of your Christmas? What Christ-centered activities do your kids love?

 Disclosure: This post includes affiliate links.