Living Simply Saturdays: Lowering my expectations and giving myself a break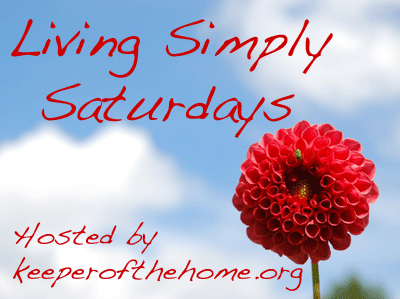 My plans for the next week?
Simple. Slow. Low expectations. Ahhh…
Last week I wrote about attacking the clutter and sifting through our possessions, following along with the book Spring Cleaning for Normal People (and Biblical Womanhood's 10 week challenge).
Though I still fully intend to do this, I realized that at 14 weeks, my pregnant body is not quite as ready as I thought. I don't know about you, but I find it easy to push myself too hard. I like to set high expectations, probably higher than the expectations that others have of me. I don't allow myself a lot of time to just rest, relax, slow down or enjoy.
Though I am beginning to feel much better, this first week back to more regular cooking and kitchen food prep (and the extra kitchen cleaning that accompanies it) was more than enough. I thought I was ready to move back into my "productivity" mode, but when each afternoon found me dragging and practically asleep on the family room couch, and a morning of cooking and washing dishes left me physically exhausted, I realized that my body was trying to tell me something- "I'm still tired! Slow down!"
A friend reminded me at our homeschooling meeting last week that my feelings of being overwhelmed right now (because that's how I was feeling- overwhelmed, and so far behind I'd never get caught up) might have something to do with my expectations, the ones that I (and nobody else!) place on myself. She gently reminded me that God knows the season I am in, and He doesn't ask more of me than I am able to do. He doesn't lay burdens on me that I can't carry.
Quite often, I find that it's me who does all the burden-laying around here. My husband is so reasonable in what he expects of me during these difficult weeks and months- a relatively tidy (but not sparkling clean) house as much as possible, clean socks and underwear, the children's basic needs taken care of and being taught or read to as I am able, and basic food on the table. That's it! Even my 4 year old daughter keeps trying to do chores she doesn't really know how to do (bless her heart!), so that "you don't have to work because you're sick, Mommy".
Who creates the pressure to make healthier, more homemade meals than I've been making? To get the house as clean as possible for hosting caregroup, so that no one would ever know that I'm not quite up to snuff? To keep up with blog posting six days a week, despite the loss of half of my regular blogging time due to needing more sleep than usual? To start spring cleaning and decluttering before I'm even back into my regular daily and weekly routines?
Oh wait. That would be me! I think I got the point, and let's just say that I have allowed myself to slow down these past few days, and give myself a bit more grace for easing back into more regular life and duties.
Do you struggle with placing high or unrealistic expectations on yourself? How do you find that this affects your stress level? your attitude? your family? What helps you to release those expectations and lighten the burdens that you carry?