I'm pretty sure I have the most romantic husband in the world! (You're allowed to think your husband is the most romantic, but I'm biased and I'm ok with it 🙂
Yesterday he totally surprised me, by turning what was supposed to be a few hours at the beach with friends (or so I innocently thought) into an overnight date up to Whistler Village!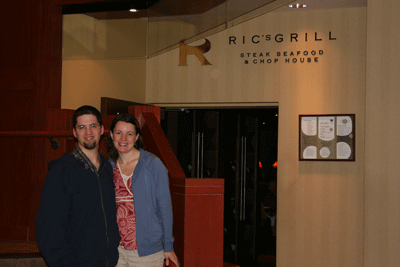 He had been working on it for months, to arrange for his Mom to be here to stay with the kids, and to get a great deal on a room through a friend's timeshare, and to do it all without me knowing! He tricked me (I mean that in the best way possible) into making plans with another familiy to go to the beach, packing a cooler full of picnic food, and then proceeded to let me know minutes before we left (after he had secretly packed the car) that we were going on a date and his Mom was watching the kids. We began driving, and I thought we were headed for a semi-local beach or lake or park area, and then he got "lost" and just kept on going. For 2 hours. 🙂
So he admits that we're actually going to Whistler, for the day and to have a nice dinner, and that we'll be home late at night, missing our friend's bbq and was that alright with me? Sure, sounds like fun! Then he "misses" the day parking, and pulls up in front of a hotel, sneaky man! What a great surprise! He even tried hard to pack everything we would need and did a pretty good job (though we laughed as we checked out this morning and discussed that it was probably half of what I would have packed, had I known!).
Sadly, it rained, which seems to be an unfortunate thing that happens every time we get away together on a trip. Apparently, we bring the rain with us. No matter. I may not have any lovely pictures to show you (I was hesitant to pull my camera out in the rain and honestly, the pictures wouldn't have been great anyways), but we had a wonderful time and made lots of memories. I was even spoiled with a half hour massage at a spa and a fancy restaurant for dinner!
We left early this morning, and enjoyed a peaceful drive back down the gorgeous Sea to Sky Highway. The kids were well taken care of by Grandma and Uncle Grayden, and I was so happy to see them when we returned.
Even better, Ryan's sister's baby decided not to arrive while we were gone. She's 5 days overdue, and I'm set to be her doula for her homebirth, as I was for her first baby as well. We were all relieved that nothing happened in the 24 hours while we were gone, and now we're ready for baby to come anytime.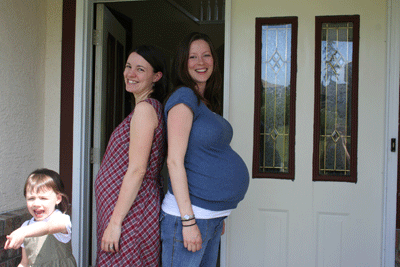 **Here we are the other day, showing off our bellies. Last time around, I was about 2 1/2 months ahead of her. This time, it's the other way around. So fun!
Speaking of any time, I need to rest up just in case her birth happens soon! I'm feeling a bit tired these days and like I may be fighting a cold or something. I might not be on the computer too much in the next couple of days, depending on when the birth happens and whether I need to take a day to recover from it (sounds silly, but I wasn't 29 weeks pregnant the last time I did it, and I'm not sure my endurance or ability to handle an all-nighter is quite as good as usual. If my blog is quiet, you know why. 🙂
Have you every been taken on a surprise trip like that? Or had the opportunity to be a doula for a birth?