How to Peel Peaches and Tomatoes for Canning
;
Although I've been canning for 4-5 years now, it was only about 2 years ago that I learned this simple trick for peeling peaches that has made canning an easier task. I was missing out!
My 6 year old and I made this short video the other night, while peeling 40 lbs of peaches. She's behind the camera, so I apologize for a few rocky moments (but overall I thought she did pretty well!).
If you wanted to use this method for when you are canning tomatoes, it's exactly the same. I often find that tomatoes need even less time than peaches, more like 30-60 seconds. Experiment with your first couple of batches until you get the timing that seems to work well for you.
I can my peaches very similarly to how I can pears, with a few small differences:
I peel them by blanching (which you can't do with pears), as shown in the video above.
When I slice them, I don't soak them in water or in lemon juice.
I add 1 Tbsp of lemon juice to the jars, after I've put in the peaches and the syrup.
Timing is just a bit longer. 30 minutes for quarts, 25 for pints.
Rather than making a syrup with sucanat or rapadura this year (which the family generally enjoyed, but my husband found slightly too dark/caramel tasting for his preference), I made a honey syrup instead.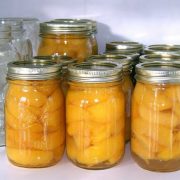 Print Recipe
Light Honey Syrup Recipe for Canning Fruit
Ingredients
1

quart/litre of filtered water

1 3/4

cups

honey
Instructions
Bring to a boil in a large pot. Can easily double, triple or quadruple this recipe.
For 40 lbs of peaches, I tripled the syrup recipe and that was just about right. My end yield was 16 quarts and 7 pints, plus a few leftover peaches and 2 jars that didn't seal properly which we are eating right now.
Up to your eyeballs with preserving season?
Check out my section on preserving food, for preserving recipes, photo tutorials and general information on food preservation (note that it goes on for 4 pages, just keep clicking on Previous Entries).
Also take a look at my post Preserving Summer's Bounty: Recipes and Tutorials to Keep You Busy Until Thanksgiving. It is chock full of links to healthy, whole food preserving recipes and tutorials– canning, dehydrating, lacto-fermentation, freezing, etc.
Do you preserve peaches? How is your summer preserving going?