A Real Foodie's Pantry and Cupboards
So I've been brainstorming this new series I've recently begun, and came to the conclusion that as I talk about starting with the right ingredients, how to shop with nutrition in mind, food groups and balance for a growing family, etc. it only made sense to begin right here. Chez moi.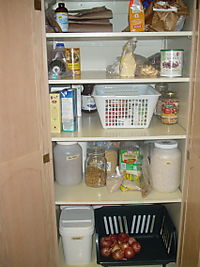 This week I bring to you an incredibly detailed tour of the innermost workings of my pantry and food cupboards (this is an old picture of my pantry- the contents are similar, but it's currently much more full than this!). I do this for several reasons:
1) When you don't know where to start, sometimes it helps to see exactly what someone else is doing. Personally, I loved Heavenly Homemaker's series on real food, and the glimpse into exactly what she spends her money on. It was helpful to see what was similar to me, and what wasn't, and how a mom with older and more children (and all boys!) was doing it.
2) It helps to take some of the things I talk about and make them real. Now you'll know what is really in my kitchen, and if it's ambiguous or unclear, I'll try to let you know what it's for or why I buy it. It may help you to understand exactly what we do and don't eat (and you'll even see a few of our weaknesses!).
3) It may help to paint a picture for you of what stocking a kitchen with real, whole foods might look like. Some of you may be very surprised. Some of you may think "hey, that sounds like my pantry!" Many of you may fall somewhere in between.
By no means do I believe my kitchen or style of cooking to be perfect or exemplary in any way (far, far from it!), but we have made a journey over the past 6 years to eating almost entirely whole foods that are homemade, and perhaps this little glimpse it worthwhile for those who are a bit earlier into their own journey of eating healthier!
So, what's in my pantry?
Bottom shelf– Non-refrigerated produce, dry beans, oil.
Bag of organic potatoes, bag of yellow onions (sometimes organic, sometimes not), bag of sweet potatoes (in the winter I would have squash, too)
3 L tin of Extra Virgin Olive Oil
Big bag of salted Kettle Chips (see how early the weaknesses come out?)
Big bag of organic corn tortilla chips (we really enjoy Mexican food)
Large bags and bins of dry beans: chickpeas, black beans, refried bean mix, red adzuki, red lentils, kidney, navy, pinto
Next shelf– Grains/baking
Large bin of brown rice
Organic steel cut oats (2 lg. bags)
Bit of org. oat flakes and spelt flakes, and a small bag of organic oat groats
1 gallon raw wildflower honey (which I use for all my baking)
1 bag unbleached, wheat flour (for the purpose of baking or making meals for others)
Tub of bulk rice pasta (Tinkyada brand- our favorite!)
Lg. bag of organic spelt berries for grinding into flour (this is my primary baking grain)
Lg. bag of organic unhulled buckwheat (the dark kind- I bought this by accident), and one of hulled buckwheat (the light kind- this was on purpose- I mostly use it to sprout and make into granola, or to grind for baking)
Large container of dried, shredded coconut
Bag of organic quinoa
And usually, I have millet, but I need to re-order some
Next shelf– Cans/more pasta/random
Box egg replacer (for me- I am trying to avoid eggs, as they seem to exacerbate my eczema- this is incredibly sad, as good quality eggs are such a powerhouse of nutrition!)
Box of Ezekiel 4:9 sprouted grain spaghetti noodles, and a box of Tinkyada rice lasagna noodles
Large box of croutons, bought nearly a year ago for making lunch for those who helped us move into our house- think they're still good? Hmmm…
Case of cans of tomato paste
Bag of homemade sprouted, raw buckwheat granola
Cans of wild pacific salmon (alaskan is better, but much pricier)
Bottle of Knudsen prune juice (cause you just never know when someone will need it! 🙂
Small jars containing: green lentils, lima beans, organic popping corn
Bag of pot barley (for soups, stews, etc. though I prefer unhulled barley for baking and pancakes)
Small bag of wild rice
Next shelf– Dried fruit/more cans/random
Large bag of dried dates (I use these in baking and smoothies, and my kids eat them like candy)
Large box of organic raisins
Seeds for sprouting: clover and broccoli
Last can of a case of organic diced tomatoes
Renegade bag (large one, too!) of semi-sweet chocolate chips- now what bad girl bought those and snuck them into my pantry? Or better question yet- who was it that ate a handful of them while making the list of all the healthy foods in her pantry??? Oh wait, that was me! 🙂
Top shelf– Mostly extras
Couple cans of club soda that don't fit in the fridge (one of my hubby's favorite drinks is concentrated apple juice mixed with club soda- a much healthier alternative to pop!)
Extra bottles of Bragg's Liquid Aminos and organic apple cider vinegar
Extra baking powder and raw carob powder
Extra cod liver oil (mint flavored- yum!)
Bag of white pasta for guests or to bring meals to others
Bag of organic yellow corn meal (did you notice that all my corn products are organic? This is because corn is most often genetically modified these days, not to mention highly sprayed. Best to eat it organic, or not at all)
White sugar (for making kombucha, and baking for others)
Upper cupboards– spices, baking, oils, etc.
Food coloring (only for playdoh, never for food! I use fruit/veggie juices to color instead), and birthday cake candles
Baking powder (aluminum free)
Blackstrap molasses
Bag of Orgeon Spice Ranch Buttermllk Dressing powder (one of my few convenience foods- I love to use this to mix up a quick veggie dip with yogurt or sour cream)
Remnants of a bottle of organic Sunflower Oil (used for making homemade mayo)
Bag of Redmond's RealSalt (sea salt from Utah)
Extra bottle of liquid Stevia, and a box of Stevia packets
Raw carob powder (I use this in place of cocoa)
Bag of kelp powder, and a container of nutritional yeast flakes (though I'd group together two of the weirdest items, just for fun- sounds strange, but we love the yeast flakes on popcorn!)
Spices galore! Interesting whole foods cooking is best with lots of variation in spices!
Organic virgin coconut oil (for frying and baking)
Was that detailed enough for you? Phew! 🙂 Questions? Comments?
For those who feel that they have a lot to purge and a long ways to go towards having healthy foods stocked up in their kitchen, what are some of the first items that you think need to go or be added? What sounds most feasible to you?(And remember, my pantry is not the ideal- it is just an example. This will look a bit different for everyone!)