Living Simply Saturday: A Change of Pace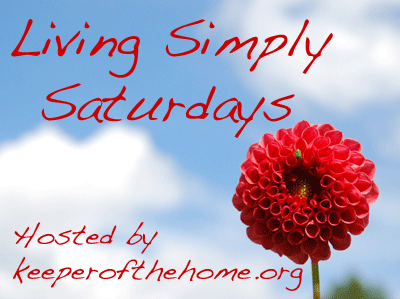 Who doesn't need a bit more simplicity in their lives? And how could it not be helpful and amazing to share ideas for achieving just that with other women?
That's what I thought when I started Living Simply Saturdays, and for the most part, I think that this carnival has accomplished some of my original goals for it. I know that I've been encouraged and inspired by the things that so many of you have shared, and I'm grateful that I've done it these past 7 months (wow, has it really been 7 months?).
I need to announce, though, that as of next Saturday, I need to practically make my own life a bit more simple by ending this weekly carnival. I have found that the time and effort it takes to prepare for and to run the carnival are simply (hey, there's that word again!) more than I can give in this season. I will likely still post on the topic of living simply from time to time, and will attempt to finish up the last few chapters of From Clutter to Clarity, but I will bid adieu to the carnival itself.
Thank you so much to those who have participated and read so faithfully. It's been a pleasure. 🙂
So here's your last chance, ladies, to share with us what brings more simplicity to your life!