Menu Plan Monday- July 28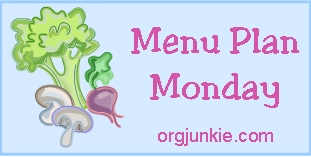 You will not believe what I just pulled out of my oven. Are you ready for this?
Chocolate chip muffins made with a white, wheat flour store-bought mix!!!!!
Are you all in shock? Here's the more shocking part… I didn't even wince when I bought the mix or made the muffins.
Seeing as my last set of homestay students were rather insanely picky and I was a bit frustrated at having planned all of these healthy meals and snacks and bag lunches for them, which they proceeded to completely dislike, I have wised up a bit with this new set of students that arrived this afternoon. I took them shopping after dinner, found out exactly what they like, and voila. That's what I'm making (within reason- I still bought what I could cheaply, and I'm not filling their lunches with Twinkies or any such nonsense).
Hence, the store-bought muffin mix. It will taste more like home. It was cheap. They will eat it. They will be happy. I will be happy (and goodness knows I don't expect to convert homesick 11 year olds to healthy eating in 3 weeks!). And seriously, did you know that it takes literally 1 1/2 minutes to mix up a batch of the batter? Who knew?
Here's hoping they enjoy my fairly simple/normal/healthy menu for the week (and yes, I said I was working on a one month plan, but last week was just busy and I didn't have time to- I'm still hoping to get it finished, though).
Monday: Chicken, tomato, and zucchini stew with homemade biscuits (I use the recipe in Better Homes and Gardens cookbook, and simply soak the flour with yogurt for the liquid, then bake as usual the next day).
Tuesday: Spaghetti with tomato sauce and garden salad
Wednesday: Chicken Divan with cauliflower (somewhat adapated from the original recipe), over rice
Thursday: Salmon kebabs with my mom's greek marinade (I need to call and get the recipe!), cornbread and green salad
Friday: Homemade pizza (using a crust recipe similar to this one)
Saturday: Taco salad
Sunday: Beef stew in the crockpot (again, adapted- no onion soup mix- I add onions to the stew and extra seasonings to make it flavorful) with raw veggies and dip, and bread.
Thanks for hosting, as always, oh lovely Laura the Organizing Junkie!