Toys that could actually be worth buying
I'm still a bit of a sickie, but figured I could pull together a 5 minute post to share a couple of useful links with you! 🙂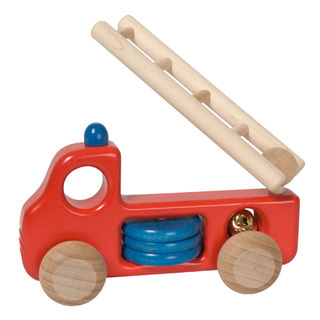 For anyone still looking for something for the child or baby on their Christmas list, I just noticed this article on Toxic-Free Toy Shopping, from the Green Guide in my inbox. While I am not so into my children having oodles of plastic toys, that make noise and are covered with cartoon characters and inhibit creativity, I am certainly not opposed to toys in general!
We are slowly revamping the toy collection that has mysteriously emerged over the past 4 years of parenthood (someone please tell me, where on earth did they all come from???). Our criteria are fairly simple: long lasting, toxin-free, wooden or cloth whenver possible, and devoid of the need for batteries. They should accentuate our children's God-given creativity and imagination, rather than impede it. Better quality and long lasting appeal is of far greater importance than sheer quantity.
As our family room slowly transforms, we are ditching Fisher Price in favor of wooden push carts and building blocks, non-toxic trains and kitchen play sets. Call us old-fashioned, but the new Tickle-me-Elmo (or Wii or goodness knows what is actually popular these days!) just can't compete with watching our children build castles and forts, and cook us banana soup and tea for dinner.
My mom and I made an order from Oompa.com for the children's presents this year (since we will already be in Seattle for Christmas, it just made sense to order US), and I continue to have nothing but good to say about ordering from them. I know that my sister and brother-in-law have also had great experiences with Baby Naturopathics in Canada (the prices are more expensive, but when you figure in the exchange, it makes shopping locally a lot more desirable).
It's also worth taking a look at HealthyToys.org, a site that is creating a database of toys that are being tested for a variety of chemicals of concern, beyond testing simply for lead (they also test for Bromine, Chlorine- PVC, Cadmium, Arsenic, Mercury and others chemicals). The Cool Mom Picks Safer Toy Guide 2008 is also a great place to scope out some better options for your little ones.
Are you buying your children toys for Christmas this year?  What are your criteria for choosing toys, and where do you find toys that fit the bill?