Need Extra Money? Sell Some Stuff!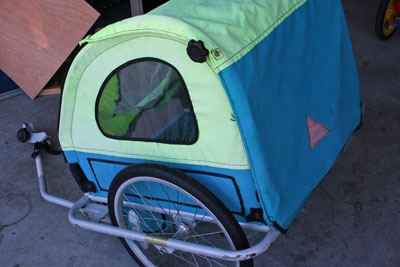 I'm a big Craigslist fan!
Not only is it a fantastic place to find practical, used items for great prices, but it's also an ideal way to sell things that you don't need anymore.
Back when I was decluttering my house this spring and early summer, I made the decision that I had a few larger ticket items that I would like to sell, rather than just donate to a thrift store, as I did with the rest of the stuff that I was getting rid of. Listing them on Craigslist has been on my "before baby to-do" list for quite some time, and just yesterday I finally got around to taking pictures of everything and posting it all up.
It takes a little bit of time to get some good photos and create some well thought out ads, but it's been so worth it! Since the ads went up yesterday evening, I have already sold 3 items (a children's double bike trailer, my old bike, and a bike rack to go on a car), made $140 and I still have people interested in my other items!
The beauty of this right now is that I am working hard to put aside any little bits of extra money to go towards buying summer berries and fruit, to preserve and freeze for the upcoming year. When I found out earlier this week that my previous source of free, unsprayed raspberries was no longer available this year, I briefly panicked. Where would I get the extra $100 I would now need to purchase them, not to mention the money that I was still working to save up for all the other fruit we need?
Suddenly my goal of posting items on Craigslist became a little more pressing! 🙂
I've still got another bike trailer/double stroller (don't ask why I have two and don't use either), a tent, an air conditioner and some beautiful old Denby dishes that I'd like to sell, plus my hubby has an organ he's decided to part with. It feels great to not only clear out some things that we just don't need/use (but would gladly be used by someone else), to know that those people are getting a good deal, we're putting a little extra money in our pockets, and the landfills aren't getting any fuller on our account!
Are you a Craigslist (or Kijiji or any other type of online community ads) fan? Do you use it primarily to buy or sell stuff? Any other creative ways that you've found to make money when you need it for special purchases?

More Frugal Friday tips at Life as Mom!