Menu Plan Monday- June 16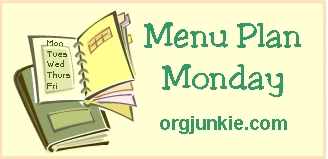 Shopping for my groceries on Saturday left me feeling literally a bit sick to my stomach. None of the things that I had hoped to find on discount were on sale at all, and in fact, more items on my usual list had gone up in price. I wanted to cry. How can I keep making the money stretch further and further?
My darling husband sympathized and offered that we could bump the budget a little bit, as he understands that the prices really are going up significantly. He said that he appreciates my efforts to keep our budget low, but doesn't want me to be unduly stressed, and would it help if he raised the grocery budget somewhat?
Yes, I'm sure that it would help. I said that we could consider it for next month, though I'm happy to keep plugging away and doing my best to work with what I've got.
I suppose I could have said "oh yes, that's exactly what I need- let's spend more money!". It would have been reasonable, legitimate, and understandable.
In that moment, though, I was reminded of just how very much we have. Sure, it is getting quite tight as I try to prepare very nutritious and tasty food for my family, and get the best deals possible on the highest quality food I can get. I try to keep nutrition as my priority, so long as I can do it within the budget.
But how richly blessed am I, to have making highly nutritious and varied and appealing meals as my main focus? How many people out there are daily faced with the challenge of simply providing basic sustenance, and so many are not even properly able to do that? I often forget what a privileged life I lead, and how truly abundant it really is, even in what I so naively consider a "tight" season, economically speaking.
So this week, despite the items that were not crossed off on my grocery shopping list, I intend to practice cheerful thankfulness, and not allow myself to worry about how I will continue to do this as prices continue to rise. I will rejoice in the abundance that we have, and trust that my God already knows all of our needs!
And on a side note, I should mention that we really enjoyed both the Black Bean Wraps and the Busy Day Mexican Soup that I tried last week. The quiche with kale never happened, as we were invited to a friend's for a bbq today, and so I didn't know to add it into my meal planning, but it's not a big deal.
(Starting this week, I will be planning my breakfasts as I mentioned, as well as my dinners, though our lunches will still be based on leftovers, using up what's in the fridge, etc.)
Monday:
Breakfast- Baked oatmeal with apples
Dinner- Quick Fix Chicken (mayo-mustard type sauce with bread crumbs), asparagus (lightly grilled with butter and dill), and quinoa.
Tuesday:
Breakfast- Smoothie, eggs, and toast
Dinner- Feta and veggie quesadillas
Wednesday:
Breakfast- Baked oatmeal leftovers, fruit
Dinner- Samosas (homemade from Nourishing Traditions), with Raita (yogurt and cucumber sauce)
Thursday:
Breakfast- Smoothies, Cinnamon Scones
Dinner- Breaded white fish, garden salad, brown rice
Friday:
Breakfast- Smoothie, eggs, hashbrowns
Dinner- Mushroom Soup (this is the recipe in Nourishing Traditions and Maker's Diet- if you like mushrooms, it is amazing!), garden salad, homemade bread.
Saturday:
Breakfast- Blender Batter Pancakes with maple syrup, fruit
Dinner- Nachos supreme (ground beef, tomatoes, peppers, sour cream, on organic corn chips). We didn't get to do it the other week, and my husband really loves it. Plus, it's easy!
Sunday:
Breakfast- Oatmeal, smoothie
Dinner- Baked beans (in the crockpot), biscuits, broccoli and cauliflower with cheese sauce
More great menu plans at Organizing Junkie!