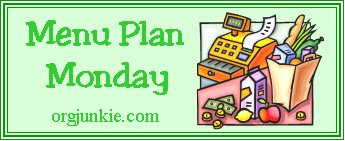 I am so sad to say, for those who were eager to know, that we didn't actually get to eat the raw meat last week! My menu plan went through several changes, with guests coming (who wouldn't have liked what I had planned for that night), and then being invited out a couple of times.
Sadly, the raw meat dish was one that got bumped, but I am making it tonight! I will be serving it to my husband's family at my son's birthday dinner (a couple of weeks late), and I'm eager to see everyone's reaction. I am serving it only as a side dish/appetizer, just because I'm not sure how it will go over!
In other news from last week, I made the Blender Batter Coffee Cake from Sue Gregg's book, and let me tell you, my daughter and I had polished off 1/4 of it in less than an hour of it coming out of the oven! I didn't have the almonds for the top, but it didn't matter in the slightest! What a yummy (and healthy) treat!
One other thing– I've mentioned before in my posts on menu planning how I have a list of my favorite recipes, that I refer to while doing my planning. It has been a goal of mine for a long time to revise and update that list, and it finally happened!
You know that you are really getting older when you can happily spend a Saturday evening re-organizing your recipe list, while your husband happily re-organizes all of our CDs and DVDs! Are we cool, or what?
Anyways, I will try to post with a picture of what I've done, and some of the recipes that made it onto my current list and why, hopefully in a few days. For now, on with my meal plan for the week:
Monday: Spicy Meatloaf (Nourishing Traditions), Dijon Scalloped Potatoes and a veggie dish (or salad) brought by my SIL. I'm also making the Orange Cake in NT, as well as some teething cookies (which I am experimenting with soaking, and am also making gluten free) for my son.
Tuesday: Fajitas (beef marinated in lemon juice, olive oil, salt, pepper then fried up with onions and green peppers, in sprouted grain tortillas with homemade salsa, guac, sour cream and raw cheese)- Mmmmmm!
Wednesday: Busy Day Mexican Soup (I'm going to roast a chicken in the morning and use some of it for the soup, and freeze the rest in small portions before I make broth with the bones). This recipe came from the "Say No to Kraft Dinner" recipe carnival last week!
Thursday: Sweet and Sour Lentils, green salad (hopefully with some veggies from my garden!)
Friday: Shepherd's Pie, raw veggies and dip
Saturday: Black Bean Wraps (full of fresh summer veggies and fruit, chicken and herbs), also from the recipe carnival.
Sunday: Quiche with kale and turkey sausage (based on the NT recipe), and using the Yogurt Dough as the crust.
Part of Menu Plan Mondays, hosted by Organizing Junkie!