Healthy, Natural Pregnancy: "Labor-Aid" Recipe
For all the other pregnant mamas out there, here is a recipe that was passed on to me from my midwife. It's known as "labor-aid" and the purpose is to have something that is both refreshing and revitalizing for mom to drink in the midst of labor. Sipping on it helps to maintain good hydration, and also gives a bit of an energy boost.
By using sea salt and a good quality calcium/magnesium tablet, you are adding minerals and electrolytes. When doing hard physical work and sweating, it's important to maintain your electrolyte level for proper cell function and for energy, so this yummy drink helps to ensure that you can keep up with the work of labor!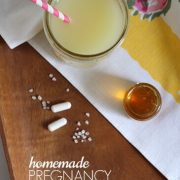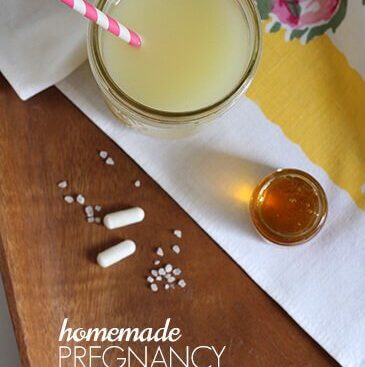 Print Recipe
"Labor-Aid" Drink Recipe
Instructions
Mix all ingredients together.
I like to make sure that I have the ingredients for this drink on hand from 37 weeks onwards. Particularly for a spring/summer birth (and I even enjoyed this during my winter birth), it's really nice to turn this drink into popsicles! Very cool and refreshing! 🙂
If you tend to have very short labors, I would probably keep a jug of it pre-made in the fridge. If you think you'll have at least a bit of time with lighter contractions to start out with, simply have the ingredients available and then quickly make a jug before things get intense (or ask someone else to make it for you). It's nice to keep straws on hand so that you can slowly sip at it throughout your labor (and straws with bendy tops make it easier to drink from depending on what position you are laboring in).
Another drink that would work well if you'd prefer to just have something store-bought and ready to go is Emergen-C. These drinks are very high in Vitamin C, and are loaded with minerals plus a bit of fructose (for energy) and yummy flavors. They're much, much better for you than most energy drinks out there. We actually use them for boosting Vitamin C when we're fighting a cold, for an afternoon pick-me-up when we're tired, and they made excellent electrolyte drinks when we were on vacation in the Arizona summer heat last year. They come in multiple fruit flavors (I love lemon-lime and raspberry), and each packet makes an 8 oz. glass. I'm glad I just reminded myself of these- I might have to get a case in preparation for labor!
Wow, am I talking about labor already? Hard to believe I've only got just over 6 weeks, and potentially even less( or more, I need to keep it realistic here)!
Perhaps we should talk more about preparing for labor in this pregnancy series. Yes? What questions do you have about preparing your body for labor and particularly for natural childbirth?