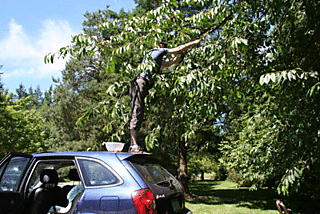 Does this man love me or what?
So I've been envying eyeing the lovely cherries ripening on my neighbor's tree the last few weeks. This Saturday, I thought it might be fun to get out and enjoy a picnic in the park with friends, with just a little bit of an ulterior motive. I had seen another cherry tree on a city road, and I wondered if maybe, just maybe, these were wild cherries and might be found at this large park out in the country.
Sure enough, what did we park our car under but a huge, wild cherry tree! Before we left, I gathered up the bowls I had brought (you know, just in case), and we started picking. Only problem was, all the good cherries were way up high.
Enter my enterprising husband. You can't actually tell in this picture, but the back wheels of our car are actually backed up slightly onto a concrete block at the end of the parking spot, to get him up just a little bit higher. He wouldn't let me up on top of the car to pick cherries, for fear of adding the extra weight and causing the wheels to move from their precarious perch.
We discovered that night that fresh wild cherries are really good with ice cream, though unfortunately there isn't a whole lot of cherry compared to how much pit you get. Nonetheless, free and delicious is worth all the work it took to pit them (and my husband to pick them!).
Speaking of berries, I've been thinking about my strategy for the rest of the summer. We are serious berry and fruit eaters around here, so I am sacrificing much of my budget next month to continue stocking up (I just packed up 20 lbs of strawberries today- yummy!).
Here's what I anticipate we'll need for the upcoming year:
50 lbs of blueberries
50 lbs raspberries
30 lbs blackberries
30 lbs strawberries
20 lbs peaches
A case each of apples and pears (I don't know how many lbs that is)
And maybe some cranberries in the fall
Here's my plan:
Blueberries- mostly frozen for smoothies, muffins, etc. as well as making and canning a bit of jam and syrup
Raspberries- same as blueberries
Blackberries- freeze, and maybe a bit of syrup
Strawberries- probably all frozen, though I may end up doing some jam
Peaches- freeze in slices for smoothies
Apples- make into applesauce and can
Pears- slice and can
Cranberries- freeze
What are your plans for preserving the sweet fruits of summertime? Does your family go through a lot of berries and other fruits? What do you use them for?